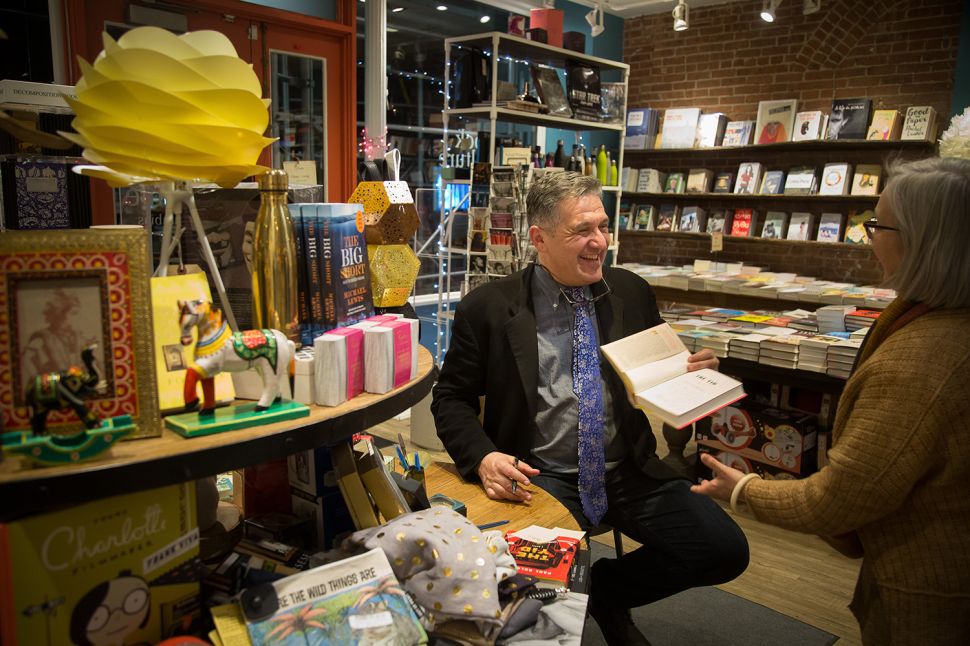 When Book Culture opened its Columbus Avenue location in 2014, just a few blocks from the Barnes & Noble that pushed out the independent bookstores in the mid-'90s, it was heralded as a symbol of the Upper West Side's enduring literary culture.
But the store does more than just act as a literary refuge. It encapsulates the paradoxes of the neighborhood. Like any brick-and-mortar shop in the age of Amazon, it doesn't just sell printed matter. Instead of cheesy journals, digital devices and brightly colored toys, Book Culture mixes fiction and fashion like a well-heeled publishing executive.
Glitzy accessories aside, the Upper West Side is still the Upper West Side. The independent bookstores may now double as upscale boutiques, and ever fewer Yiddish speakers populate the aisles of Zabar's and the islands of Broadway, but, on 81st Street and Columbus, a book titled The Yid will still draw a crowd.
On a Thursday evening last week, just past a table laden with colorful knit scarves and gloves, earrings and necklaces that would not be out of place at a crafts fair, candles and chess sets, an ornamentally large magnifying glass and a $734 black iron candelabra, Paul Goldberg read from his debut novel, The Yid.
In his pronounced Russian accent, Mr. Goldberg spoke about the title, which reclaims the derogatory epithet.
He recalled using the word as he described the plot—which revolves around a group of unlikely Jewish heroes plotting Joseph Stalin's downfall as the tyrant plans his final pogrom—while on an early date with his now-fiancée. "She said, 'That's your title,' " Mr. Goldberg said.
Despite some concern from people of his father's generation, the book has so far been well-received (and well-reviewed) since its recent release, although, according to Mr. Goldberg, a couple of stores refused to stock it out of fear of driving away Jewish customers.
"If anyone wants to accuse me of anti-Semitism, I say mazel tov," Mr. Goldberg said.
"The only way someone could think a book about heroic Jewish terrorists is anti-Semitic is if they hadn't rtextead it," someone in the audience exclaimed.
The author explained that, despite his last name and despite growing up speaking Yiddish with his grandparents in Soviet Russia, he didn't know he was a Jew until another boy called him one. It sounded like an insult, so Mr. Goldberg punched the kid. When he went home and told his parents, they informed him that the kid wasn't wrong.
Someone asked whether Vladimir Putin was good for the Jews. Another wanted to know about Mr. Goldberg's family and what they did in the Soviet Union. (As it turns out, they were very similar to many of their American co-religionists—Mr. Goldberg mentioned family members who were journalists and pharmacists and book publishers.)
Someone else wanted to know about Mr. Goldberg's next book. "It's a novel about a condo board in South Florida," Mr. Goldberg said, drawing an appreciative laugh from a population well versed in building politics.
After the Q&A, as the crowd waited to get their books signed, there was talk of editors, insurance plans, and the viability of a certain Jewish socialist's presidential aspirations. "That sounds like a New Yorker 'Talk of the Town,' " we overheard a woman exclaim from another side of the room. Two men walked out onto Columbus Avenue, arguing loudly in Yiddish.
The Upper West Side may have changed, but it is still Isaac Bashevis Singer's neighborhood.