While ISIS has destroyed a slew of historic artworks and ancient artifacts in Iraq, artist Morehshin Allahyari is among a dedicated group of artists and cultural organizations who are working hard to recreate them in digital form.
On Tuesday, digital art organization Rhizome (an affiliate of the New Museum) launched Material Speculation: ISIS/Download, a 3-D modeling and printing project by Ms. Allahyari that resurrects a Roman-era statue of King Uthal of Hatra, a sculpture that was allegedly destroyed by ISIS last February when militants took sledgehammers to works inside Iraq's Mosul Museum. (In March, the country's national antiquities department head Fawzye al-Mahdi told media many of the artifacts feared destroyed were actually plaster fakes, and that the originals were being safely stored at the Baghdad Museum.) 
Over the last year, Ms. Allahyari has been compiling the scant research available on artworks that were confirmed destroyed from archaeologists and historians with the hopes of building a digital time capsule. The result is a 570 MB ZIP file that includes scholarly research, email correspondence with the Mosul Museum, high resolution images and 3-D printable versions of the artworks.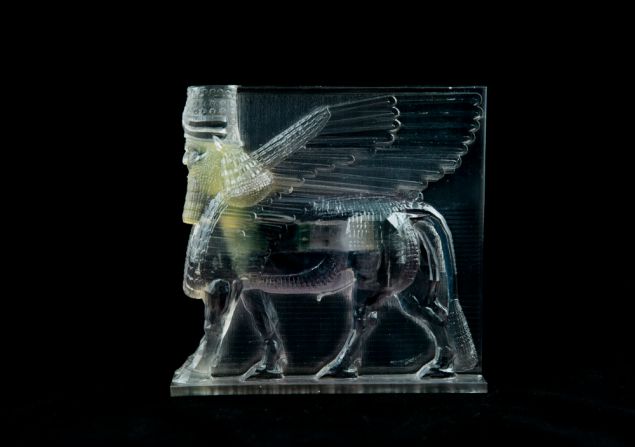 The full file is available for anyone to download on Rhizome's website, which will also showcase a 3-D recreation of the statue on its homepage from February 16 through February 21.
"That's what gives this project power—downloading," Rhizome curator Paul Soulellis told the Observer. "In a way, it gives the artwork new life."
"There's no way to replace these artifacts," Ms. Allahyari said. The project, she explained, is about "reconstructing not just the artifact, but the history and information."
Ms. Allahyari has also downloaded her project onto a hard drive and installed it inside a 3D-printed, plastic resin replica statue of King Uthal. The statue, along with eleven other reconstructed artifacts destroyed by ISIS—including an Assyrian statue of the winged deity Lamassu—is on display in Toronto at Trinity Square Video until March 19.