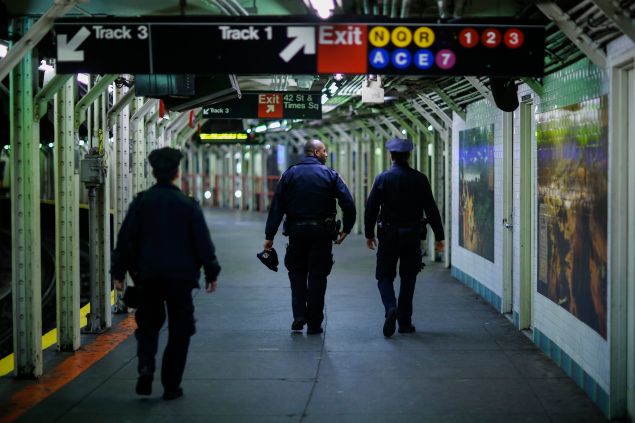 Things have gotten bad enough on public transit that even our old pal Curtis Sliwa is slapping on the ol' red beret. Following a series of slashings on the subway—six since the beginning of the year and four in just the last week—Police Commissioner William Bratton also went underground. He was accompanied by his bodyguards, press photographers and the chief of department, who was in full uniform and stands about 6-foot-3-inches. When the police commissioner emerged, he pronounced the subways "very safe." In addition, he commented that he was puzzled how anyone had the room to assault other riders since everyone was "jammed in like sardines."
It surprised us that the smart, media-savvy Mr. Bratton could be so tone deaf. And we were reminded that in the 1880s when he was police commissioner, Teddy Roosevelt used to roam the streets to get the real story for himself.
We went underground, and talked to police officers who work the transit beat.
So we went underground, and talked to police officers who work the transit beat. Yes, the statistics show that felony crime is up 35 percent over the same period a year ago. But that is not all that concerns them. Short-term numbers can be misleading; it is the long-term impact of less aggressive policing that worries them.
"[Criminals] just don't fear us," one senior officer told the Observer. "They know we're unlikely to stop and question people acting in suspicious ways. And we're not. It's not worth getting called on the carpet and risking our livelihoods. You don't think the changes to stop-question-and-frisk are having an impact? Ha! Just watch the crime numbers continue to rise. All the down-grading of crime statistics that goes on won't be able to hide it."
Another life-long, late-night subway rider said, "It's been 20 years since the atmosphere has been so menacing—on the trains, the platforms and even in the streets."
Sharing this observation with one of our transit-cop friends, he replied, "No kidding; there are way more EDPs (emotionally disturbed people) on the streets. Of course things are getting worse." Last month's face-spitting rampage in Brooklyn was just another example of a city that can feel like it's lurching back to an out-of-control place.
When Bill Bratton first came to New York in 1990 he took over the Transit Police; it wasn't even fully integrated into the NYPD at the time. Mayor Giuliani spearheaded the long-sought integration of the NYPD with the Transit Police and Housing Police. His deputy commissioner for crime control strategies was Jack Maple—who sadly died in 2001—and together these crime-fighters adopted the "Broken Windows" philosophy first articulated by George Kelling and James Q. Wilson. They also implemented CompStat, the data-driven analysis that underscored a new accountability for police commanders. It focused on preventing crime rather than just responding to it.
Mr. Bratton, undoubtedly with Jack Maple's help, also implemented a simpler but complementary tactic: they identified the top 85 "regular offenders" in the transit system. These were perps who were responsible for a huge proportion of all the crime in the subway system. Mr. Bratton then assigned 85 detectives to these guys—one detective to each perp. And he told them to stick to them, to follow them, to watch them from the moment they left home in the morning.
The results were impressive: crime dropped in the subway and set the tone—and the strategy—for the rest of the city.
That it worked is not surprising. But today, well-meaning but misguided souls are challenging Broken Windows, stop-question-and-frisk, and undoubtedly the commissioner's newest weapon: predictive policing. This latest tool is the melding of big data, powerful analytics, and better technology for the individual police officer and patrol car. But we don't know—indeed, we shouldn't—if it also includes a one-to-one assignment of detective to perp.
"Could you imagine how the ACLU would scream if we did that now?" asked one police commander.
Given what is happening in the subway system, let them scream.