As big top London packs up its show, and the crazy fashion crew roll on to another round of fast and furious shows in Milan, we ponder on the highlights of London A/W16.
1. Raid the dressing up box, 1980s art school style is back!
Think of overloading an outfit with ribbons and ruffles, mixing polka dots, beading and a bit of leopard skin thrown in for good measure and then think some more! Henry Holland got stuck into party mode referencing hedonistic good time girls from the 1920s, 70's and 80's and happily mashed up rubber coated lace mini skirts, with flapper girl fringing, giant polka dot silk pyjama wear and garish prints of Studio 54 icon Liza Minnelli. Sounds ghastly, but magically it worked.
2. Bowie lives on.
The Brixton boy was never far from our thoughts, and made his presence felt, blasting out his best on the runways for Holly Fulton, Paul Smith, Charlotte Olympia and Beth Ditto. Oh you pretty things indeed!
3. Keep on Clumping!
Can you believe that platform shoes just got bigger? If you want an alternative shape, check out the new clumpy boots with fat 1970's stacked heels. Statement shoes are wrapped in rags and ribbons, embellished with beads, sequins and embroidery and metallic leather is still big news! Charlotte Olympia debuted a space age runway show inspired by the 'Girl Who Fell to Earth' and blew the audience away with her fabulous star girl creations.
4. What's the big deal with gender fluid fashion?
Everybody's talking about mixing new masculine and feminine pieces to create gender neutral, but in truth its been going on for years. Yves Saint Laurent knew women looked good in tailored suits and Bianca Jagger, an early devotee of his, nodded approvingly in the front row of Paul Smith, as his trademark sexy suits looked anything but masculine.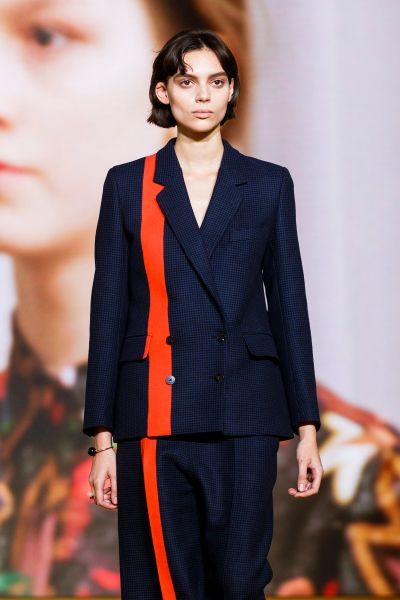 5. Flash some Flesh.
Whichever way you looked there was lots of flesh strutting its stuff down the catwalk. Flimsy transparent blouses with strategically placed ruffles, bows and embellished panels kept things dangerously decent alongside shirts and halter neck dresses that were slashed as low as they could go. Dare to bare more? There were plenty of designers ready to help you expose the full Monty, in the most tasteful way of course.
6. Look who's here!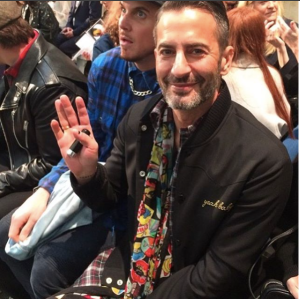 When Marc Jacobs sauntered causally into the Frow at Tate Britain to watch the Fashion East show, a blasé, seen it all before fash pack suddenly crackled as if an electric current had been activated. Lulu Kennedy's quartet of bubbling under talent showed some of the most creative collections at LFW, referencing trashy 1960s movie stars, Cote d'Azur deckchair stripes re-appropriated into complex pant and skirt layers and tough-nut late night uniforms of fur embellished comfy trackies. Mr. Jacobs had come to endorse his protégé A V Robertson who excelled with her 'Alien Wanderers' collection of striped silk suiting, hand stitched with crystalline flowers scattered randomly throughout. With her first class mentor and tip top models Georgia May Jagger and Edie Campbell wanting to walk for her, this is one to watch.
7. Something Spooky
London has a soft spot for the weird fashion outsider who wants to push the creative boundaries and present a visually dark narrative through self expression, and Gareth Pugh is that man. The phrase "I'm a man-eating machine" echoed on a repetitive loop around the gothic surroundings of the Grand Temple of the Freemasons Hall in Covent Garden, as freakishly alien women stalked the makeshift catwalk in Hannibal Lecter leather masks, faces pulled taut with invisible pieces of elastic and briefcases handcuffed to wrists. The collection was fiercely tailored in luxury cashmere, calfskin and shearling with fitted pencil skirts, lean flares with minimal detail and tiny fitted jackets sporting razor sharp shoulders.