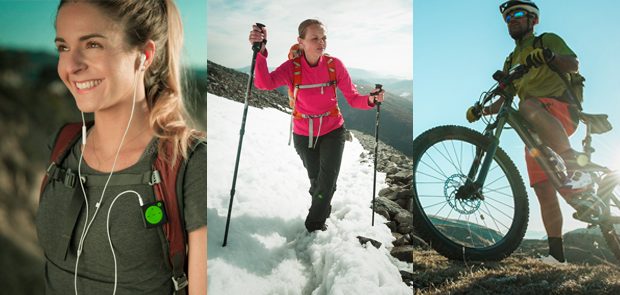 More and more people are opting to stream their music instead of download it. While this has its conveniences, it poses some problems too—especially when it comes to being active in the great outdoors. Most of us rely on smartphones to stream, but they're fragile, expensive and getting larger and larger with each release. They're definitely not ideal for running, snowboarding, rock climbing or the like. Smartwatches and the iPod shuffle solve that problem, but you can't stream on them.
To solve this dilemma, a team of engineers and businessmen who previously worked for companies including Microsoft, Samsung, Qualcomm and Live Nation built what can only be described as a perfectly portable Spotify machine. It's called Mighty and allows Spotify premium users to stream their playlists while leaving their phone at home. The team is currently raising $250,000 on Kickstarter to make it happen. They're a few days into the campaign and have raised $172,000 thus far.
"When Spotify came to the U.S. in 2011 and I switched from iTunes (and a shuffle), my first question was 'where's the shuffle for this?' I'm an ex-collegiate athlete and stay pretty active and assumed somebody would built the product, but here we are five years later and we're the first ones to try and make it happen," Anthony Pu, head of operations, told the Observer. He had the ah-ha moment once when he dropped his phone, and it turns out one of the reasons this team is so dedicated is because each member has cracked his phone screen while exercising as well.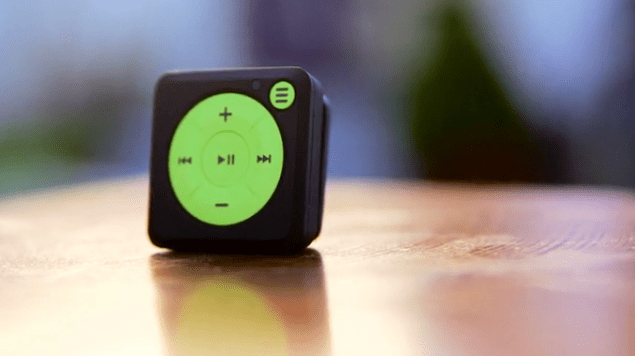 Mighty is lightweight, durable and clips on to any piece of clothing. Loading it up with music is simple—no cords or computers required. Just open the app, pair the device to your phone and sync your playlists using bluetooth or WiFi. It will store 48 hours worth of music and feature "at least five hours of continuous music playback" on a single charge, but the team's goal is 10 hours.
Spotify is not officially partnered with Mighty and its makers, but it will still integrate with the platform with ease. It is, however, only compatible with Spotify premium accounts.
"We do not need anything on the licensing or technical side," Mr. Pu said. "For the time being, Mighty functions just like any other offline device that has the ability to store music. Your smartphone, for example, is defined by Spotify as an offline device."
[protected-iframe id="f10af09ebbcb9f8858255f857b902b95-35584880-65782705″ info="https://www.kickstarter.com/projects/51215664/mighty-streaming-music-without-your-phone/widget/video.html" width="640″ height="480″ frameborder="0″ scrolling="no"]
Mighty has 23 more days to reach its funding goal.
"We are humbly excited, but also remaining paranoid and hungry," Mr. Pu said. "The support and backing from the global community has been amazing validation of the product and we want to keep pushing and shoot way past our original goal."