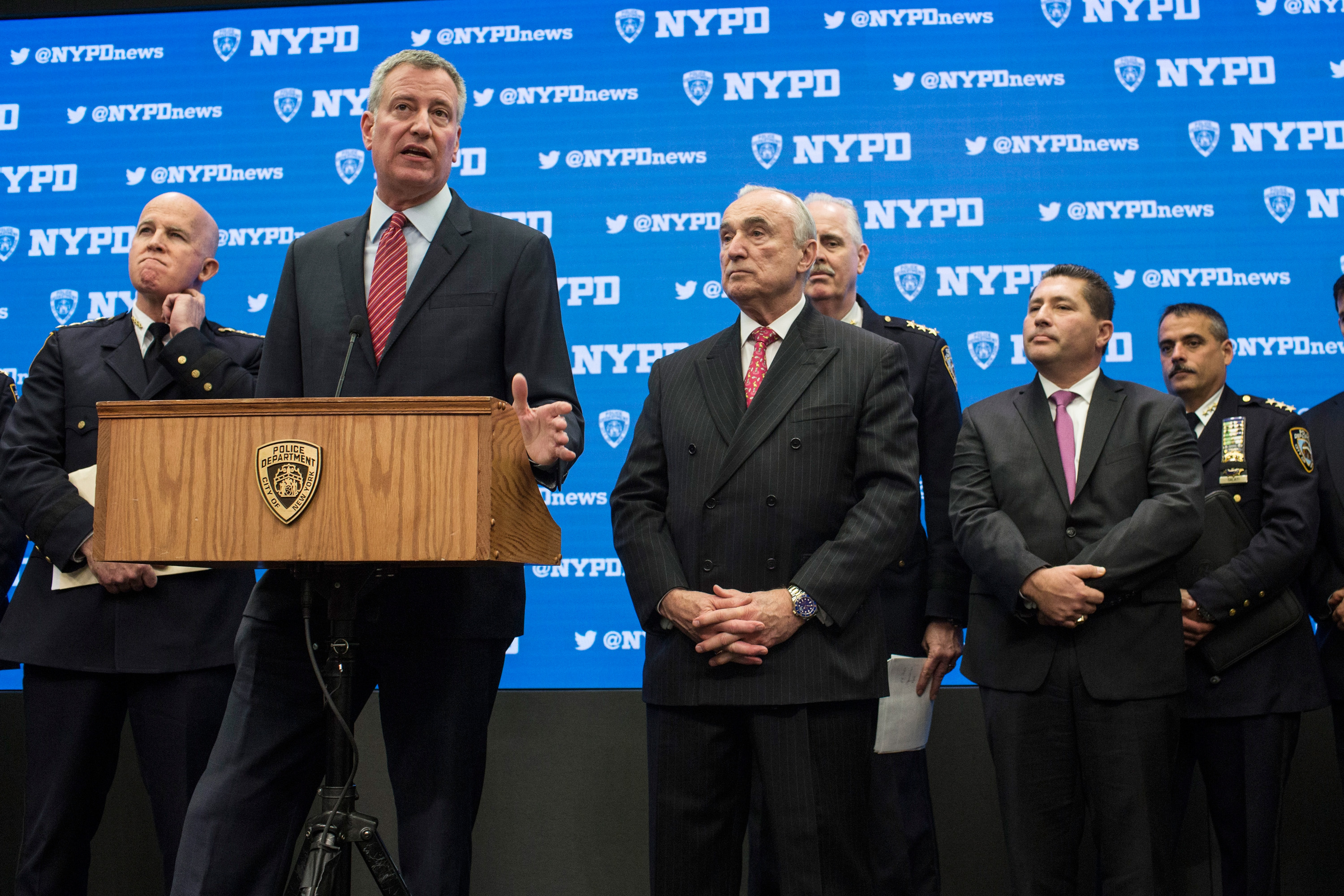 New York City officials today ripped into President Barack Obama's proposed budget cuts to anti-terrorism programs—and Mayor Bill de Blasio said he'd personally appeal to the president to reconsider.
"I'm certainly going to let the president know that we care deeply in New York and we need this money to be restored," Mr. de Blasio said at a One Police Plaza press conference. "The common sense thing to do here is to recognize that we are the number one terror target, and we need this support."
The budget proposal calls for cutting the funding for the Urban Area Security Initiative, which helps prevent or respond to terror events, from $600 to $330 million—a cut U.S. Sen. Charles Schumer said the president's administration seemed to have no acceptable explanation for over the last several days.
"They've been very good, but not here. Not here," Mr. Schumer said of the administration's anti-terror efforts. "This is a huge mistake, and I am here to pledge to the mayor and even more importantly to our men and woman who are in the police, fire and other departments, and to the citizens of New York, these cuts will not stand."
Mr. de Blasio and Mr. Schumer, both Democrats like Mr. Obama, were joined by Police Commissioner Bill Bratton, Fire Commissioner Dan Nigro, and Emergency Management Commissioner Joe Esposito—all of whom said Mr. Obama's proposal would mean severe cuts to their efforts to keep New Yorkers safe at a time when the city is on alert for lone wolf, Islamic State inspired attacks like the ones in San Bernardino.
"It seems to me that it's indefensible for the federal government at this time to be proposing not only cuts but extraordinary cuts in monies allocated for homeland security, home town security," Mr. Bratton said.
Last year, the city received $180 million in the anti-terror funding, but under the new budget, would receive just $90 million, Mr. Bratton said. "A $90 million cut is unconscionable."
Mr. Bratton said protecting the city, a major terror target, need to be a shared "responsibility"—and that the federal  money has helped pay for nearly 9,000 cameras, thousands of license plate scanners, and other security features that he and Mr. de Blasio argued have helped the NYPD foil terror plots since the September 11, 2001 terror attacks.
Mr. Nigro spoke from a more emotional perspective—recalling how he and Mr. Esposito, then with the NYPD, had both responded to the World Trade Center, and were lucky to survive when so many of their colleagues did not.
"Fifteen years ago, just a few minutes away from where we are right now, more than 400 first responders died defending our country," Mr. Nigro said. "The loss of this funding would be quite crippling to all first responders, to all New Yorkers and to all Americans. It's not just important. It's a necessity."
Without the federal funding, Mr. Esposito said he thought the Office of Emergency Management would "almost close our doors."
Mr. de Blasio said the money was critical to protecting New York City during the recent United Nations General Assembly and the coinciding visit from Pope Francis, and to preparing the FDNY to respond successfully to a case of Ebola in 2014.
In the past, the federal government has sought to cut funding it said the city was not fully spending, while the city argued it that funding was simply allocated for out-years. But Mr. Schumer suspected this time there might have been a simpler explanation.
"I think somehow some bureaucrat came up with this idea, and it rose to the top level without being stopped," Mr. Schumer said. "Now it's our job to stop it. It's a mistake."