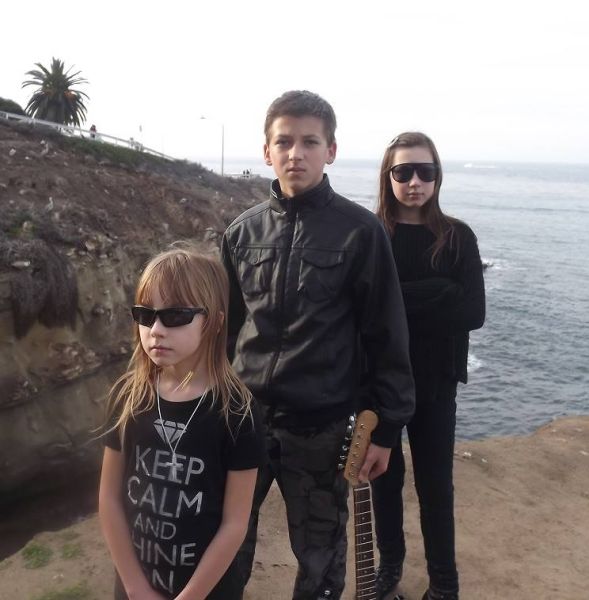 Stripped of its ability to make more millions for corpulent major labels and no longer the doodle-de-jour for Guitar Center douchebags, it would appear that punk rock's time as a commercially relevant medium is long past.
And that is fantastic. If no one thinks punk rock can help them get laid or get rich, perhaps it can finally become what it generally merely pretended to be: a simple and compelling way to tell a story, engage activism, tell truth to power, and give voice to the powerless.
In other words, punk rock can become folk music.
I began thinking about all this thanks to a somewhat unlikely band: a spectacular group of tweens called Children Medieval Band (not a typo—no "The," and it's not "Children's"). Although CMB probably don't think of themselves as a punk band, they are a wondrous example of punk: They use very, very simple musical forms, played with invention, animal instinct, precision and creativity to make compelling and energetic music.
In April 2012 some videos started floating around social media featuring children—then ages 10, 9 and 6—playing rather amazing Rammstein covers. If you watched these clips semi-carefully (and followed the leads to some of Children Medieval Band's other videos), you recognized that these weren't just "cute" kids childishly clobbering rock songs; rather, these pieces were played with accuracy, intent and passion. It couldn't be less childish, unless you consider "I'm Waiting for the Man," "Ex Lion Tamer," or "Where Were You" childish. These kids had stumbled on the same blend of loud, tight, artistic and ultra-simple that had earlier been explored by the Sonics, the Velvets, the Cramps, Wire and Jesus and Mary Chain.
[youtube https://www.youtube.com/watch?v=z0lhr2XTJOw&w=420&h=315]
Further clips (during which the children gently age) display the same kind of energetic and near-perfect simplicity, resulting in a rumbling, chugging and precise sound that is reminiscent of the Velvets two-step stomp and drone, Arcade Fire's artsy tumble, Neu!'s minimalist purity, and even Pere Ubu's lost-highway churn. Also worth noting are a number of extraordinary clips featuring Children Medieval Band in costume, playing acoustic instruments at Renaissance Festivals; in these, the group apply this same kind of joyous, tightly wound "Sister Ray"/"Dot Dash" approach to faux Renaissance music, coming up with something that resembles the Velvets covering Sid Hemphill songs, and how great does that sound?
Children Medieval Band stand as adamant evidence that minimal skill can be corralled into making astonishing music.
Some of the newer live clips also feature original compositions, which combine the bartop-thumping precision and power of their covers with a Swans-esque lurch and an almost early R.E.M.-ish vulnerability. Virtually every clip of Children's Medieval Band is a joy and a revelation; here's hoping that the guitarist doesn't learn to shred, and remains true to this Wire-esque garage art aesthetic. Hey, if they're reading this, I recommend they listen to (a lot of) Neu!, Mekons, Wire and La Dusseldorf, and study these masters of the vastly creative, deeply expressive and aboriginally simple.
On one hand, Children Medieval Band stand as adamant evidence that minimal skill can be corralled into making astonishing music. It's nice to be reminded of that. On the other hand, the energy, simplicity and immediacy of the CMB point to something much bigger.
[youtube https://www.youtube.com/watch?v=QZOiBL8mYIU&w=560&h=315]
Over half a century ago, folk music encouraged anyone, regardless of expertise, to pick up a guitar, play three chords, and make a statement about the world, about a girl, about a job, about a politician, about a news event. For all the academic, ethnographic and historical framework you can apply to folk, first and foremost the folk music boom of the late 1950s and early 1960s provided musicians with an enormously direct straight line between idea and expression. You picked up a guitar and you said something.
Punk rock can be this, too, though it rarely has been. Very, very early in its gestation—so early in fact that it was essentially built into its DNA in utero—punk rock was already lousy with traditional ideas about stardom and fashion. It's true that musically punk was a reasonably dramatic and successful reaction to the fripperies, indulgences and excesses that existed in music in the early and mid 1970s; but the so-called rebels had the same personal and financial aspirations as the people they were rebelling against.
These aren't just 'cute' kids childishly clobbering rock songs; these pieces are played with accuracy, intent and passion. It couldn't be less childish.
Punk rock was at best a market correction, and less charitably, it was like when the middle-aged rich guy dumps his old, flabby, over-painted wife for someone lithe, athletic and efficient. Really. The music industry environment and conditions remained intact, the only thing different was the product.
In recent years, a lot has changed. Today, there is very, very little chance that punk—in anything but it's most over-blown, hyperthyroid'd Foo-ish form—has any potential to make The Powers That Be any money; secondly, we are now so far away from the theatrical and decadent forces that led to punk's first wave (painted Ziggy-isms, brawny Iggy-isms, and first-gen bands largely influenced by the stagey and foppish Dolls, Sensational Alex Harvey Band, and Mott the Hoople) that punk rock can now emerge from Mother Glitter and just move forward based on the idea that someone who knows three chords has something to say.
[youtube https://www.youtube.com/watch?v=SikYm4IDoA0&w=560&h=315]
(By the way, I dearly love every act I alluded to in the last paragraph; it's just that the rock star posturing of all these acts essentially meant that the first-gen punk acts raised in their shadow were already philosophically dead in the water before they even played their first note.)
To a large (though, of course, not complete) degree, the folk boom of the late '50s/early '60s was a purer form of musical expression. Circa 1961, very, very few musicians would have thought singing about unions and integration was going to make them stars (here we note that Bob Dylan's first album didn't chart, and only sold 2,500 copies at the time of release). But these people played three chords, had something to say, and often risked their necks to say it (as opposed to punk rock, which consistently made the mistake of thinking that fighting for the right to dye your hair pink was the same as fighting for something actually important).
Today, now that it's no longer a potential route to commercial success, the possibility exists for punk to finally be what it pretended to be. A band can be simple, tight and artistically explosive (like Children Medieval Band), but can also use their spontaneity and portability to say something powerful, meaningful, controversial, comforting, inspiring, inciting, empathetic and instructive. And by "portability," I mean that thanks to the Internet and social media, the world is as close and immediately accessible to a punk band as Washington Square Park was to a folk singer 55 years ago.
Imagine a thousand versions of Crass, only actually sounding good, and on the computers of the world, in minutes.
Punk rock remains one of the most efficient, attractive, and aesthetically engaging ways to get a message across. Someone reading this has something to say about choice, or guns, or racism, or gentrification, or the environment, or 8,800 other things; this person is one drummer, or one guitarist, or one bassist, and one garageband session away from making this statement in a simple, loud, and effective way.
It's time for punk to be the new folk. And no one is looking to sign your ass. So just say it and play it like you need to. Just like Children Medeival Band.