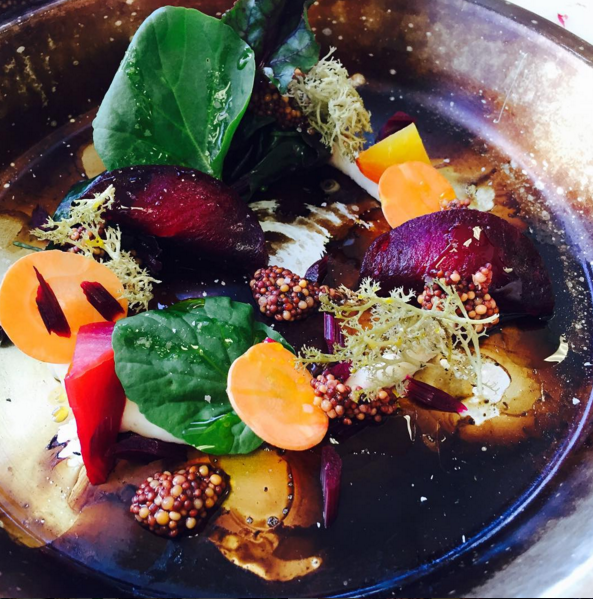 So, you're single and have been unable to procure a mate for this high pressure date of February 14, try as you might. What's a girl (or guy) to do? There are only so many Sex and the City marathons you can watch and heading to a bar with the rest of the singles in the city seems slightly sad. Alas, there are two events popping up that allow those who aren't in a Facebook official relationship the opportunity to celebrate in style.
The first, taking place at Dirt Candy, is Solo Diner's Week. It lasts until the 13th, and is a primo opportunity to sing Single Ladies while eating chef and owner Amanda Cohen's famously fresh vegetables. Her innovative offerings are best enjoyed with a friend or significant other because there's so much to taste; luckily, Solo Diner's Week allows you the benefits of a full tasting menu all by lonesome.
Ms. Cohen wants solo diners to know they are not only welcome at Dirt Candy during the most romantic week of the year (other than Christmastime, when engagements happen constantly), they are appreciated. The restaurant is reserving the counter seats for lone diners, along with offering them a special tasting menu. For $65, one person can try six courses, all miniature versions, so there's no need to share. They will be paired with a glass of Prosecco  or a virgin vegetable cocktail; but honestly, if you're brave enough to dine alone during V-Day, you deserve to treat yourself to a bit of bubbly.
In an email, Dirt Candy said, "Have a great dinner with everyone's favorite person: yourself. Bring a book, bring your iPad, bring your childhood stuffed animals, but don't bring another human being. Trust me. They're just going to tell you a long boring story about their job," proving they are on the side of singles.
For the more raucous celebrators who are looking to land a date, instead of eating dates, there's a party hosted by SPiN New York, a ping pong club, called "Heartbreak Hotel," which is an ideal event for everyone bummed out about the impending  holiday. It begins at 9PM and your ticket guarantees an open bar. They're pairing up with self-proclaimed exclusive dating app The League, which has a long waiting list but the same eligible gentlemen one would find on Tinder, even though it calls itself "Tinder for Elites." Babeland and PRIV are both getting in on the action; there will also be cocktails, including "Hate Potion" and "Lust Shots," a psychic available to predict your dating destiny (pretty depressing, honestly), a temporary tattoo artist to and even a "Slam Wall," acting as a Lulu for ex-bashing.
Whether you're hoping for a low-key holiday spent devouring delicious veggies, or dream of meeting your future spouse at an open bar sponsored by a dating app, singles have plenty of ways to celebrate Valentine's Day in the city.