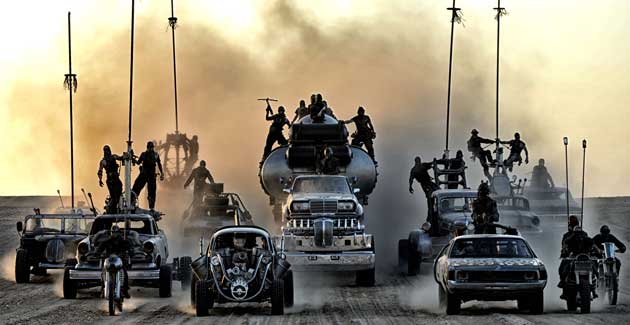 #OscarsSoWhite isn't the only controversy dogging the Academy Awards this year.
A group of stunt coordinators has started an online petition through Care2, lobbying the Academy to add a category for stunt people to the Oscars. The petition has been signed by 47,000 people so far—its goal is 50,000 signatures. The stunt community is using the hashtag #StandUpForStunts to promote its cause.
"If you have ever enjoyed a movie, held your breath during an impossible leap from a building, been thrilled at a high-speed chase or clung to the edge of your seat when good and evil fought it out on the big screen, then please sign this petition," the pitch reads.
To further raise awareness, a group of stunt people will be rallying in front of the Academy's headquarters tomorrow afternoon. At the protest, they hope to deliver the completed petition to Academy president Cheryl Boone Isaacs.
This is not the first time the stunt community has lobbied for an Oscar category of its own. Stunt performers made similar requests in 2010 and 2011, but have consistently been denied; the stunt community even proposed that the award be presented at a non-telecast, pre-Oscars ceremony, but to no avail.
Ironically, the Screen Actors Guild (SAG), the actors' union, has awarded film and TV stunt ensembles since 2008—this year's winners were the stunt teams from Mad Max: Fury Road and Game of Thrones.
If the Academy does finally add this category to the Oscar ceremony, we'll have to update our primer on the Oscars' tech categories.