A few weeks ago, Tila Tequila spent the better part of a day ranting about the shape of the Earth on Twitter. Using all caps, she sent dozens of raging tweets about the curvature of the horizon, sun beams, NASA's fake photos and how she's exposing the conspiracy. She also tweeted about how she's a robot and that she was replaced with a clone of herself after dying in 2012.
After spending a little time out of the Twitter spotlight (thanks to B.o.B., Neil deGrasse Tyson, Kanye West and Wiz Khalifa), Tila Tequila is at it again. And by that we mean she's being really weird on Twitter.
Since yesterday afternoon, Ms. Tequila has tweeted more than 200 times. She's said nothing about the shape of the Earth, but there's been a lot of oddball content and violent threats.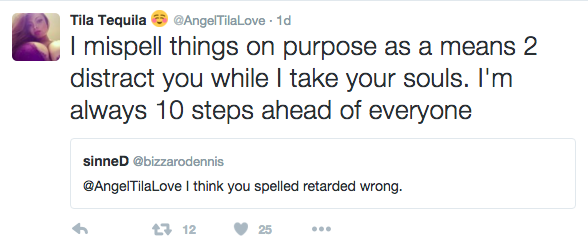 At one point yesterday, things turned violent.
She shared some thoughts on how to take care of bullies.
And cops:
Maybe we'll get to hear from B.o.B. again too.