In George Singleton's 14 years as a T-shirt vendor in Times Square, he's sold many a fuzzy leprechaun hat and NYC hoodie, but his consistent hot-ticket item has been "I Love NY" T-shirts. Coined during a marketing campaign launched in 1977, the year the Bronx burned and the city blacked out, the now-classic logo was intended to boost tourism in a place that seemed to disprove the very notion of urban revitalization, with Times Square its failed and filthy epicenter. Milton Glaser, the graphic designer who came up with the slogan pro bono, expected the campaign to last a few months at most. But something about the sentiment and its sincere, if cheesy enthusiasm was so fundamentally of a piece of Times Square—an earnest declaration, wrapped in an ad campaign, sold (usually without licensing) on a $5 T-shirt—that it still dominates its T-shirt tables nearly four decades later.
Recently, though, Mr. Singleton has noticed that love of Brooklyn has very nearly eclipsed love of New York, an endorsement expressed in simple block letters, sans sappy heart, on the wares of Times Square. And while love for one arguably encompasses love for the other, the global mania for all things Brooklyn is a reaction to the changes that have washed over the city since 1977—the absentee billionaires and the chain stores and the alleged sterility. Whereas Manhattan is corporate and conformist, Brooklyn is real and, if not exactly gritty, then at least charmingly patinaed. Or so the story goes.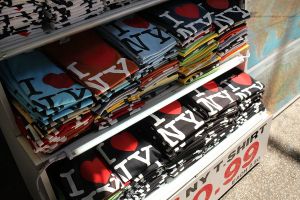 Most mocked and derided of all, of course, has been Times Square—alternately held up as Disneyfied mall and incipient cesspool, its topless women and cartoon characters in danger of brimming over into the rest of the city in a deluge of feathers and fake fur. The only context in which it is routinely praised is a historical one, and then usually in a misguided glorification of its former grittiness. Nostalgia clouds the ugliness of the past and conceals the vibrancy of the present, but perhaps worst of all, it offers a pass for looking at Times Square as it really is and as it should be.
Somehow, over time, being a "real" New Yorker came to mean ignoring Times Square, just as one ignores showtime dancers and panhandlers and "Don't Walk" signals. And not only ignoring it, but dismissing it as a place not worth caring about, a tourist trap of ticket hawkers and retina-searing billboards and multi-level stores promoting inferior brands of chocolate. In short, a hellhole, and an inescapable one at that, since it is also the city's largest transit hub.
To some degree, this makes sense—Times Square is the dream of New York made manifest and is therefore of less interest to those already living in its reality. Yet we ignore the Square at our peril because, as New Yorker scribe Adam Gopnik once put it, not only does no other part of New York have "such a melodramatic, mood-ring sensitivity to the changes in the city's history," but the dream of New York, and the allure and viability of that dream, is the underpinning of the whole enterprise. All of which is to say that what a tourist loves on his T-shirt might actually matter.
***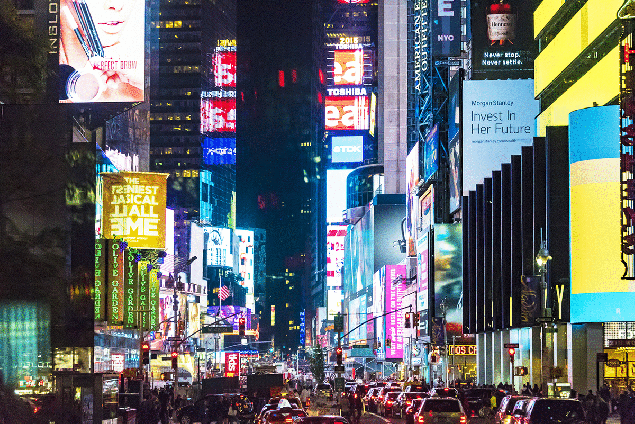 "I was with my friend, Irene Gandy—she's a Broadway publicist—and we were sitting at the bar and she says, 'Mamet is the best playwright.' And the guy next to her at the bar said, 'No he's not. I am.' And she says, in classic Irene fashion, 'Who the fuck are you?' And he says, 'Sam Shepard.' "
It was the first truly cold night in December, and about an hour before curtain, the little bar of Sardi's on 44th Street felt like about the best place to be in the world. The man telling the story was an intellectual property lawyer named Michael Hurley with gray-blonde hair and a slight smoker's wheeze, drinking Grey Goose and cranberry.
"So we're laughing, all of us, right in each other's frickin' faces, right like this." He leaned forward. "And then she whispers to me, 'Do you have one of those things—a smartphone—so we can look this guy up?' "
Sardi's, whose caricature-cluttered walls and general air of show business schmaltz make it feel authentically New York by virtue of anachronism alone, is the kind of beloved Times Square establishment that people who claim not to like Times Square generally make an exception for. It has, over the years, retained its entertainment clientele and non-industry regulars like Mr. Hurley, who mix congenially with a healthy pour of tourists that lend the place an expectant fizz. The celebrities talk to the regulars, the regulars talk to the tourists and the red-vested bartenders talk to everyone.
"Sardi's was Glamour," as The New York Times once put it. "It was John Barrymore, Helen Hayes, Lillian Gish, Rex Harrison, Marilyn Monroe…a world of red-leather banquettes, silk stockings, cigarettes glimmering in onyx holders and sauces warming in copper pans at tableside." But like the rest of Times Square, in its senescence it has slipped into a less fashionable state, though I'm told the food has improved since Zagats called the restaurant a "culinary laughing stock" back in 1987. 
In this, it is not altogether different from nearby Broadway audiences, where the average age is 44, though it often feels several decades older. (The crowd I'd seen at a Sunday matinee of Charles III a few weeks earlier was prone to seasonally hued velvet, cough drops and dozing off.)
But even if Broadway is not the social force it once was—Hamilton excepted, of course—something about Sardi's and its mix of nobodies and could-be somebodies and occasionally actual somebodies imbues it with the glimmer of possibility that encapsulates what it is to be in a city. It's the yearning for connection with people you don't know, who don't know anyone else you know, who maybe aren't even anything like anyone you know.
Times Square has always been about the transformative power of urban spaces. As political theorist Marshall Berman argued in On the Town, One Hundred Years of Spectacle in Times Square: "It brings multitudes of people together side by side with multitudes of other people; and not only with others, but with people whom the self sees as 'the Other,' and not only to co-exist, but actually to meet, to encounter the other in an intimate way that will change everybody…These encounters create a new reality where people can be more than they are…This romantic vision is one of the high points of American urbanism."
Yes, it's crowded, but if you're trying to fight your way through the crowds of Times Square, you're missing the point—the point is the crowd. Which is why every December 31, a million people stand inthe cold for hours without access to alcohol or bathrooms to watch a 60-second ball drop. Because where else can you have an experience standing next to a million other people? And what else is a city, other than people wanting to go where the action is? And to be surrounded by people who also want to go where the action is?
Victoria Bailey, the executive director of the Theatre Development Fund, which runs the TKTS booths and the Red Steps, frequently encounters tourists who don't realize that they're actually in Times Square. "They just keep thinking it's a square. And I have to say, 'No, no, you're there,' " she said. "When I point to where the ball drops, everyone relaxes. I think all over the world, people watch the ball dropping and think, 'I want to go there.' "
International tourists can be forgiven their disorientation: Whereas European squares are park-like plazas that act as pauses in the street grid, most of New York's are "axial points where Broadway crosses another north-south avenue," wrote James Traub in The Devil's Playground: a Century of Pleasure and Profit in Times Square.
Broadway's more southerly junctures afford enough space for gracious greenswards such as Union and Madison Square parks, but Broadway in the 40s cuts straight into Seventh Avenue, making Times Square, at least until Mayor Michael Bloomberg repurposed much of the "bow tie" into pedestrian plazas, "neither square nor safe to cross on foot, and probably the least serene place in the Western Hemisphere."
And therein lies its magic. It's a public square that's also an intersection that's also a shopping district that's also an entertainment center that's also a transit hub; the area became the terminal point for the BMT and IRT subway lines in 1904, a year before its name changed from Longacre to Times Square in celebration of the paper that had just built its offices there.
Reinforcing Times Square's ultra-urban, commercial identity are, of course, the signs, or "spectaculars," the felicity of the "bow tie" for advertising having been apprehended by O.J. Gude, the "Sign King of Times Square," who pacified the Municipal Art Society, one of the leading proponents of the turn-of-the century City Beautiful movement and billboard restrictions, by championing billboard restriction everywhere except Times Square. (So squarely did Gude win them over to his cause that when the billboards were threatened by redevelopment in the 1980s, the Municipal Art Society fought for the preservation of the "bowl of light.")
"Times Square has a particularly iconic quality to it that defined what a city was," said Lynne B. Sagalyn, the director of the MBA real estate program at Columbia University and author of Times Square Roulette: Remaking the City Icon, which details what a complex public-private undertaking the 1980s-'90s redevelopment was. The thought was that if you redevelop Times Square, you could redevelop cities. It was important to the gestalt of the city to revive Times Square."
***
Unlike such totems as the Empire State Building or the Statue of Liberty, Times Square is not just a symbol of New York—the country's cultural capital where hayseeds slough off their dreary hometowns and live their dreams—but a living entity, the place where those dreams actually play out. Home to Broadway and the recording industry, media and publishing, TV studios, comedy clubs and jazz bars, it renders concrete and discrete that which is abstract and diffuse. The difference between Disneyland (fake) and Times Square (real) is that one's a store and the other's a factory.
People aren't just drawn to Times Square by the crowds, but by the chance to see something they love in the flesh. You can actually go to a taping of Good Morning America (or until recently, David Letterman), see a Broadway show, catch a comedy set at Caroline's, listen to jazz at Birdland, or walk by the New York Times building.
"The thing that's interesting about Times Square is all the creative businesses, and unlike a lot of places in the city, in Times Square it's visible," said Mary Rowe, the executive vice president of the Municipal Art Society. "Of all the civic spaces, I think Times Square is one of the most democratic. Of course you have the tourists, but you also have people passing through there on any matter of business."
The city runs through Times Square and Times Square runs through the city. It's where the dream of New York is both expressed and anchored—not only the symbol, but the lived reality of the thing that it symbolizes.
"It's the one quintessential part of New York that has that energy and drive and ambition and a lot of people doing lots of different things," noted the Theater Fund's Ms. Bailey. "There's a feeling 15 minutes before a curtain that you don't get anywhere else in the city."
That Times Square isn't just where mass culture is sold—a shopping mall—but where it's generated is what drew 56.4 million tourists there in 2014, more than any other place in the city, whether they were aware of it or not. No one goes to Times Square for the M&M store or Forever 21 or Applebee's; those places just happen to be where people pool when they get cold or hungry or don't quite know what to do with themselves. However much a part of the "experience" of Times Square such stores try to make themselves seem, they're not constitutive: they're just feeding off the magic.
And a lot of New Yorkers do actually go out in Times Square. On any given weekend night, the area is awash with teens who find it an entertainment district that is, unlike many of the "cooler" areas, both easy to get to—served by a multitude of subway lines—and easy to get into: it offers a broad array of establishments that high school students can legally patronize, be it the movie theaters, Dave & Busters or the 24-hour McDonald's on Broadway, which was so mobbed at 1:30 a.m. one Friday that I visited it was hard to even get in the door. Inside, there were packs of 20-something women dressed for clubbing, a man in a marijuana shirt with a sign that read, "I need money for herbs, why lie?," two Australian girls cooing over their shared hot fudge sundae and a constant and conversational line for the men's bathroom. "You know when you eat something that you think is maybe a little too old?" a crusty punk asked to understanding nods.
"People are always like, 'Times Square is not for New Yorkers,' but you go at 11 p.m. and you see that it's a real New York experience," said Tim Tompkins, the president of the Times Square Alliance. "It's not a snooty New York experience, it may not be the fashionista's New York experience, but that's what Times Square has always been—a playground for New Yorkers."
"For some people it's the theater, for other people it's Dallas BBQ and Madame Tussaud's. It's this big, messy mix of high, medium and low culture all mashed together," continued Mr. Tompkins. "And it's diverse. If you go to AMC and look at their listings, there's always at least one Chinese movie, one Korean movie and one Indian movie, and then it's mixed in with 50 showings of the latest new release in 3-D. You won't find any hipsters from Greenpoint in Times Square, but New York City has a lot more diversity than Greenpoint."
***
With all of New York swaddled against the winter's cold, the tabloid-fueled debate of last summer over what should (and legally could) be done about the tip-soliciting topless women and costumed characters in Times Square feels very long ago. The desnudas have gone indoors, Mayor Bill de Blasio has stopped calling for the removal of the pedestrian plazas, and New Yorkers have, for the most part, gone back to pretending they don't care about Times Square.
But care we obviously do, as we're always trying to "save" Times Square: from sin and sleaze, from Disneyfication and knock-off Elmos, from desnudas and tourists. And Times Square has needed saving. It can be easy to forget that Times Square truly was a frightening, terrible place when "I Love NY" stole the public's heart. "By the 1970s, Times Square precincts placed first and second in New York by total felonies. (Harlem had a third as many.)," Mr. Gopnik writes. "These were crimes of violence, too: a rape or an armed robbery or a murder took place nearly every day and every night." There's a fine but definite line between the chaos that fosters creativity and the chaos that marks the descent into a failed society. Times Square, in the '70s, was flirting with the latter.
"Sexual segregation and aggression enveloped a public space that for generations had been an oasis of integration, in a neighborhood where the spectacle of the crowd was the street's big thrill," Berman writes of 1970s Times Square. "This was a disaster for the city."
And the Square still reflects our anxieties about the city, which are often quite different from its actual ailments. The most recent narrative, of course, has been about how the topless women and costumed characters were harbingers of a return to the Bad Old Days.
Plans for quelling the influence of such characters—a city-organized task force has recommended creating activity zones to corral the annoyances into designated areas—look to be ineffectual at best and borderline-oppressive at worst. Other renovation plans are benignly beneficial: the design firm SnØhetta is nearing completion of a six-year overhaul of the plazas intended to improve pedestrian flow and orientation, give the events infrastructure more oomph and encourage the square's tendency toward informal performance. But in the end they are a distraction from the real threat to Times Square: New York in its current incarnation is no place for the unkempt of the underclass, and it's increasingly not a place for the creative or middle classes, either.
The Center for an Urban Future recently issued a report that found arts and the broader creative sector "arguably provides New York with its greatest competitive advantage, growing from 7.1 to 8.6 of all creative sector jobs in the nation"—the largest percentage of any city—"in the decade between 2003 and 2013."
"Of the city's 20 largest industries, none comprise a larger share of the nation's total jobs," the report adds, warning that the creative sector's success is, however, on fragile footing as "skyrocketing rents have forced numerous music venues, nonprofit theaters and art galleries to close their doors and made it difficult for many of the city's artists, architects and other creative workers to afford to remain in the city."
"The physical part of our city—the body—has been improved immeasurably…But the cultural part of the city—the mind—has been usurped by the top 1 percent," musician/artist/writer David Byrne wrote in a recent essay. "Middle-class people can barely afford to live here anymore, so forget about emerging artists, musicians, actors, dancers, writers, journalists and small-business people. Bit by bit, the resources that keep the city vibrant are being eliminated."
Rents in Times Square are so high that even national chains cannot afford them. Last year, Toys R' Us abandoned its 110,000-square-foot flagship—with a towering animatronic dinosaur, a 4,000-square-foot Barbie Dreamhouse and an indoor Ferris wheel—because the rent had soared from $400 per square foot to $2,500 per square foot since 2001. "Nobody can afford that amount of ground-floor space in Times Square," an agent for the building's owner told USA Today.
The closure marked a pivotal juncture in Times Square's trajectory—the point at which the cost of renting a space becomes so high that the purpose of a store shifts from mercantile to marketing. The shift in use from real to abstract equals an urban space taken out of circulation from the business of the city.
Earlier this year, the last music shop closed on West 48th, a stretch once known as Music Row for its instrument and sheet-music purveyors. Cafe Edison, an old Broadway haunt that served deli food, shut its doors the previous January. Condé Nast, a signifier of Times Square's original cleanup, moved to the World Trade Center, lured by the same tax incentives that had once brought it to 4 Times Square.
"What we're concerned with is that the conditions for innovation are going to be there," said the MAS' Ms. Rowe. "I would like to see what we can to do to add more economic diversity there, which is hard because the rates are so high and I don't think they'll drop anytime soon."
"I think one of the great discoveries of Times Square is that it's not a faux place," she continued. "We should look carefully at what we can do to maintain that so it's a commercially viable and it doesn't just become a facade."
New York was made, and in many senses, made great, by capitalism, but sometimes its glowing beacon needs to be saved from itself. As Mr. Gopnik notes, "The free market produced the old Times Square: the porno stores were there because they made money, as part of a thriving market system. Times Square, and Forty-second Street, was saved by government decisions, made largely on civic grounds."
The Broadway theaters were also saved by government interventions made largely on civic grounds, in partnership with, but also in protection from, the market: the air rights transfer district, which allowed the theaters to sell their development rights to non-adjacent parcels to ease the development pressures that threatened their destruction.
And as Mr. Tompkins pointed out when we recently spoke, "Times Square's problems are synonymous with New York's. To be losing the neighborhood pharmacy to a Duane Reade. Or when you talk to people in the arts communities and they tell you that years ago artists could afford to live in Dumbo or Bed-Stuy. How do you nurture creative people in a successful city?"
And not only the creatives, but people like George Singleton, the T-shirt vendor, who was born in Brooklyn and was renting a small apartment there with his second wife when Magic Johnson's development company bought their building and, he says, more than doubled their rent. So the couple built a house in North Carolina, where they could afford the kind of place they wanted. She now lives there full-time. He visits when he can. Otherwise he commutes to Times Square from a $1,400-a-month, two-bedroom share in Jersey City.
"Times Square is kind of boring," Mr. Singleton remarked, after concluding that he couldn't think of a single crazy thing he'd seen in more than a decade of watching tourists meander through tour bus salesmen and dancing Christmas trees. "They made 42nd Street really, really touristy. Old 42nd Street was gritty—like New York was gritty."
Indeed, Mr. Bloomberg ushered in many improvements besides pedestrian plazas, but he had a rich person's distaste for the sloppiness of city life and made it his business to beautify and calm that which was ugly and noisy, often at the expense of diversity and vitality.
And one of the problems with this far more congenial and comfortable New York is that it has attracted many other such people who don't much like that diversity and vitality. Money is effective at insulating people from the annoyances that come with living on top of 8 million other people.
Whereas the world once dreamed of Times Square, now they dream of Brooklyn, whose appeal lies largely in how unlike Times Square it is, how chill even.
In a lot of ways, it's easier to love than New York. Loving "Brooklyn" is largely about subscribing to an aesthetic and set of consumptive habits. Loving New York is hard in the way that cities are hard—it entails accepting people and things and experiences that are sometimes not to your taste or your liking.
Times Square and New York are far from dead, but it's true that something in them is dying. And the extent that they have fallen out of favor betrays our discomfort with the messiness of the urban project as a whole.
If we want to save Times Square, we need to embrace that messiness and make sure that New York remains accessible to those who were not born to wealth or made the acquisition of it their life's work. The city's dream economy rests on the connection and clash of people of different backgrounds and classes, not just the schoolteachers and the firefighters—those favored few of mayoral speeches—but the artists and the failed artists, bartenders and store clerks, subway musicians, T-shirt vendors and sellers of pirated DVDs.
***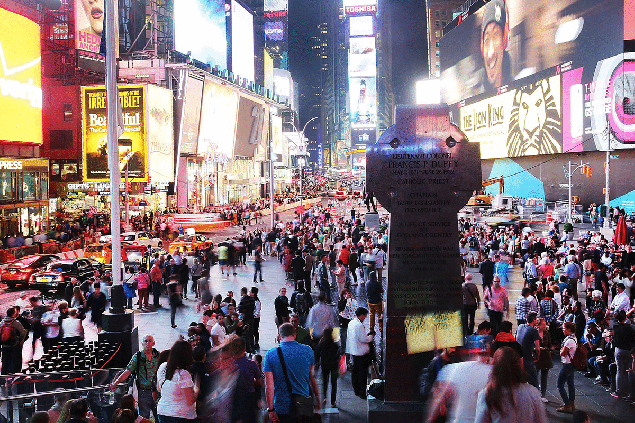 One rainy morning in late December, I walked over to the Times Square, a once-grand hotel on the northeast corner of 43rd Street and Eighth Avenue that is now a 652-room supportive housing residence. Since opening in 1922, the T.S.'s fortunes have reflected those of the neighborhood from which it draws its name, having gone from a marble-lobbied tourist destination to a dilapidated welfare hotel on the verge of condemnation in the '80s.
At that time, the area's homeless population—about 70 people slept on the streets of Times Square every night—was posing a serious challenge to redevelopment efforts. At the urging of homeless advocate Rosanne Haggerty, the city acquired the property in 1990 and turned it over to the nonprofit that Ms. Haggerty had recently founded named Common Ground (rechristened Breaking Ground last year).
The transfer was made under a city program that was moderately popular at the time, but Ms. Haggerty's plan for the building was unusual: to house the chronically homeless and those with severe mental illness alongside regular low-income tenants, thus becoming the largest supportive housing site in the nation.
"It is not realistic to think that people will live in an institutional setting if they have a choice," one housing expert warned at the time. Others worried that a massive supportive housing project in the heart of Times Square would hurt efforts to promote it as a family friendly fun zone.
Today, the T.S. is seen as having played a crucial role in the neighborhood's revitalization, and Breaking Ground now operates 17 residences across the city, many employing the same mixed supportive and low-income model. It also has a wait list for the low-income units, Brenda Rosen, the executive director of Breaking Ground, told me. The spartan studios rent for between $400 and $800 a month and are particularly in demand among actors, who like the proximity to Broadway.
On the morning that I visited, residents were mingling over coffee at a social hour in the restored Art Deco lobby, under the benevolent gaze of a golden angel that had been salvaged from the old Helen Hayes Theatre, and the low, pleasant buzz of conversation floated up to the mezzanine where Ms. Rosen and I were talking. As our conversation neared an end, she mentioned that she was a native New Yorker with a personal connection to the hotel: Her mother had stayed there in 1961, when she first moved to the city.
"My mother was English and didn't have money for an apartment and would rent by the week," Ms. Rosen explained. "She didn't know anyone and would only talk to the newsstand guy downstairs. He kept telling her she needed to meet one of his other customers. Finally she agreed." The man was Ms. Rosen's father.