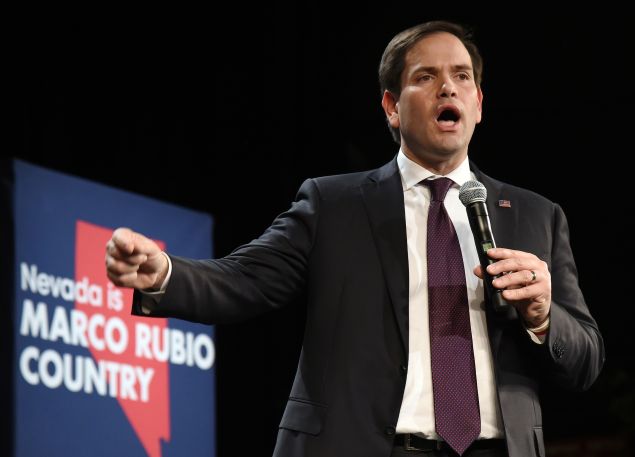 In case there were any lingering doubts, the Republican establishment made it clear today their great last hope is Marco Rubio.
Members of Congress, a governor and a former Republican nominee for president all endorsed Mr. Rubio, a Florida senator, confirming a process that was projected to occur as soon as he outperformed most of the field in Iowa earlier this month. The parade of endorsements means Mr. Rubio, at the minimum, will be able to rely on an array of well-known lawmakers and their fundraising ties to prop up a campaign that needs to find a way to skirt past Sen. Ted Cruz of Texas and, more importantly, defeat the front-runner, Donald Trump.
Bob Dole, the 1996 Republican nominee for president and former Senate majority leader, was probably the biggest name to fall behind Mr. Rubio a day before Nevada Republicans caucus. He was joined by Utah Sen. Orrin Hatch, Arizona Sen. Jeff Flake, Arkansas Gov. Asa Hutchinson, former Minnesota Gov. Tim Pawlenty and a slew of congressmen, including several from the Sunshine State. Mr. Rubio's ability to finish second in the South Carolina primary, high enough to drive Jeb Bush from the race, has cemented his role as the increasingly ineffectual establishment's vehicle to derail Mr. Trump.
There's a little irony in all of this, given Mr. Rubio's history: he stormed into the Senate as a Tea Party favorite, defying the party elders who are now nervously counting on him to win.
"The more I've watched this election unfold, the more I've come to see that Marco Rubio is the only candidate who can unite our nation the way Ronald Reagan once did," Mr. Hutchinson, the Arkansas governor, said in a statement this afternoon. "Not only is Marco uniquely capable of rallying Americans behind a conservative vision for the future, but he also fully understands what it takes to keep us safe in this dangerous world."
What this will ultimately amount to remains to be seen, especially as Mr. Trump makes a mockery out of the idea of party insiders dictating the course of a primary. A steady drumbeat of endorsements could be a signal to the other alternative for K Street Republicans, Ohio Gov. John Kasich, to drop out, though he said he intends to remain in the race until his home state votes on March 15. Two New York area billionaires, Ken Langone and Stanley Druckenmiller, are now helping Mr. Kasich, potentially lending him a lifeline and blocking the clear path Mr. Rubio needs to quickly race past Mr. Cruz and defeat Mr. Trump, a real estate billionaire with a healthy lead in the delegate count.
Mr. Rubio does have plenty of strengths that these endorsements could augment. Unlike Mr. Cruz, he has shown the ability to appeal to voters beyond the most conservative fringes. If he won Florida, he could scoop up 99 delegates, since it's a winner-take-all state. Betting markets give him a far greater chance of winning the nomination than any other candidate outside of Mr. Trump.
Today, like Saturday, was a very good day for Rubioworld. If he weathers Mr. Cruz's oft-promised Southern surge and somehow pulls off the upset over Mr. Trump, it will have its place in history.
Disclosure: Donald Trump is the father-in-law of Jared Kushner, the publisher of Observer Media.