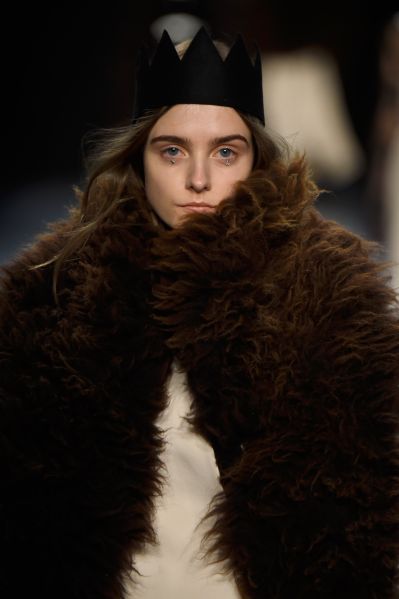 On Valentine's Day, it's easy to find the beauty in the small things, like arriving at a fashion show, at 9 a.m. on a Sunday morning when the temps are in the single digits, and finding a rose on your seat. Tome smartly did just this, enticing their (mostly female) audience with a small token of romance.
The brand, created by Ryan Lobo and Ramon Martin, has always had a focus on shirting, but in the most playful way possible. Crisp button downs are romantic and feminine from Tome, not just a staple uniform of Wall Street. Take, for example, the white short sleeve poplin dress, unbuttoned to reveal a purple lace turtleneck with sparkly sleeves and an X-harness across the throat.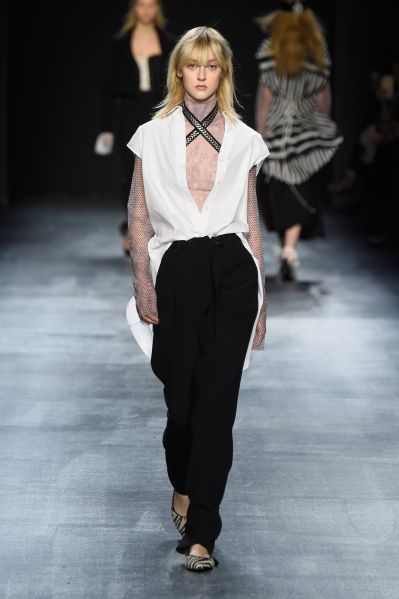 Plenty more shirts followed, some layered under corsets, others in full, dress versions. Trench coats, another strong suit of Tome, made frequent appearances. The best iteration was in khaki, layered over a dress of the same hue, with a deep-V neckline ending at an oversized bow. Even PVC was introduced, adding a welcome avant-garde undertone to the otherwise commercial-friendly range.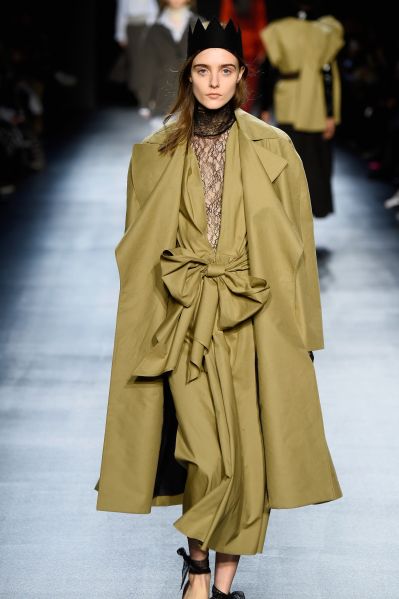 However, the one look that put a smile on everyone's face was a model bedecked in a white shirtdress, with a grisly brown shearling flung over one shoulder, with a black crown perched on her head. Right away, the audience assumed it was a direct reference to Max and Where the Wild Things Are.
"It wasn't planned that way!" Mr. Lobo exclaimed, 10 minutes after the show. "But it just happened! The crowns were actually a reference to Louise Bourgeois, because she famously wore one in a picture."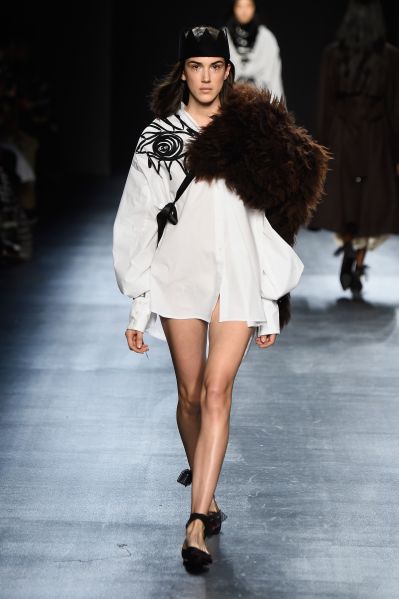 Ms. Bourgeois wasn't the only artist who inspired the Fall/Winter 2016 range: Barbara Kruger and Mona Hatoum were also mentioned by the designers. It wasn't the dark and politically charged work of those female creatives which was culled as a direct influence. Rather, it was that they don't hold back. They state their feelings, their desires and they aren't afraid to make a statement. Turns out, Mr. Lobo and Mr. Martin feel the same way.
"We have pre-collections to sell lots of clothes, but our main collections exist so we can flex some of our creative desires. It's so nice to do whatever the hell you want for a change," said Mr. Lobo. "Especially with everything going on with designers and this industry, it's so nice to be a small brand. We can dance to the beat of our own drum."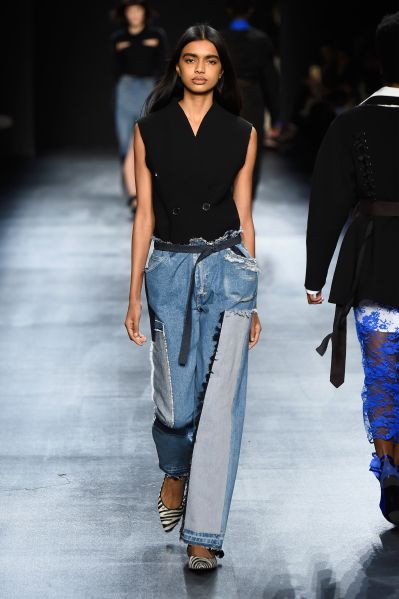 For Tome, that means incorporating sustainable and ethical initiatives into their bottom line. Plenty of the shirts in the range were reworked pieces from the Tome archive and the denim, which was first introduced in the pre-fall collection, was also upcycled.
Even the shearling was eco-friendly, as it was a total by-product of farming and ethically sourced.
Mr. Martin explained: "It goes back to being the size of the business and the team. We can choose to do whatever we want, they are our decisions and we own them. It's less about the word responsibility and more about the word empowerment."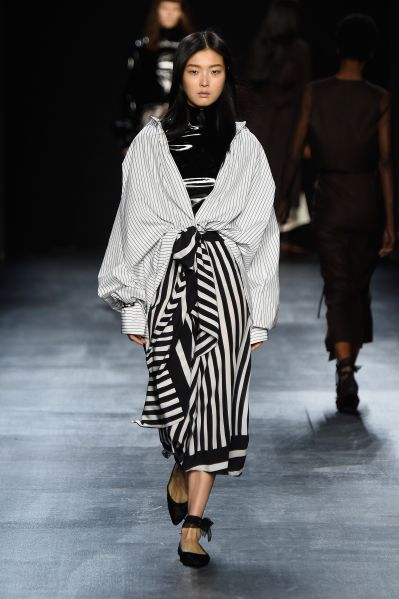 Being a small brand has been a blessing for Tome, as it allows them to play with concepts and experiment. For these two designers, it is empowering.