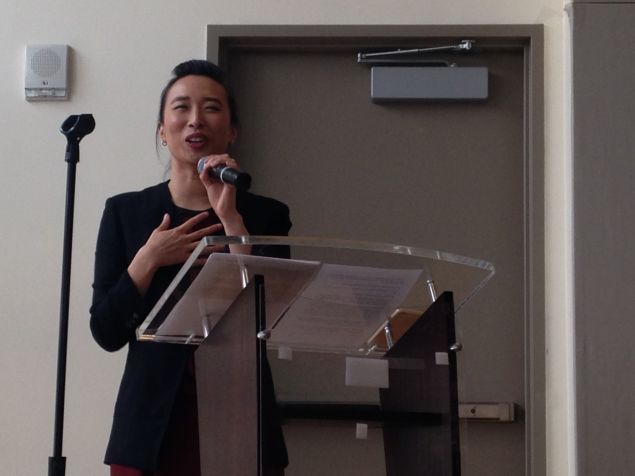 The chairman of the Assembly's Black, Puerto Rican, Hispanic and Asian Legislative Caucus has endorsed Working Families Party candidate Yuh-Line Niou for the seat of disgraced former Speaker Sheldon Silver—bucking Mr. Silver's allies in his old Lower Manhattan turf, who have nominated district leader Alice Cancel to replace him.
Brooklyn Assemblyman Nick Perry announced today he was backing Ms. Niou, chief of staff to Queens Assemblyman Ron Kim, over Ms. Cancel in the special election in April, even though Ms. Cancel is the candidate on the Democratic line. The Democratic county committee in the district, on which many of Mr. Silver's closest confidantes sit, picked  Ms. Cancel to be his successor earlier this month.
Ms. Niou, also a Democrat, vowed at the meeting of the committee to carry on her campaign on the WFP line.
"This district needs a proven fighter for low income families and people of color. This district needs someone with real experience helping seniors, tenants, and school parents access government support and services. This district needs a real progressive who can do the job with integrity and restore people's trust in government," Mr. Perry said in a statement. "And that person is Yuh-Line Niou."
Mr. Perry's endorsement will likely compel few voters in Mr. Silver's old district to the polls, even though it is majority-minority. But it indicates that the Democratic power structure in the Assembly favors the WFP contender over the candidate actually running on the Democratic Party line.
Ms. Niou also picked up the endorsement of Bronx Councilman Ritchie Torres, co-chairman of the Black, Latino and Asian Caucus in the City Council.
"Yuh-Line Niou has the integrity, understanding and experience to bring real reform, more transparent government, and restore the voters' faith in their elected officials," Mr. Torres said in a statement. "I know she will be a great advocate for our progressive values; I'm proud to endorse her; and I'll be proud to see her take her seat as the first person of color to represent this district in Albany."
Manhattan Councilwoman Rosie Mendez, whose district overlaps with the Assembly seat, strongly backed Ms. Cancel for the position at the meeting last month. Mr. Torres unseated Ms. Mendez as the BLAC co-chair just weeks afterward.
Whoever triumphs in the special election in April, however, will certainly face a primary challenge in the fall: district leaders Paul Newell and Jenifer Rajkumar, and local community board chairwoman Gigi Li, all told the Observer they intend to seek the seat in September.
Mr. Silver, once among the most powerful men in the state, had to forfeit his seat after his conviction on corruption charges last November.