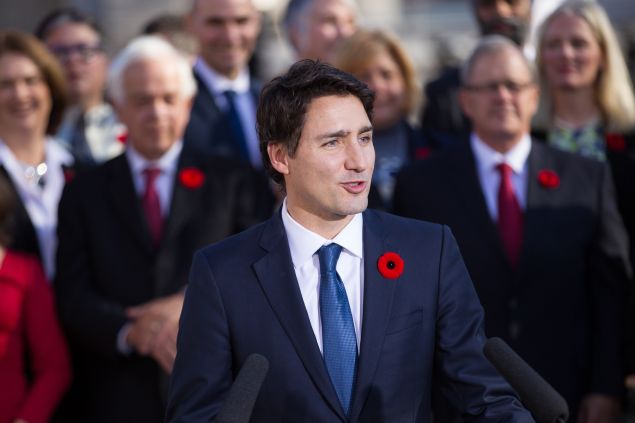 Justin Trudeau, Canada's Liberal candidate for Prime Minister, was elected in October 2015 in a stunning comeback from third in the polls, and the Liberal Party recouped a majority in parliament, winning 184 of 338 seats.
Inspiring a voter turnout of 68.5 percent—an increase of 7.4 percent over Canada's last parliamentary elections in 2011—Mr. Trudeau is known for drawing overflowing crowds of supporters at political rallies. Despite Canada's ban on large campaign donations from corporations and unions, and strict limitations on individual contributions, in 2013 he raised more than any other Liberal candidate, revolutionizing the way the party engages with supporters. Mr. Trudeau's leadership also helped modernize his party after election losses left them with the smallest number of parliament seats in history.
Bernie Sanders is running his presidential campaign in a similar fashion. When he boldly pledged to refuse money from super PACs, Mr. Sanders was the only candidate to do so, and his self-avowed dependence on small, individual contributions resulted in over two million donations—more than any other presidential candidate in United States history—allowing him to remain financially competitive with the preferred choice of the Democratic establishment, Hillary Clinton. Mr. Sanders has had one of the most successful grassroots campaigns in political history, resulting in leads in the most recent Iowa and New Hampshire polls, and rapidly catching up to Ms. Clinton in South Carolina and Nevada.
'You told us what kind of government you want, and we built the plan to make it happen.'
Mr. Trudeau promised to increase taxes on the wealthiest one percent of Canada's population, and increase spending on infrastructure to revitalize the country's stagnant economy. "We can afford to do more for the people who need it by doing less for the people who don't," he stated on his campaign website, outlining plans to help a struggling middle class. Mr. Trudeau's cabinet is currently negotiating with provincial and municipal officials for his infrastructure program, which is estimated to receive $42 billion in funding over the course of ten years.
Like Mr. Trudeau, Mr. Sanders also supports raising taxes on the wealthiest Americans, to fund investments in the country's infrastructure. "Today, the U.S. spends less than 2 percent of GDP on infrastructure, less than at any point in the last twenty years. Meanwhile, Europe spends close to twice our rate, and China spends close to four times our rate," explains Mr. Sanders' website. "It is no wonder the World Economic Forum's Global Competitiveness Report now ranks our overall infrastructure at 12th in the world—down from 7th place just a decade ago."
Mr. Sanders' his plan to rebuild America's infrastructure would create an estimated 13 million jobs, similar to Franklin Delano Roosevelt's Works Progress Administration. His rhetoric on income and wealth inequality resonates profoundly with disenfranchised voters, frustrated by the lack of reforms on Wall Street following the 2008 recession, the enormous campaign contributions and lobbying efforts from big corporations, and the stagnation of America's working class.
As feminists, Mr. Sanders and Ms. Trudeau have been lauded by supporters for their efforts to improve women's rights. Both men have also been at the forefront of embracing diversity in the face of increasingly tense sentiments towards Muslims from politicians on the opposite end of the political spectrum.
The political successes of Mr. Trudeau in Canada and Mr. Sanders in America are a direct result of their keeping the best interests of everyday people at heart, and encouraging individuals to participate in the political process.
"You built this platform. You built this movement. You told us what you need to be successful," Mr. Trudeau said to supporters during his victory speech. "You told us what kind of government you want, and we built the plan to make it happen. In coffee shops and in town halls, in church basements and in gurdwaras you gathered. You spent time together with us, and you told us about the kind of country you want to build and leave to your children."
Mr. Sanders has echoed similar sentiments. "What I am calling for is not just your support to elect me as president. I am asking you to be a part of a political revolution," he said at a political rally in South Carolina in August 2015. "A revolution which transforms our country economically, politically, socially and environmentally."