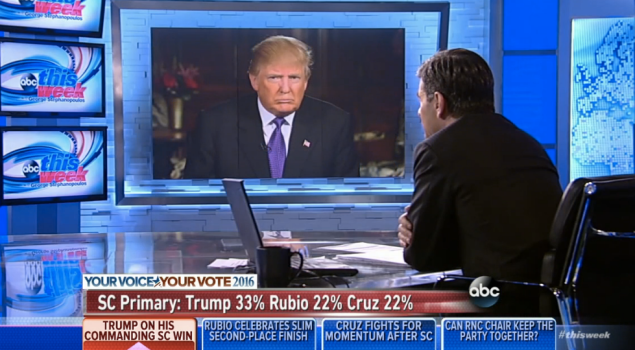 Late Saturday night, long after Donald Trump won the South Carolina Republican presidential primary, CNN commentator David Gergen said he was not as sure as others that Mr. Trump would win the nomination.
"I think he's got another hurdle coming up," said Mr. Gergen, who has worked for several Presidents, most of them Republican. "The media is going to investigate him in a way we haven't seen before. And they're going to vet him and vet him and vet him and we'll see where it comes out."
Mr. Trump uses grandiose language with a bellicose bearing and he promises much in broad, general terms. But on this week's Sunday shows, there seemed to be an urge from some hosts and guests to seek more specifics on policy from Mr. Trump and to get him to follow through on promises.
For instance: On ABC's This Week, host George Stephanopoulos reminded Mr. Trump that he's been promising to make public his tax returns for many weeks. In that the right-wing and Republican-leaning Wall Street Journal editorial page urged their release before Super Tuesday on March 1, doesn't Mr. Trump owe it to the public to release them by then?
"Well, well, first, no, I won't," Mr. Trump said. "No, no, no. I won't. I'm working on them. We're working on them. They're massive."
Mr. Trump went on to denounce The Journal in general.
"I have no respect whatsoever for The Wall Street Journal," Mr. Trump said. "I don't think they know what they are doing. They have taken me on so much. It's so ridiculous. Every day, editorials, bad editorials . . . I don't even want to read it anymore."
'He is now the face of the Republican Party …they have made their bed. They've got to lie in it.'
In South Carolina, Mr. Trump (33 percent) finished ahead of Florida Senator Marco Rubio (22 percent) and Texas Senator Ted Cruz (22 percent). The other three were in single digits. Former Florida Governor Jeb Bush quit the race but Ohio Governor John Kasich and retired surgeon Dr. Ben Carson remain for now.
On most of the shows, the conversation turned to the idea that Republicans must consolidate around one candidate to deny  Mr. Trump their nomination. One was Sara Fagan, a Republican strategist, who told Mr. Stephanopulos:
"How do we get folks out of this race so somebody can accumulate enough delegates at a convention to beat him? You've not seen much money spent against him to date. And what's more, the challenge is we've not been able to get behind an alternative. Unless we cull the field to one alternative, Donald Trump may not be stopped."
This seemed to delight Jennifer Granholm, the former governor of Michigan and a Democrat who supports Hillary Clinton for the Democratic nomination.
Ms. Clinton, the leading Democratic candidate, beat Bernie Sanders Saturday night at the Nevada caucuses. They face off Saturday in South Carolina.
"Only four percent of the Republican super PAC money has been spent attacking Donald Trump," Ms. Granholm said. "Donald Trump being anti-Mexican, anti-Muslim, anti-women, anti-immigrant and anti-science. Hillary Clinton is putting together this coalition that looks like America. It will be an incredible contrast. He is now the face of the Republican Party …they have made their bed. They've got to lie in it."
Mr. Trump—no longer just phoning it in—met by remote video with most of the shows, as did most other candidates. Ms. Clinton visited only Jake Tapper on CNN's State of the Union and spoke in pleasant generalities about the liberal and progressive agenda that sounded poll-tested and scripted.
But there was a moment of what sounded like candor in a discussion about surveys that show low public trust for her.
"There's an underlying question that may be the reality in the back of people's mind and that is, you know, 'Is she in it for us or is she in it for herself?'" Ms. Clinton said. "I know I have to make my case."
On a tamer-than-usual Face the Nation on CBS, Mr. Rubio spoke with host John Dickerson of Mr. Trump.
"Anyone can go over the top and say things that sound strong," Mr. Rubio said. "But sounding strong is not enough. You have to know exactly how you're going to do it. His views on Vladimir Putin are troubling. I don't think he fundamentally understands who Vladimir Putin is and what he is trying to do."
'I can act as presidential as anybody that's ever been president—other than the great Abraham Lincoln.'
Also on Face the Nation, Reittan Salam of The National Review said Mr. Rubio could make a blue-collar pitch against Mr. Trump.
"Look, this guy is a plutocrat charlatan and I have a real agenda for working families," Mr. Salam said. "Why isn't he talking about it?"
Without offering alternatives, Mr. Trump said he would abolish Obamacare and provide better care more cheaply.  Mr. Trump saying he would not let people die on the sidewalks and the streets. He seemed unaware that Medicaid is used by people like this and he cited no numbers of dead people in the streets.
Because Mr. Trump knows how to divert the conversation so quickly, here was little talk about last week, when he exchanged insults with the Pope and insulted former Republican President George W. Bush by saying Mr. Bush and others knowingly lied to get us in the Iraq war of 2003. It was old news.
The impulse to investigate Mr. Trump was heard at CNN on Reliable Sources when Juana Summers—the public editor of Mashable—said "I think the media are going to take him so much more seriously . . . What exactly has his business been like?"
On Fox News Sunday, Mr. Trump sounded again candid (or maybe just calculating) when he answered a Chris Wallace question about the need to "act more presidential" as he gets closer to that office.
TRUMP: "Well, probably I do. I can act as presidential as anybody that's ever been president—other than the great Abraham Lincoln."
WALLACE: "When are you going to start?"
Mr. Wallace and others asked Mr. Trump if he is doing a "hostile takeover" of the GOP. "No," Mr. Trump told Mr. Wallace. "I'm not at all."
Asked again if he might consider a third-party candidacy, Mr. Trump said that this was doubtful although ominously warned that the Republican Party has not been treating him with the deference he deserves by stacking debate audiences with allies of other candidates and their donors
Still on Fox, Karl Rove said that if Mr. Trump gets nominated, "We will have nominated the guy who is tied for having the worst favorable/unfavorable rating among all candidates." The other, Mr. Rove said, is Ms. Clinton.
Mr. Wallace once again whined that Ms. Clinton is the only candidate who will not darken that network's doorway. Fox called two Clinton flacks and "Neither of them had the courtesy to answer our phone calls and emails. (Hmmmmm. Wonder why?) How dare they?
Disclosure: Donald Trump is the father-in-law of Jared Kushner, the publisher of Observer Media.