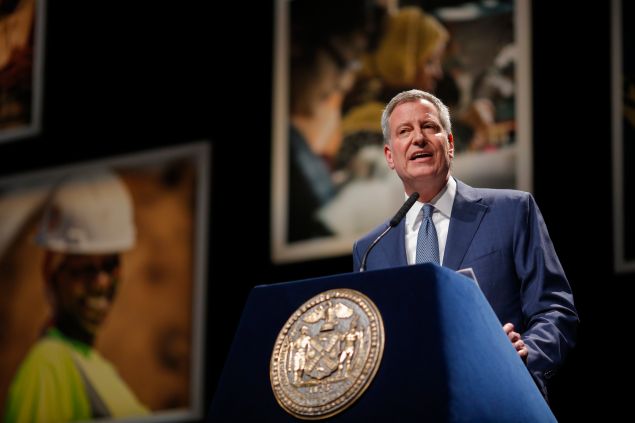 Mayor Bill de Blasio found his annual progress report tragically overshadowed tonight, as two police officers suffered gunshot wounds in a clash with suspects in the Bronx just blocks from where Mr. de Blasio was making his speech at Lehman College.
"Our brave officers were doing their job tonight in our public housing, on patrol keeping the resident safe," Mr. de Blasio said at a press conference at Lincoln Hospital in the Bronx, about five miles from where just about an hour before he was wrapping up his annual State of the City Speech. "Thank God so far in both cases their condition is good."
Mr. de Blasio was notified about the shooting as soon as he finished his speech, aides to the mayor said. He quickly departed without the typical hand-shaking to head for the hospital, where he was joined with a cadre of elected officials who had also been at the speech.
The shooting played out in the Melrose Houses, a public housing development, where the two officers had been conducting a vertical patrol in a sixth-floor stairwell, First Deputy Commissioner Benjamin Tucker said tonight. There, the officers encounter two individuals, one of whom took out a gun and shot at the officers, Mr. Tucker said.
The alleged shooter fled into a seventh-floor apartment, where he was later found dead from what police said was a self-inflicted gunshot wound. A semi-automatic gun and a shotgun were retrieved from the apartment, Mr. Tucker said. The second person who was in the stairwell is in custody, Mr. Tucker said, and Chief of Detectives Robert Boyce said he and the people in the seventh-floor apartment had not been charged but were talking to police to provide statements. Helicopters hovering over the scene of the shooting could be seen and heard from the nearby hospital.
The NYPD would not yet release the name of the police officers, but one is a 29-year-old male and one is 24-year-old female, both of them with two years on the force. The male officer was shot in the face, and the woman in the abdomen, but both are in stable condition.
The sad irony is that Mr. de Blasio spent much of his remarks celebrating the city's declining overall crime rate, and praising a host of cops who had saved lives and helped deliver infants in the past year.
"This past month was the safest January on record," he said, citing statistics that shootings were down 34 percent and murders down 45 percent. "Tonight, we are joined by members of our uniformed services who have performed extraordinary acts of heroism in recent months."
It was a contrast from the mayor's situation a little over year ago, when cops turned their backs on him at the funerals of Officers Rafael Ramos and Wenjian Liu, killed by a gunman who claimed inspiration from recent Black Lives Matter protests—protests Mr. de Blasio had expressed sympathy for. Conflict with the rank-and-file members of the police department led to an apparent slowdown in enforcement for a few weeks.
A number of police officers have been attacked, shot and even killed during Mr. de Blasio's two year tenure, creating an optics problem for him as he has sought to honor a campaign promise to reform how the department interacts with nonwhite New Yorkers. Even tonight, he announced he would begin "implicit bias training" for cops, so they may "identify, understand and change unconscious behaviors that may affect their policing."
Patrolmen's Benevolent Association President Patrick Lynch, who has been a frequent critic of the mayor, was among those who spoke tonight at the press conference and said the shooting showed the dangers his officers face daily.
"Once again we're here at this hospital, fortunately this time we're not getting the worst news," Mr. Lynch said as the mayor nodded. "But we still have two police officers that are shot."
Vertical patrols—with police officers walking the halls and stairwells of public housing developments—have been a source of controversy in the department, mostly because of incidents n which officers have shot unarmed residents, including the case of Officer Peter Liang, currently on trial for shooting Akai Gurley. But Mr. Lynch said the shooting highlighted the danger it poses to police officers, too.
"As always, we need you support each and every day," Mr. Lynch said. "We need your support to tell us when someone is carrying a gun. We need your support to teach young folks that to pull a gun on a police officer works for no one."
Mr. de Blasio's speech had already been largely overshadowed before the shooting, and before the remarks even began. A long-sought and hard-negotiated deal to restrict the operation of horse carriages to Central Park was to be up for a vote on Friday, but the deal fell apart on Thursday morning in an embarrassing defeat for the mayor, who at one point huddled in his SUV with aides for almost 20 minutes while press and horse carriage drivers waited to confront him in City Hall plaza.