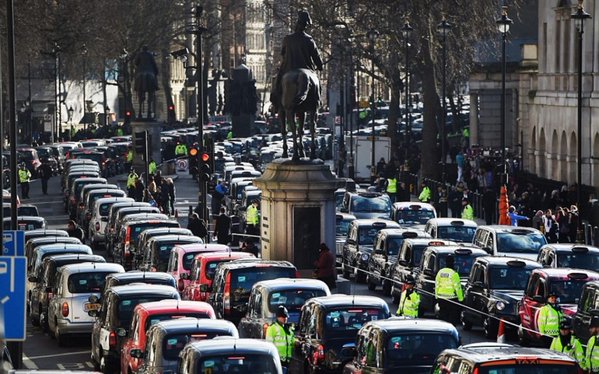 Some things never change.
On Wednesday Uber announced another one of its famous promotions. Drivers for the ride hailing service will deliver bras and underwear throughout Manhattan this weekend as a Valentine's Day gift to its customers. The lingerie company Naja, co-owned by actress Gina Rodriguez, will offer same-day delivery on limited gifts through UberRUSH.
But while its New York customers are getting lucky, Uber isn't doing quite so well across the pond.
About 8,000 taxi drivers in London protested Uber's growing presence in the city today by blocking streets and causing gridlock throughout Whitehall, Westminster and the West End. The protest finished peacefully with no arrests.
London cabbies claim that city government is in thrall to Uber, which doesn't pay a corporation tax in the UK. In fact, fringe London mayoral candidate George Galloway has gotten a lot of support from city cab drivers because he is promising to "run Uber out" if elected.
Uber offered an "olive branch" to the taxi drivers by allowing customers to book black cabs on the app for zero commission. But the drivers' union dismissed this as a "PR stunt."
This awkward combination of puff promotions and passionate protests has been a reality for Uber for more than a year. Last year, the company tried to mask a culture of misogyny and an attempt to stalk a female journalist by sending puppies to cities around the world to promote its sponsorship of the Puppy Bowl (which continued this year). Any cities that had banned Uber or where the app had encountered resistance, however, received no puppies.
Uber may not have a problem offering bras and puppies to customers while at the same time sabotaging anyone who gets in their way. But the London uprising (along with several recent demonstrations in the U.S., including one at the Super Bowl, that protested fare cuts) shows that drivers have finally had enough. At some point, perhaps customers will too.