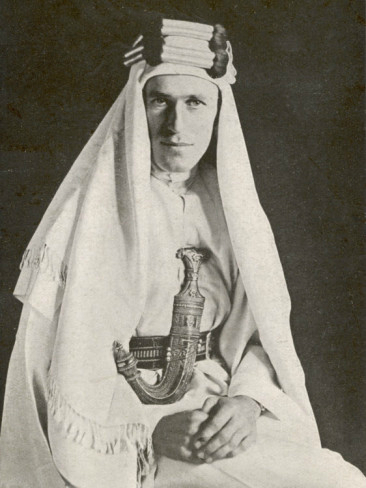 Britain's culture minister Ed Vaizey has placed an export ban on artifacts that once belonged to T.E. Lawrence, a.k.a. Lawrence of Arabia, in an effort to keep them in the U.K. Lawrence's robes and dagger are in danger of being sold, but Mr. Vaizey sees the objects as national treasures. He says, "T.E. Lawrence was one of the most extraordinary figures of the 20th century. These robes and dagger are absolutely iconic and a key part of his enduring image. It is important that these classic objects remain in the U.K."
The Museum of London is spotlighting the history of tattoo culture in the British capital, with the exhibition "Tattoo London."
In his review of Laura Poitras' Whitney Museum show New York Times critic Holland Cotter reveals he doesn't actually think 9/11 had a large impact on the day-to-day lives of New Yorkers at the time. He says, "A commonly voiced sentiment at the time was that Sept. 11 'changed everything.' It did not, however, more than momentarily interrupt the city's entertainment schedule. And several of the critical changes it did inspire were hidden from public view." Really though?
A mouse somehow made its way into an exhibit behind glass at the Museum of English Rural Life and got stuck inside a mousetrap on display that was made 150 years ago. The rodent did not survive the encounter.
Online art print seller Curioos is mixing up its business model. The company is switching to a "marketplace approach," which will allow digital artists to submit their work instead of waiting to be added to the site by staff. However, the company will still be screening artists who submit their work for "quality."
The winter art auctions in London aren't nearly as impressive as last year's, with totals down 45 percent from the same period in 2015.
Here are some tips for avoiding "museum fatigue," according to the men's blog The Art of Manliness, though the tips could really apply to both genders.