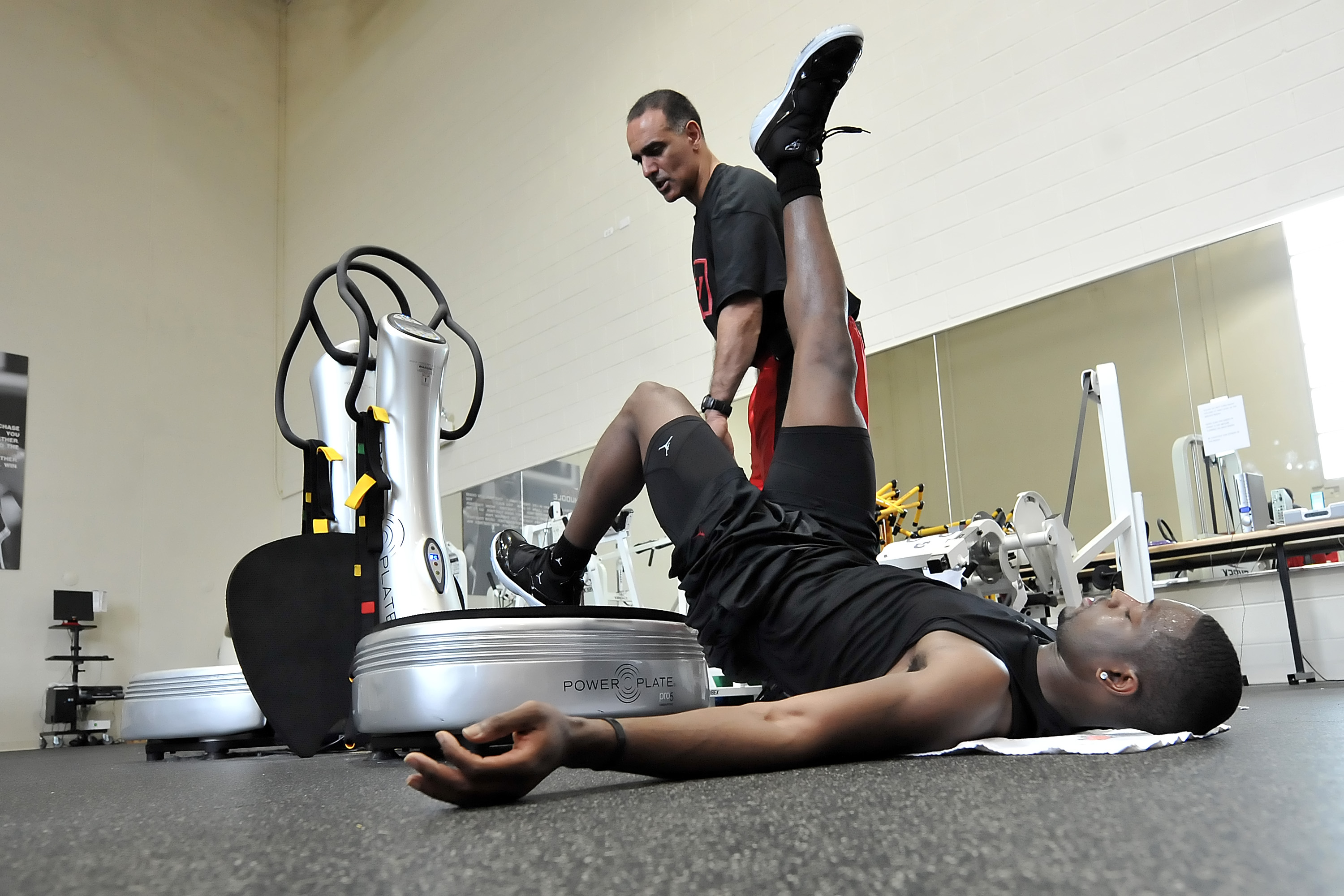 If you're a regular gym-goer, you're probably vaguely familiar with the Power Plate, even if you have no earthly clue what it's used for. It's that strange looking machine in the corner, where no one deigns to go without a trainer by their side. While you've thought about attempting it, you also value your pride, and the thought of flailing around in a weight room is a true travesty.
With a whole slew of celebrity testimonials including Sting, Elle Macpherson and Claudia Schiffer and the promise to use "whole body vibration technology to provide faster and more effective results for every fitness level," it sounds as though it could be a miracle worker. After all, for the ability to commit carbicide and not head to a workout class nightly, people would pay a pretty penny; but does the Power Plate truly work, and is it worth having in your home?
Power Plate recently launched a smaller version, meant for a home gym. Personal trainers can travel with the less bulky plate, as it's portable. Mark Wahlberg's trainer, Brian Nguyen, swears by the Power Plate.
[youtube https://www.youtube.com/watch?v=1ghjpGsjI90&w=560&h=315]
Looking at the Power Plate, it's reminiscent of old fashioned vibrating machines older generations used in an effort to be fit without actually doing anything, all while wearing a pencil skirt and sipping on a martini. The modern-day device, however, isn't about relaxing atop the platform. It acts as an accessory to an intensive workout. One is supposed to do their squats, planks, lunges and even yoga poses atop the plate to reach fitness goals faster. It's not promising instantaneous results from simply standing, but it is saying it will make your workout much more hardcore.
According to NBC, a study at NASA's Johnson Space Center proved the use of a vibrating platform during squats made muscles work harder. Because of its intensity, long periods of time spent on the Power Plate could possibly lead to physical problems.
For $1,995, you can add a Personal Power Plate to your arsenal. If you already have a home gym, it could be a welcome fit, but for those who don't, it would look a little awkward tucked away in an apartment. If there truly was a magical exercise machine that would burn calories without any effort and turn regular folks into Victoria's Secret Angels immediately, with pizza in one palm and a cocktail in the other, no price would be too high; but the Power Plate simply increases a workout, it doesn't offer a true game changer.  Until that day comes, feel free to utilize your gym's Power Plate, but maybe wait to invest in one of your own.