The wonderful world of vegetables, fruits, grains, roots, nuts and all things that grow from the earth has been newly rediscovered. Top chefs throughout the world are realizing what a loss it is to neglect the most abundantly diverse of the food groups, and are finally paying attention to this untouched frontier.
The resulting vibrant, elevated cuisine is something we all can savor. When names like April Bloomfield and David Chang, originally famous for their unabashed carnivorous attitudes, start redefining themselves with new vegetable­-forward cookbooks and finding inspiration in humble Korean Buddhist cuisine, you know there's something brewing.
From the unique perspective of a vegetable-­focused chef comes this list of the top restaurants and chefs who have mastered the art and science of making vegetables taste incredible. All but two of these restaurants are omnivorous (only Avant Garden is fully plant­-based and Dirt Candy is vegetarian), and while a number of them may not appear to be vegan-­friendly, the chefs at the helm are eager to accommodate their vegetable-inclined patrons.
These pioneering restaurants, ranging from upscale casual to fine dining, in an order from best to great, understand the direction modern society is headed. Their versions of vegan cuisine, served either a la carte and in full tasting menu glory, are simply delectable.
Juni, Chef Shaun Hergatt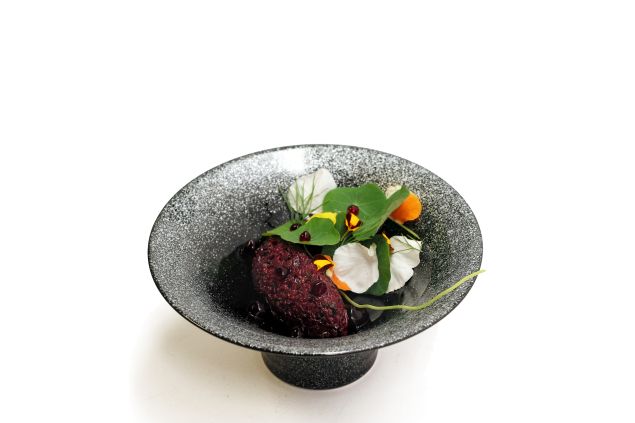 At Juni, the atmosphere is serene and minimalist, and all attention is focused on the meticulously crafted food. Not one to rest on his accolades and stars, Chef Shaun Hergatt is still hungry, still striving to become better every day. Unfazed by external validation, his drive is evident in each immaculately designed beet tartare, each perfectly placed nasturtium leaf and each balanced, razor thin potato crisp. When it comes to elevated cuisine, Mr. Hergatt sets the bar.
Betony, Chef Bryce Shuman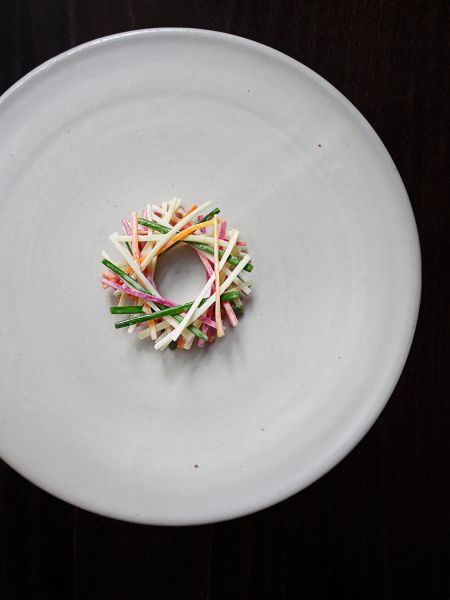 Bryce Shuman is the rare chef who is young and humble, yet already outshines the masters before him. The dishes he creates at Betony are elegant and thoughtful, with the perfect balance of flavors, textures, and colors. Using only the freshest seasonal ingredients, Mr. Shuman possesses both precision and creativity. His menu offers delights like poached salsify with black truffle and carnaroli rice with saffron and almond.
Blue Hill at Stone Barns, Chef Dan Barber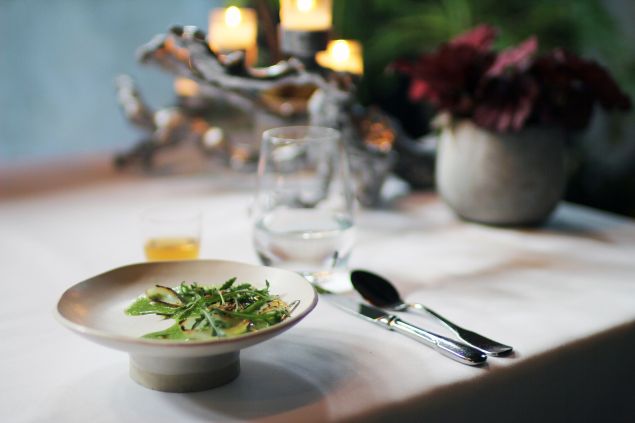 Blue Hill at Stone Barns is truly worthy of a special journey north. Its West Village sister pales in comparison to the farm fresh cuisine served upstate. Hyper­seasonal, hyper­local produce shines with delicate, minimalist guidance from master Chef Dan Barber. You've never really had a tomato, nor a radish, nor a sweet pea… nor any produce, until you've had them served fresh within hours, minutes of being picked. While the ingredients can be repetitive, each season brings new dishes to the menu.
Avant Garden, Chef Alex Aparicio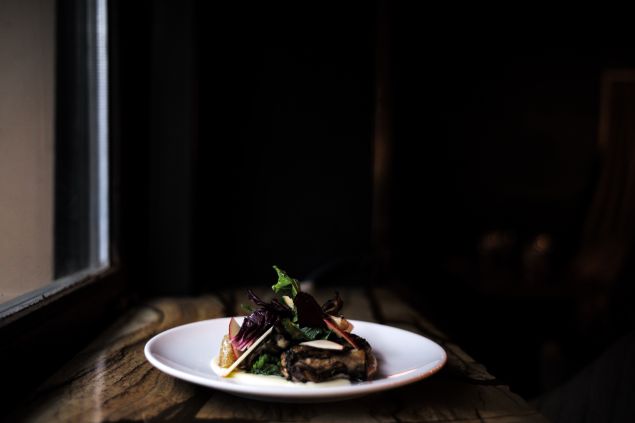 Artist first, restaurateur ­by­ accident, Ravi DeRossi's latest masterpiece, Avant Garden, is everything herbivores have waited for. The food is consistently craveable, ranging from refreshing lemony, lightly spicy sweet potato salad to ultra­decadent chestnut farro risotto. Chef Aparicio has infused the menu with new vibrancy and creativity after former chef Andrew D'Ambrosi's departure, delivering cuisine that lets beets be beets and avocados be avocados, in all their delicious glory.
The Musket Room, Chef Matt Lambert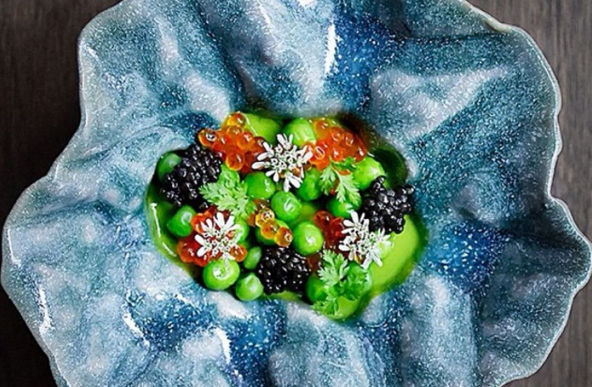 It was certainly stunning when the Musket Room earned a Michelin star within a year of opening, but no one can argue that it wasn't deserved. Musket Room is perfect when you're in the mood for haute dining in a relaxed atmosphere. The menu is not overtly vegan friendly, but when given enough notice, the kitchen will design a fully plant-based tasting menu. The tender tofu gnocchi, redesigned with seasonal components, will be among the best you've ever had.
Daniel, Chef Daniel Boulud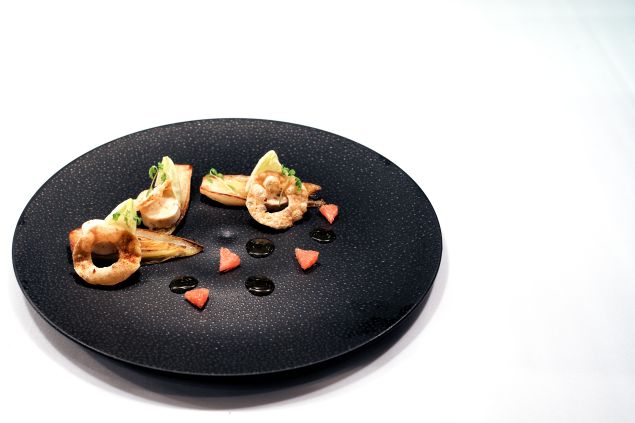 At Daniel, elegant dishes bring out the best of micro-­seasonal produce. Chef de cuisine Eddy Leroux is a foraging expert, showcasing local curiosities on his fine plates. The ever-changing tasting menu takes you through a thoughtfully composed journey of colors, textures and dimensions of flavor. Daniel offers a vegetarian tasting menu regularly, but be sure to notify them in advance for vegan special requests.
Eleven Madison Park, Chef Daniel Humm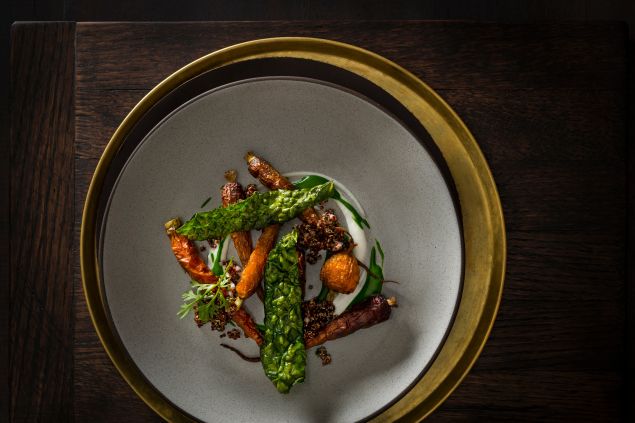 It's a wonderful thing that Chef Daniel Humm inherited Eleven Madison Park's fine sense of hospitality from the original owner, Danny Meyer, but it's the divine cuisine that keeps reservations in high demand. With a focus on local ingredients, the menu flows with the seasons. With notice, the restaurant is very accommodating to all dietary restrictions and preferences.
Little Park, Chef Andrew Carmellini
Chef Andrew Carmellini has transformed the former Plein Sud space into a vibrant dining destination that's both elegant and accessible. The vegetable-­forward menu offers colorful dishes using underrated kohlrabi and addictive, crispy brussels sprouts. The food is flavorful and balanced, playing well with contrasting crunch and creaminess. Be wary if you are prone to indecisiveness, though you can always play it safe by recruiting friends and ordering everything. Bonus: as a resident of the Smyth Hotel, Little Park also offers excellent breakfast and brunch.
Wassail, Chef  Vinicius Campos
Wassail serves up underrated cider to pair perfectly with its vegetable-centric menu. The dishes are solid in execution, though the menu is slightly repetitive with an over­-reliance on smoky flavors. Not that smokiness isn't enjoyable, but mixing up the flavor profile of the menu would elevate it even more. A little yin for the yang always enhances each.
Dirt Candy, Chef Amanda Cohen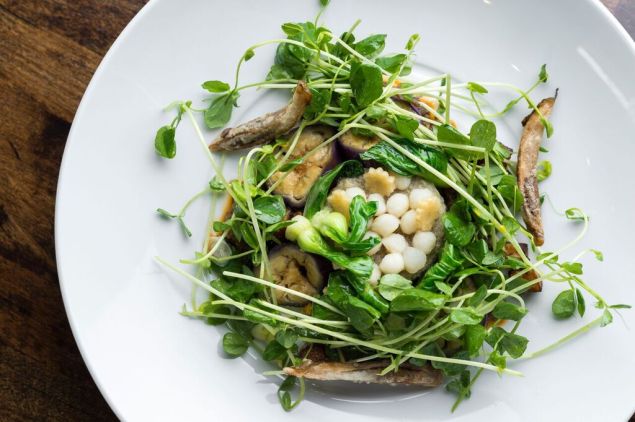 Chef Amanda Cohen is a unicorn. She isn't afraid to infuse every aspect of Dirt Candy with personality, and the dishes are all the better for it. Knowing Ms. Cohen's capacity for creativity, we wish the menu were refreshed with new inventions more often. But popular items, like the jalapeno hush puppies, have been mainstays for years—so take comfort in knowing your favorites will be waiting for you. Vegetable ice cream salad? Enough said.
The Cecil, Chef JJ Johnson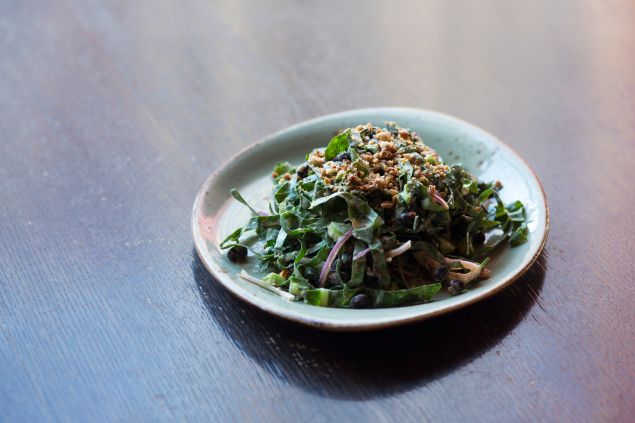 One of the leaders of the dining revolution in Harlem, Chef JJ Johnson skillfully marries the least expected pairs: African and Asian—but, of course, the flavors make sense. Both cuisines are traditionally plant-­heavy and packed with fragrant spices and bold flavors. At The Cecil, Mr. Johnson serves refreshingly unique ingredients like grits with edamame, West African peanut lentil stew with Asian pear, and charred okra with red beans. The vegetable wok bar with its piri piri sauce is always a crowd-­pleaser, and the sides—usually an afterthought—are not to be missed.
Le Bernardin, Chef Eric Ripert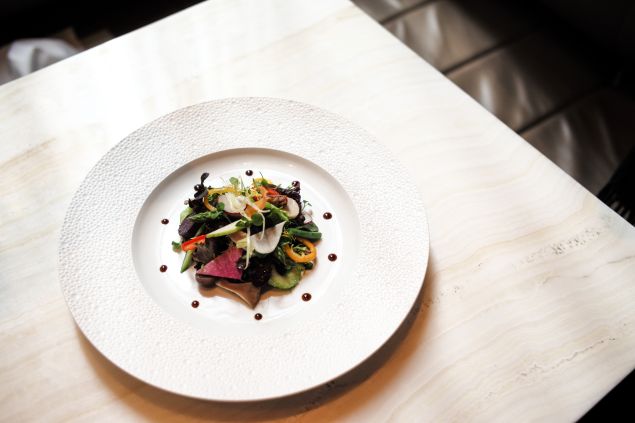 Le Bernardin may be known for its mastery of fruits de mer, but the same obsessive level of care and skill are demonstrated in its fresh fruit and vegetable dishes. With enough advance notice, the young, brilliant pastry chef Thomas Raquel will happily design an almost-­too-­pretty-­to-­eat sweet finale. Peruvian chocolate, muscovado ganache, chocolate biscuit, roasted figs? Yes… yes… yes…
Honorable Mentions
Cafe Clover, Chef David Standridge—Cafe Clover has all the right ingredients: beautiful space, beautiful people and beautiful food. A few dishes stand out—the ivory lentil risotto and velvet sunchoke soup are delightful, but there's a certain pizazz that's missing to make this restaurant truly great.
Beatrice Inn, Chef Angie Mar—Carnivores rally behind Chef Angie Mar, formerly of The Spotted Pig, who claims she's "not so into [her] vegetables." But when asked nicely, Mar creates soul­-satisfying off­ menu dishes sans meat using roasted fruits and plenty of fried herbs that are just the right amount of sweet, savory, smoky and comforting. Stop here first if you think vegan food can never be as sumptuous as meat. Ms. Mar will show you how it's done.
Del Posto, Chef Mark Hadner—Del Posto offers an extravagantly priced vegan tasting menu with several creative twists but there is certainly room for improvement. Some dishes had good intentions but underwhelming execution. Still very encouraging that they are offering the menu in the first place and we'd love to see it evolve.
There are certain restaurants that claim to be vegetable­ forward but are unwilling to accommodate vegans at this time: Semilla, Atera, Luksus, Take Root… consider this a gentle nudge to change your policy.
There have also been a few restaurants who have tried their hand at vegetable tasting menus but for some reason have not kept them up: Gotham Bar & Grill, PUBLIC, Acme… please bring them back.
Chef Daphne Cheng is known for inventive, elegant vegetable-centric cuisine. Through her renegade dinner parties, Ms. Cheng has garnered a cult following of foodies—both omnivorous and herbivorous alike. Follow her on Twitter or Instagram @_daphnecheng.