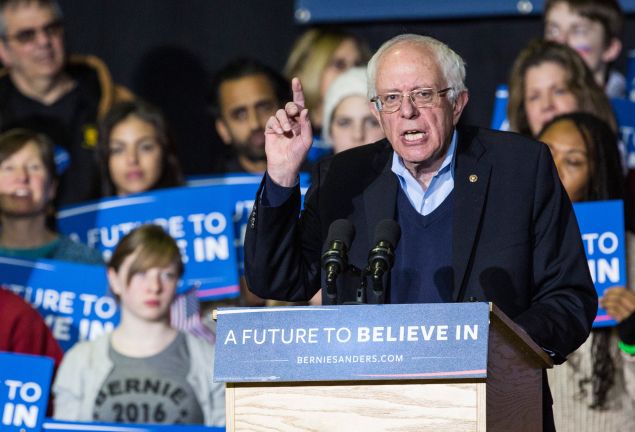 MANCHESTER, N.H.—Sen. Bernie Sanders was in the midst of one of his usual blistering critiques of Wall Street when a man interrupted him.
"They stole the country, the assholes," the man shouted from his seat.
The crowd of several hundred at the Palace Theatre here burst out into laughter. Mr. Sanders, a Vermont independent who doesn't usually work blue, smiled.
"I wouldn't phrase it exactly like that," Mr. Sanders replied. The crowd laughed again. "But it's close to the truth."
The self-described democratic socialist has been by far the fiercest critic of Wall Street in the presidential race, though Hillary Clinton, his Democratic rival, has argued her proposed reforms will do more to crack down on reckless financial behavior. Mr. Sanders proudly boasts that he doesn't have to fundraise from the financial sector, unlike Ms. Clinton, and insists he is running a "revolutionary" campaign because he has been able to keep pace with the former secretary of state despite relying almost exclusively on small donors.
Mr. Sanders hopes to reinstate a separation between commercial and investment banking, a law repealed under President Bill Clinton, and break up large financial institutions. He would also seek to introduce taxes on financial transactions on Wall Street.
The campaign rally this afternoon, held in downtown Manchester, was one of several scheduled campaign events for Mr. Sanders, who is now a favorite to win New Hampshire tomorrow. After barely losing Iowa, his campaign hopes to build on momentum in the Granite State to win states in the South and West that are expected to be more favorable for Ms. Clinton.
A loss here would cripple Mr. Sanders. Ms. Clinton, who is campaigning aggressively across the state with her husband and daughter, is hoping to make it a close race, and move closer to wrapping up a nomination she has long been expected to win. The race between the two has grown increasingly bitter, though Mr. Sanders saved his fire for Republicans today, mocking Donald Trump for denying climate change and the GOP's wholesale opposition to abortion and same-sex marriage.
"One of the great scientists of our time, Donald Trump—he's the greatest at everything and I'm sure he's the greatest scientist—he came up with an interesting theory … and he has concluded that climate change is a hoax created by the Chinese," Mr. Sanders said. "That's shocking. I thought climate change in his view would've been a hoax created by the Mexicans and the Muslims."
Disclosure: Donald Trump is the father-in-law of Jared Kushner, the publisher of Observer Media.