The new Showtime series Billions has been praised by The Verge, among others, for showing the "moral murkiness" of Wall Street, but that murkiness is not confined to the trading floor. It also exists in the office of Dr. Wendy Rhoades (Maggie Siff), the in-house psychoanalyst for the hedge fund Axe Capital.
Stock market shrinks like Wendy actually exist on Wall Street, and one of the most famous is Denise Shull. She started her career as a marketing representative at IBM and a commodities trader at Edison Trading. During this time, she also began studying neuroscience and psychoanalysis.
Eventually she decided to combine her market knowledge and psychological bona fides, founding The ReThink Group, a risk and trading psychology practice, in 2003. While the firm was initially a side project for her, she left the business world in 2009 to focus exclusively on corporate psychoanalysis.
'I'm looking for the X factor of trading. The thing that makes someone great, that otherwise indescribable characteristic. It goes beyond mathematical and logical reasoning.'
Business is brisk. In 2015, Ms. Shull says she worked with or received inquiries from seven hedge funds, three banks, two proprietary trade funds and a sovereign wealth fund.
Ms. Shull's brand of coaching (as detailed in her book Market Mind Games: A Radical Psychology of Investing, Trading and Risk) goes beyond psychoanalysis to assess the talent of her clients.
"I'm looking for the X factor of trading," Ms. Shull, who advised the cast and creators of Billions, told the Observer by phone. "The thing that makes someone great, that otherwise indescribable characteristic. It goes beyond mathematical and logical reasoning."
Ms. Shull focuses on "X factors" because she believes Wall Street success is as much about emotions and mental ability as making money.
"It may look like a numbers game, but—like in poker—the numbers are only part of it," Ms. Shull explained. "It's a human performance game. Having a strategy to be in the best frame of mind is important."
Many of Ms. Shull's patients are not in the right frame of mind when they first step into her Midtown office. Whether they're recovering from a long run of bad trades or they didn't hold a winning trade long enough, her goal is to identify and eliminate financially destructive behavior.
"People say a million times 'I'm not gonna do that anymore' but they keep doing it, so we help them stop it," Ms. Shull said. "We tell them 'if you do this differently or stop doing it entirely, you'll make more money.'"
Making money is obviously the main goal of the employees of Axe Capital on Billions as well—so when one of them hits a dry spell he has a session with Wendy Rhoades, a.k.a. "Dr. Mojo."
Brian Koppelman and David Levien, the creators and executive producers of Billions, told the Observer that they couldn't resist including a Wall Street therapist as a character on the show once they found out such advisors existed.
"We've long been fascinated by the role of performance coaches who employ their skills to classical psychotherapy," Mr. Koppelman said. "We thought it would be a great window into this world that people don't really know about."
Both men are friendly with motivational speaker Tony Robbins, having read his books and attended his seminars. Mr. Robbins consulted with Ms. Siff as she researched her role.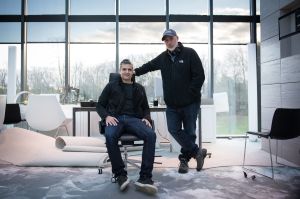 That said, Mr. Koppelman and Mr. Levien stressed that Wendy is not based on any one person.
"We wanted to create a character who was very formidable and would be able to stand toe to toe with everybody at that firm," Mr. Levien said.
Ms. Shull gave Wendy a positive review. She noted that both her and the fictional shrink have the same goal: to help their clients become better version of themselves.
"They portray her as trying to make people feel more confident, and that's accurate," Ms. Shull said. "People hang onto their personal stuff, and they shouldn't."
Wendy's methods, however, proved more problematic for Ms. Shull. One of her favorite confidence boosters is having her clients beat their chests while they repeat out loud how much money they've brought into the firm in the past year. On the show, this tactic is a cure-all that moves the money men off the ledge.
Ms. Shull admitted that some of her colleagues use this approach (and Mr. Koppelman and Mr Levien said their research had borne this out as well). But she said these scenes were not an accurate reflection of every Wall Street therapist's methods.
"That rah-rah 'You're great' stuff is not accurate for how I work," Ms. Shull said. "Beating your chest is for sports."
The fact that the show is mostly accurate, however, impressed Ms. Shull—and the inclusion of some dramatic elements didn't overly bother her.
"It's television," she concluded.