When Beyonce rolled out a new era with her song "Formation," there was a marked difference in the way that she looked. While everyone was commenting on the dancers of her Super Bowl 50 performance, her hair was also a stark new take from the bone straight styles of years prior.  The fro-like do, which is presumably closer to the singer's natural hair texture than her prior looks, coupled with the braided hair she rocked in her music video are just two parts of a trending natural hair movement going on in the industry at large.
"We're not into just one style anymore," said Bumble (BMBL) and bumble Global Artistic Director Laurent Philippon backstage at the Brother Vellies show Thursday, alluding to the fact that straight hair was being used as a one style fits all. "We've been seeing that at a lot of houses this season; it's all about celebrating individuality without looking overdone. It has to be cool."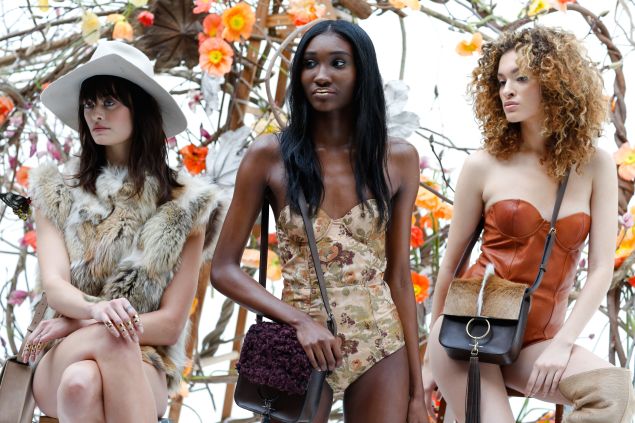 For the CFDA/Vogue Fashion Fund winner Aurora James, diversity has always been a sticking point of her brand. This season, the designer cast a model lineup that included Asians, Indians, blacks, white and even a Greek model. "It was really a spectrum of ethnicities that we were given to work with," said Mr. Philippon, who was the lead for the Brother Vellies show.
To respect just how diverse that casting was, Mr. Philippon and his team only tried to enhance the model's natural looks in respect to their own hair texture. With a pair of black models, the creative used Bumble's new curl line. "It's really designed for every type of curl in the spectrum," he said of the line.  The products allowed him to maintain the volume of one of the model's hair while slightly dampening the volume of another, all the while moisturizing the curls.
"One of the models is an Asian girl and we thought she was so beautiful that we did nothing with her hair," Mr. Philipon said.
Another show that nodded to Queen Bey's look was Creatures of the Wind. Held in a Masonic temple, the show's lead Anthony Turner took inspiration from Snoop Dogg. "Every other season here, we've always been a little romantic," he said via release. "This season, I'm swapping that completely and doing something that's a bit tougher. It feels really nice to do that."
That toughness came through in brands, à la Bey (though these were in pigtails) and slick side parts. Mr. Turner and his team used Bumble's thickening full form mousse and classic hairspray to keep the braids clean and void of flyaways. For those who find a little difficulty gripping their own strands, try Brilliantine on the fingertips.