[youtube https://www.youtube.com/watch?v=NTzycsqxYJ0]
Our first full look at House of Cards' fourth season arrived today, filled to the brim with the percussive war drums and passive aggressive glaring American politics is known for. After Season 3's shakeup of the marriage between Frank (Kevin Spacey) and Claire (Robin Wright) Underwood, Season 4 looks to center on the spousal Civil War that follows. And then, at one point, there's someone in an actual Civil War uniform holding a rifle. Actually, wait, I have questions about that. Actually, actually, wait, I had a lot of questions during all 60 seconds of this trailer.
For example:
-Based solely on this trailer, is this an accurate prediction for, say, 90 percent of Season 4? Claire walks into a room at a moment Frank isn't expecting her. He looks at her distrustfully but doesn't say anything because he doesn't want to lose face in front of, like, some foreign diplomat or something. But you can tell by both their expressions so much unspoken gloating and seething is happening. So much. I feel like if I was assigned House of Cards Season 4 recaps, all of my submissions would just be this picture.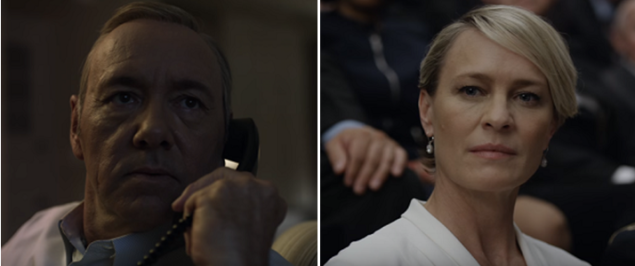 -What's happening here? Who is hitting Frank? And why is Claire's shadowy, ghost-like reflection watching calmly?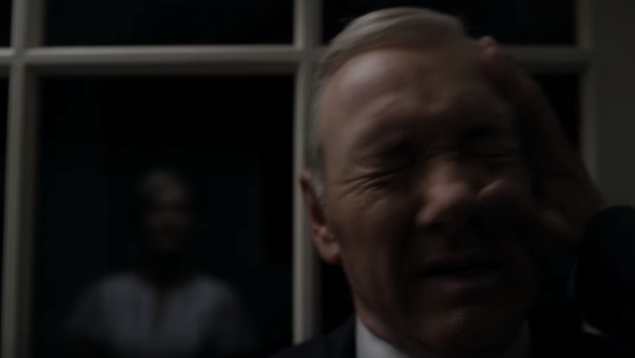 That is one of three options: 1) A man's hand is smashing into Frank's face. 2) Kevin Spacey has a tiny head, and that is Claire's hand smashing into Frank's face. 3) Robin Wright has huge hands, and again, that is Claire's hand smashing into Frank's face. I've only met Kevin Spacey one time, and I did not, against all urges, put my hand up to his face to compare size, so all we can do is speculate.
-Whose call was it to cast an actress that looks so similar to Kate Mara, a.k.a. Zoe Barnes, a.k.a. *wet splat noise*?
I mean, I'm sure we can say it was intentional, highlighting the ghosts-of-Frank's-past kind of stuff. Which leads to a follow-up question: When does Kate Mara return as an actual spooky ghost, something she achieved to great success in American Horror Story's first season?
-At what point in the Season 4 narrative will we visit the underground jail from The Dark Knight Rises?
-Seriously, who is the guy in the guy in the Civil War era uniform? And why is he in a room so unsuited to Civil War re-enactment?
Is this finally the season where we deal with Frank, as president, becoming privy to classified information? Yes, I am thinking time machine here. I'm thinking time machine and confused Civil War-era soldier brought to the modern age going on a killing spree, a la SNL's George Washington sketch. I'm thinking an assassination attempt via old-timey rifle is what leads to this scene of utter pandemonium: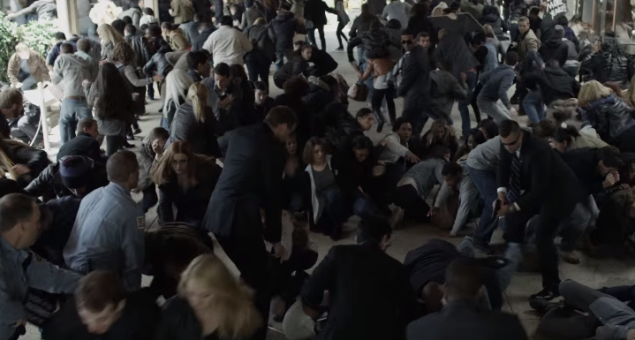 So, you heard it here first: House of Cards Season 4 will center on Frank Underwood, haunted by the actual ghost of Zoe Barnes, learning about the U.S. government's experimentation with time travel, and the time machine they keep locked in a cell next to Bane in a secret, vault-like prison in the middle of the desert, an important plot-point to remember when, in the season finale, a man with a musket tries to assassinate the president of the United States. Over all this, Frank will give Claire tons of looks that scream, "Look what your disloyalty caused."
Or, not that. I still have a lot of questions. House of Cards Season 4 premieres March 4, only on Netflix.