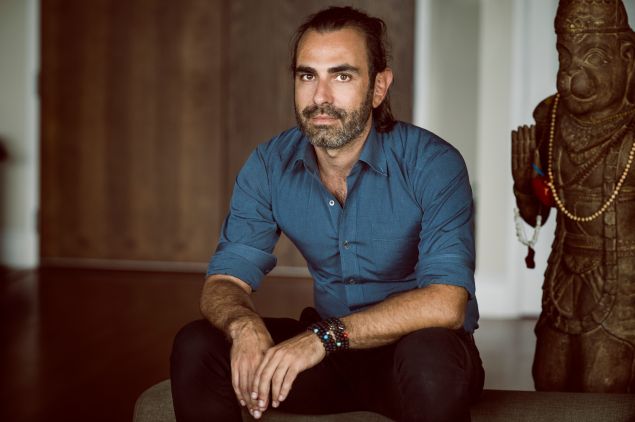 Can channeling the energy of a chakra be as simple as throwing on a tee shirt?
In short: yes.
"Mindfulness should be accessible to the majority," says Myk Likhov, one of the brains behind Modern ŌM—a Miami and Asheville-based start up turning chakras into fashion staples people can integrate into their daily grind.
The idea behind chakras—the seven points of energy (or spiritual power) aligning the spine—is as old as Hinduism itself, with early mentions in the Vedas dating back to over 3,000 years ago. But the concept still remains a bit fuzzy for mainstream America. Mr. Likhov is looking to change that by making chakras relatable—and wearable.
While each of the seven chakras has a Sanskrit name, Modern ŌM has distilled the traits ascribed to each energy wheel (the Sanskrit word "cakra" can be translated to mean "wheel") into one simple intention with a corresponding color. Starting from the base chakra, you can opt to direct your daily focus on vitality (red), passion (orange), purpose (yellow), compassion (green), expression (turquoise), insight (indigo) and connection (purple) throughout your day. All of the products in the line are available in one of the seven color-based chakras.
The philosophy: Unlike a yoga class that requires you to be focused and mindful a few times a week, the products here become tools that force people to live "in the moment," simply because they're in your face. Need to make some pressing decisions about a new business venture you're launching? Don an indigo-colored bracelet to remind you to be insightful while imbuing you with clarity of thought. After all, it's hard to ignore 108 beads snaking up your arm.
Because that's exactly what makes up the line's heritage mala necklaces—the 108 sleek gray and black beads are sourced from wood indigenous to Hainan Island, off of the coast of China. The caramel-hued pear variation? From Vietnam. Both the necklace and bracelet iteration of the mala are hand-knotted by artisans local to Hainan Island who are encouraged to chant life-affirming mantras while crafting them. 
Seriously.
The line also includes "life gear" such as canvas beverage totes with a cross-body strap that can hold 25-ounces of liquid (which is, not-so-coincidentally, the amount in a bottle of wine) and incense burners made of concrete by Asheville artisans. The company's t-shirts are designed in Italy and made in the same European factories employed by designers like Paul Smith, Valentino and Armani.
Following in the footsteps of Tom's and Warby Parker, Modern ŌM donates seven percent of their profits to the Modern ŌM Vitality Foundation—a rotating roster of organizations providing basic needs, such a food and healthcare, to those who require it most. Which is a characteristic that's key to the first chakra and intention—vitality.
Mr. Likhov, who has a Wharton MBA and opened the Green Monkey yoga studios in Miami in 2008, is tapping directly into a trend embraced by Millennials—the heady combination of passion and a make-the-world-a-better-place drive. "Millennials have moved away from money for the sake money. They value experiences. They want to do something that combines passion and purpose. Companies need a mission now," explains Mr. Likhov.
The company is also a family affair. The head creative behind the designs is none other than Mr. Likhov's mother, Marina Likhov. And his father, Steven Wenig, is head of operations. Mr. Likhov partnered with both of his parents to launch the line—which makes for interesting business meetings. And don't be surprised if you find a handwritten note from Mr. Likhov's mother in your hand-wrapped product package. As a mom, she just can't help herself.
All of the malas from Modern ŌM are lifetime-guaranteed. If one breaks, they'll happily send you a new one.
Probably with a note from mom telling you to be more careful next time.