Artists like Sheila Hicks, Eva Hesse and Francoise Grossen brought the so called fiber arts—strings, ropes and fabric—into the contemporary lexicon by thinking big. Working in the same monumental proportions as their peers, the Land Artists of the late sixties, these pioneering sculptors brought what was once considered a decorative art into the mainstream. Categorized as fiber art, their trailblazing work broke through the boundary between craft and fine art. This month, several New York shows embrace fiber's increasingly amorphous role both inside and outside the art world.
Today, fiber doesn't necessarily conjure images of fabric, but instead the visible and invisible cords that bind together our global infrastructures—whether that is spindles of 3D printer plastic or undersea cables. As if responding or society's increasingly estranged relationship to fabrication process, fiber art has increasing lurched towards the handmade and the unique. The shows in New York follow this train of thought by capitalizing on the beauty and malleability of what was once considered a kitsch medium.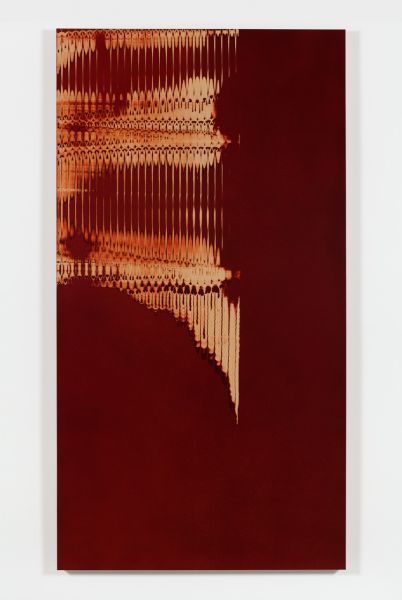 The strings of today and yesteryear come together in very literal way at "Projective Instruments," artist Tauba Auerbach's much anticipated solo show at Paula Cooper. Juxtaposed against tables laden with her 3D printed objects, Auerbach's handwoven canvases embrace a computerized sense of geometry. Falling somewhere between painting and sculpture, her blocked-out designs highlight the mathematical concepts underpinnings of decorative pattern-making. A series she began in 2011, the Weave paintings represent just the latest permutations of her experiments. Her digital compositions bring to mind the work of artist couple Mark Barrow and Sarah Parke, whose collaborative weavings take inspiration from RGB, the color model responsible for television and computer imagery.
More technologically-driven use of fiber can be found down the street, on the second floor of Lisa Oppenheim's Gramma exhibition at Tanya Bonakdar. A reversal of her signature process, Ms. Oppenheim found inspiration for her new textiles in the darkroom, where different images can be layered on top of one another in order to create a new composition. Mimicking the photographic printing process, the artist fed two incongruent patterns into a Jacquard loom (a punch-card precursor to the computer), resulting in a more sculptural understanding of negative space. A renegotiation of traditional forms, Ms. Oppenheim's work celebrates the sculptural quality of both mediums but through the lens of graphic abstraction. Just as much an overlap of history as it is of method, her creations establishes a thread between present and past.
And right next door, at Tina Kim Gallery, Eastern textiles come into focus at group show featuring the work of Korean artist Kyungah Ham. A psychedelically embroidered work reading "Money Never Sleeps" blazes on the wall—tethering contemporary issues to centuries of tradition and illustrative storytelling. The history of craft is equally important at artist Yutaka Sone's Day and Night currently on view at David Zwirner. Filling the white-cube with the lush landscape from his home in Los Angeles, the Japanese artist planted several woven palm trees in the thick of his concrete jungle. Handmade alongside artisans in the Michoacan region of Mexico, Sone's rattan trunks embrace the space between the man-made and the organic, much in the same way that Ms. Oppenheim's weavings simultaneously embrace both chance and plans. A remedy for the winter blues, his woven oasis brings the inside out and the outside in by interlacing the narratives of nature and man.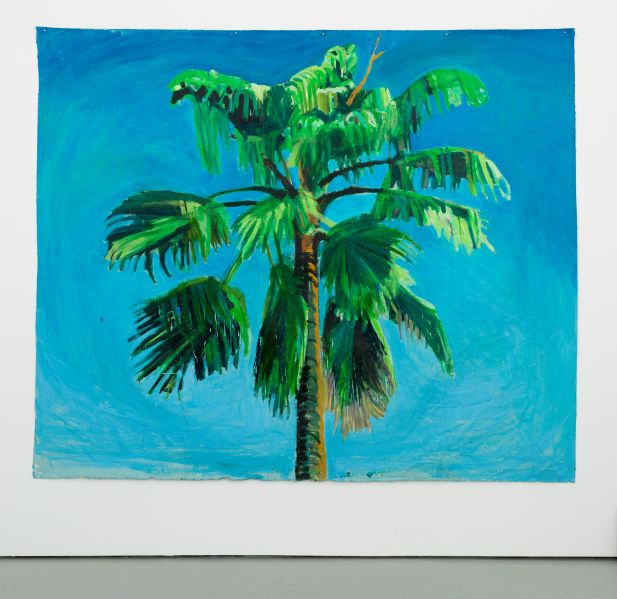 Each putting their own interpretation on history, Sone, Oppenheim and Auerbach pick up where their predecessors left off. Manipulating fiber and tradition to suit their own means, they push back against the bias that fiber is solely domestic or decorative. Familiar but strange, their woven creations have a powerful presence in the galleries they inhabit. No longer relocated to the ornamental, fiber is now a just another part of the discourse—one thread making up a larger picture.