FRIDAY, FEBRUARY 5
Opening: "Peter Fischli David Weiss: How to Work Better" at the Guggenheim Museum
Best known for their 1987 video The Way Things Go, which captures the chain reaction of everyday objects setting one another into motion, the Swiss artists Peter Fischli and David Weiss collaborated for 33 years in making videos, photographs, sculptures and installations that creatively contrasted the banal with the sublime. This retrospective exhibition presents more than 300 works—ranging from the humorous 1979 Sausage Series photos to the 2008 lifelike sculpture Rat and Bear (Sleeping), which uses electrical mechanisms to make the giant stuffed creatures seemingly breathe. David Weiss passed away in 2012 but catch Peter Fischli in conversation with London's Serpentine Galleries director of international projects Hans Ulrich Obrist at the museum on Saturday, February 6.
Solomon R. Guggenheim Museum, 1071 Fifth Avenue, 10 a.m.–5:45 p.m., free with museum admission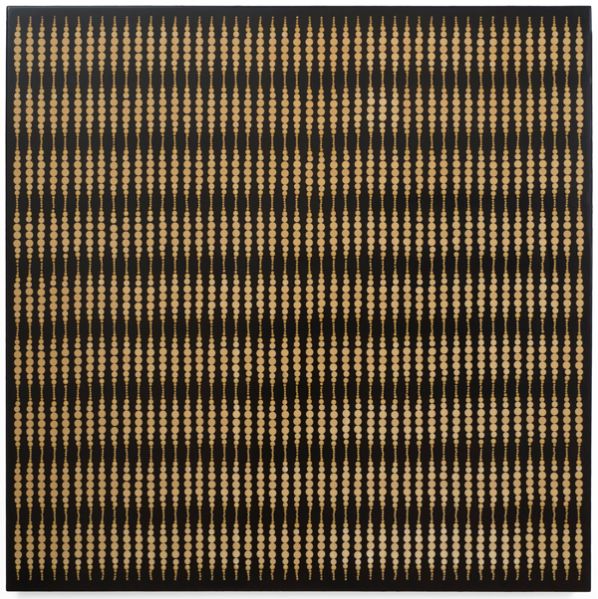 Gallery show: "Fred Tomaselli: Early Work or How I Became a Painter" at James Cohan
While most people think of Fred Tomaselli as a painter of large-scale allegories assembled from cut-up magazine imagery and resin covered canvases loaded with prescription pills and pot leaves, the artist actually started out making immersive installations involving light, sound and motion or obsessive investigations that charted daily activities and drug use. This exhibition takes a fascinating look back at works that the artist made from the time he moved to Los Angeles in 1982 and continued upon resettling in Brooklyn in 1985. Although Mr. Tomaselli shifted back to painting (his college major) in the early 1990s, his flirtation with mapping the world around him led to 10 Kilometer Radius, a permanent installation at the New York Hall of Science, which photographically captures 72 sites surrounding the building at that precise distance.
James Cohan, 533 West 26 Street, open now.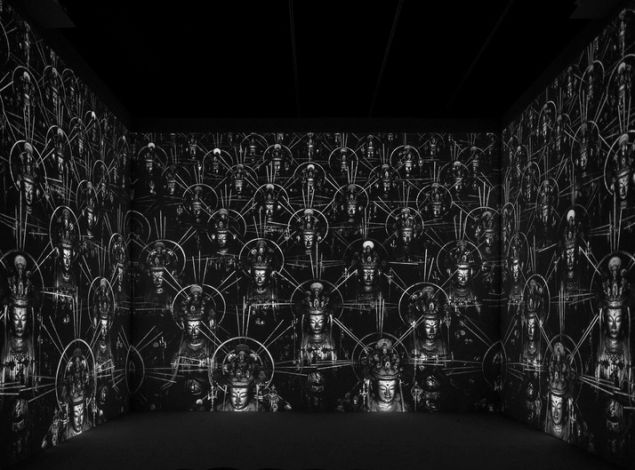 Opening: "Hiroshi Sugimoto: Sea of Buddha" at Pace Gallery
A master of Minimal and Conceptual Art, Hiroshi Sugimoto is celebrated for his photographs of movie theaters and drive-ins, where the screens capture the films—projected in their entirety—as only white light, and images of tranquil seascapes, in which the water and the sky are equally split at the horizon line. The Pace show presents an early series of photographs he shot in 1995 of 1000 nearly identical bodhisattva statues, which are installed in a Kyoto temple that dates to 1266, along with the related three-channel video Accelerated Buddha, from 1997. Like Mr. Sugimoto's images of dioramas at the American Museum of Natural History and wax replicas of historical figures at Madame Tussard's, the works in this exhibition eloquently meditate on the passage of time, a favorite subject of the artist.
Pace Gallery, 510 West 25 Street, 6-8 p.m.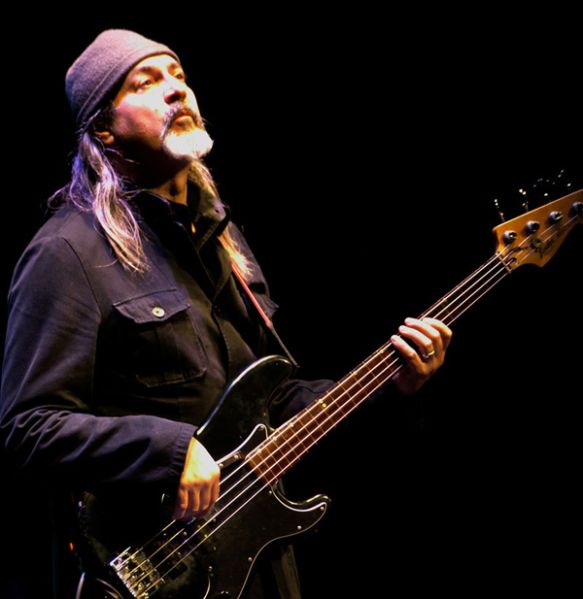 Performance: "Basement Performances: Bill Laswell" at the Drawing Center
Next up in composer John Zorn's performance series, record producer and bassist Bill Laswell performs to a screening of Godfrey Reggio's 1982 film Koyaanisqatsi. The musician, who has participated in some 3000 recording projects since the late-1970s, is famous for music that samples from different genres. His big breakthrough came with Herbie Hancock's 1983 album Future Shock, which Mr. Laswell produced, co-wrote the songs for and played bass on. It should be a treat hearing him accompany the cult classic Koyaanisqatsi, an experimental film without dialogue or narration that uses slow motion and time-lapse footage to document American cities and landscapes, higlighting how urban life is out of balance with nature.
The Drawing Center, 35 Wooster Street, 7:30 p.m., $20, limited availability at door
Opening: "Food Nostalgia" at Radiator Gallery
A group exhibition of paintings, sculptures, photographs, videos and installations, this delightful exhibition features five emerging artists and a collaborative duo that have a fascination with food. Organized by independent curator Amanda McDonald Crowley (the director of Eyebeam from 2005 to 2011), the show includes Cey Adams ironic portrait of the smiling black chef from the packaging for Cream of Wheat, Emilie Baltz' yummy-looking color photos of junk food and Kira Nam Greene's luscious watercolors of open cans of Chef Boyardee and packages of Ding Dongs and Ring Dings, which are realistically rendered over brightly patterned fields.
Radiator Gallery, 10-61 Jackson Avenue, Long Island City, Queens 6-9 p.m.
SATURDAY, FEBRUARY 6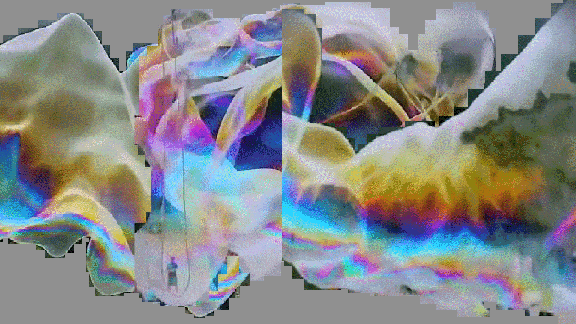 Festival: "Pratt Upload 2016: Patterns of the Mind" at Pratt Institute
A festival of talks, exhibitions and workshops, Pratt Upload 2016 is conceived as a one-day symposium to examine our digital existence in its varied forms. Panels explore the relationship with technology and death, artistic uses of computer programs that design infrastructure, digital art tribes with shared global interests and women using technology for self-representation. The workshops open the doors of Pratt's Department of Digital Arts to a variety of techniques, while the group show "Patterns of the Mind" features a mix of international artists, including Pratt faculty members, who make contemporary digital art and installations. Additionally, keynote speaker Lorna Mills (a Canadian digital artist) discusses her work exploring sexuality and the body and her animated GIF installations, which have been exhibited around the world.
Pratt Institute, 200 Willoughby Avenue, Brooklyn, 10 a.m.-10 p.m.
Closing: "Picasso Final Weekend" at the Museum of Modern Art
The largest show devoted to the famous Pablo Picasso's three-dimensional works in the States in nearly 50 years, the exhibition is sadly coming to an end. With approximately 140 sculptures, photographs and works on paper—including many pieces that have never previously been exhibited on this side of the Atlantic—the survey spans most of artist's celebrated career. From his early Cubist and Surrealist assemblages to later ceramic and cut sheet-metal works, this seminal exhibition from the quintessential Modernist master has caused critics to re-evaluate this "painter's" brilliant and unique contribution to the medium of sculpture. On the final weekend, the museum not only has extended hours it's offering half-price entrance for an exhibition that's not to be missed.
MoMA, 11 West 53 Street, 5:30-11:59 p.m., $12
SUNDAY, FEBRUARY 7
Performance and Screening: "Gary Lucas and Sarah Stiles: A Musical Tribute to the Fleischer Brothers, Betty Boop and Popeye" at the Museum of the Moving Image
This special live event presents a performance by Gary Lucas, a guitarist for 1970s rock legend Captain Beefheart and Broadway star Sarah Stiles, who was nominated for a Tony award for her role in Hand to God. The performance will be interspersed with screenings of six fascinating Fleischer Brothers film cartoons, including Betty Boop for President (1932) and Popeye the Sailor (1933). The songs, which were originally sung by Mae Questel, the actress that provided the voice and vocals for Betty Boop and Olive Oyl, are featured on Mr. Lucas's newly released album Fleischerei: Music from Max Fleischer's Cartoons.
Museum of the Moving Image, 36-01 35 Avenue, Queens, 2 p.m., $15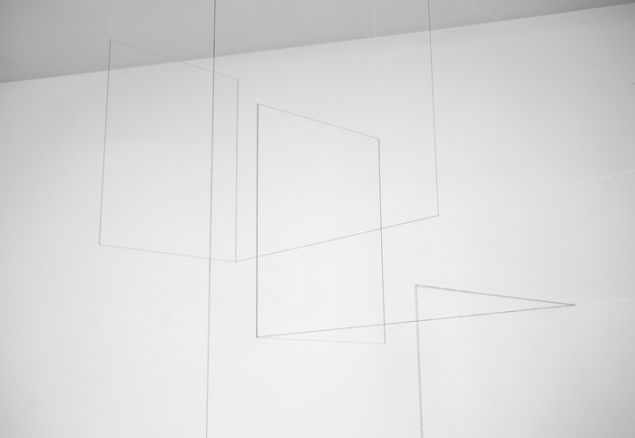 Talk: "Jong Oh, Nathan Rich and Ken Tan" at Marc Straus
Korean artist Jong Oh, who makes minimal sculptures from hand-painted strings, jewelry chains, pieces of clear Plexiglass and photographs is joined by architect Nathan Rich and Marc Straus gallery director Ken Tan for a discussion of Mr. Oh delicate work, which is currently on view in the gallery. The artist, who was born in Mauritania in 1981, studied art at Hongik University in Seoul and earned an MFA from New York's School of Visual Arts in 2011. He has a selection of the sculptures, which relate to the gallery's architecture while nearly disappearing into the space, installed on the second floor. Architect Nathan Rich of Peterson Rich Office has designed galleries and townhouses in New York. The talk is followed by a reception with Korean food.
Marc Straus Gallery, 299 Grand Street, 3-7 p.m.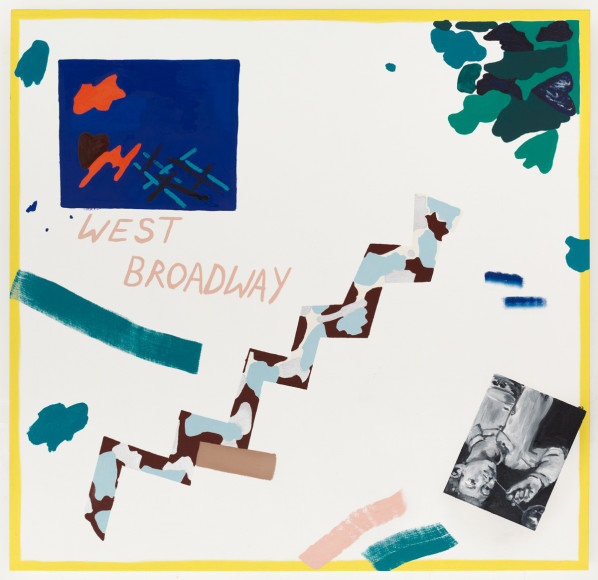 Opening: "Nora Griffin: Modern Love" at Louis B. James
A 2011 MFA grad from Columbia University, Nora Griffin makes her New York solo debut with a selection of recent paintings that mix realistically rendered images with gestural marks and abstract, patterned forms. The Brooklyn-based artist, who's a favorite of Brooklyn Rail editor and curator Phong Bui (having appeared in three of his shows), paints both the canvas and the frame around it. She feels the painted edge helps define her paintings, which reference music and art history though the use of appropriated imagery and recognizable motifs, as singular objects rather than just pictures on walls.
Louis B. James, 143b Orchard Street,  6-8 p.m.