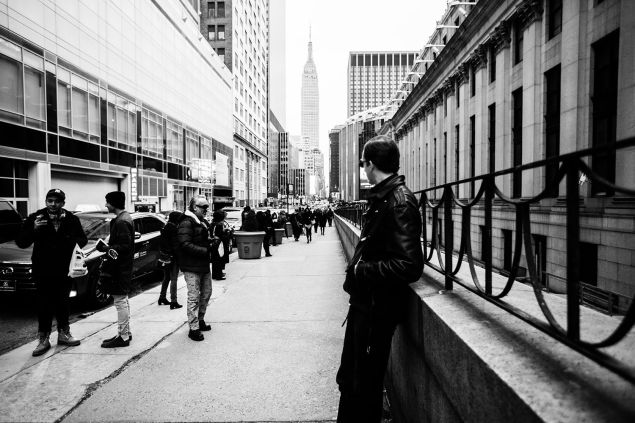 Brad* began living in the ruins of the abandoned smallpox hospital on Roosevelt Island in NYC shortly after moving to the city. He was a 25-year-old virgin from Virginia raised in an evangelical household, one of eight children educated through homeschooling. He'd spent a good portion of his late teens and early 20s modeling in regional Southern markets. Following his dream north, Brad took a chance on his career in New York City. He lived the first six months in a models' apartment offered to him for rent by his agency, under the assumption that he'd get work and pay them back. But the decks were stacked against him, as they are with most male models who come to New York City on a dream.
The problem with modeling jobs for both sexes is that many pay little to nothing.
Test shoots, where a new model shoots with a photographer in order to build a portfolio, are done for free—sometimes the models even pay the photographer. Sought after editorial shoots pay peanuts, around $150 a day. When a model stomps for fashion shows, instead of getting paid for work in dollars, they are commonly paid in "trade," i.e. clothing.
According to the Department of Labor, the median wage of a fashion model is $9.60 an hour and $19,970 a year, only 1.6 times the poverty level for New York City. To put that in perspective, the average national yearly gross income in 2013 was $ 43,041.39. In 1990 it was $20,172. You would have to go back to the 1980s to match the average yearly income with what most fashion models make now.
Top model incomes can reach into the millions, as oft reported in Forbes magazine, but they represent the .001 percent. It is the middle class of girls and boys that run the industry. They're the shapes in your newspaper shopping flyers. The tall teenager who comes to the city on a dream and the promise of handful of cash from a modeling agency and leaves a few years later in debt and with a trauma disorder.
Young men and women are pushed to their limits, harassed and sometimes assaulted, for the sake of a photo, all in the name of almighty advertising dollars.
When Brad arrived in New York City after modeling in London and Milan, he soon found that booking jobs, even unpaid ones, wasn't just difficult—it also often came with demands that went against his religious and moral beliefs.  
At several test photo shoots, Brad says, he was sexually propositioned by the photographers. He shared with me a specifically traumatizing shoot with a former judge of America's Next Top Model. When the photographer requested he strip to his underwear and "get hard." Brad declined, and the photo session ended with Brad walking out into the night air, deeply conflicted. "Here was someone who held the cards and could make a difference in whether I would eat that month or not," he says. And, for all intents and purposes, this person seemed to feel he could sexually harass a model just because that was the way the industry worked.
Brad's story has unfortunately become a recurring example of what happens behind the dirty velvet curtains of the modeling industry. Young men and women are pushed to their limits, harassed and sometimes assaulted, for the sake of a photo, all in the name of almighty advertising dollars.
Brad, already living on the edges of poverty and unable to pay back the exorbitant amount in inflated rent (four to five times the market value) he owed to his agency, was kicked out of his models' apartment. It left him homeless for several years, living on the edges of society on an island in the middle of the East River.
Fashion models need to be on-call most days to go to casting calls and last-minute shoots, so the only time a fashion model can hold an additional job is during evening hours. This is how so many girls and boys get sucked into the slippery slope of the club promotion industry. With top-earning promoters making thousands of dollars a night, bringing in between 10 to 20 girls and boys to attend hosted tables bought and paid for by Wall Street types, many promoters are former models themselves. This was not an option for a devout Christian like Brad, and the cumulative effect of the prospect of moral as well as physical bankruptcy eventually led him to a home of zip ties and a tarp in a wing of the Renwick Ruins.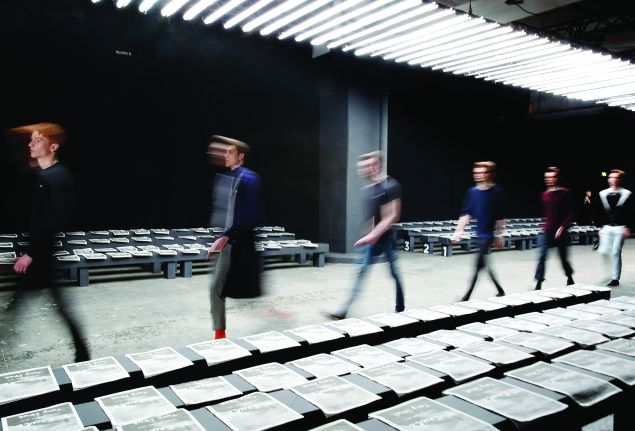 He believes it was the survivalists' eco week he spent with his youth group so many years before that taught him the basics of wilderness training and living with little. Kaufman's Army & Navy store next to the Port Authority acted as a supply camp. There he purchased a sleeping bag, butane cooking stove and two rucksacks—one for day, and one for night. He joined a small gym on the Lower East Side that was open 24 hours; it was a place to shower and stay fit, to get warm in the cold nights of the New York winter and with a locker to call his own. This small space acted as his safe space—it stored his day and night bags, his toiletry kit, and the suit and slacks that he kept pressed and clean for castings.
For Brad, it was the end result to a series of "no's" from the fashion industry: "I grew tired and frustrated that the gatekeepers of the fashion industry kept asking me to compromise my values, when all I wanted was to work, to hold a job, to pay my taxes and be a good citizen. A person can take only so many traumatic experiences."
Brad explained to me in great detail the way you can survive with what grocery stores and top-line eateries throw away. During a bad storm, a downtown restaurant lost power and was forced to throw out its freezers full of seafood. Brad got lucky, grabbing as many bags of thawing sea creatures as he could carry. That evening, he and his friends feasted on lobster tails and oysters on the half shell in the dim light of candles. Other days his bounty consisted only of a few day-old carrots, a loaf of bread and a stack of expired protein bars. He has lived on the discarded foodstuffs of others for over a decade now, and sees no end to his foraging ways.
***
Sam has worked for the past eight years as a full-time model. He has traveled the world and is currently trying to transition into being a photographer. He has numerous stories about the misdeeds of the fashion industry, from his agency stealing $15,000 worth of money in Taipei "just because the owner hated me," to getting stuck in the Amsterdam airport for four days because his agency messed up the flights and he missed a necessary connection. "My visa had expired, so I couldn't leave. I slept on a metal bench for three nights." 
Sam was living and working in Istanbul in 2014 when he had a disagreement with the agency he was working with, and they kicked him out of the models' apartment. This is an even bigger deal when one examines the amount of visiting workers that travel on visas to and from countries where they don't speak the language, including America, let alone have the ability to rent an apartment on their own. Agencies hold the fact that they are providing shelter to the workers that they bring into a city or country as a card to play.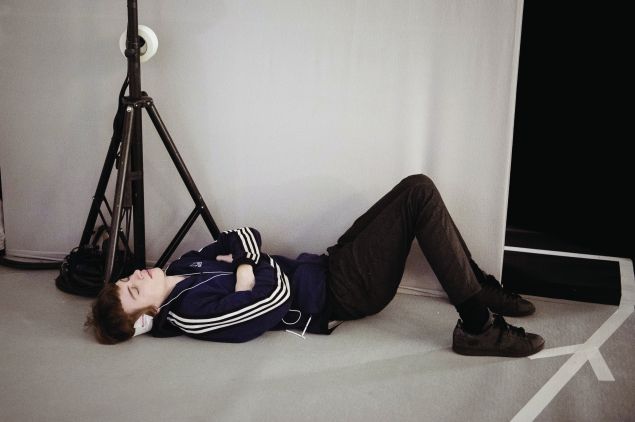 "I lived on the street for the next three weeks. I literally stole fruit from street carts. In Istanbul, they're really into their cats, so I found this place they turned into a cat home and I stayed there for a week."
While Sam was an adult and worldly enough to fend for himself, he found himself once again in a foreign country without a home. Most of the work a model does is for free. Models are asked by their agencies to go on anywhere from one to 20 unpaid casting calls a day before they are offered gainful employment. These men and women, girls and boys, are not just resting on silk-lined laurels; they are out pounding the pavement of the unemployed.
"Dude, I swear, all this, it's choose-your-own-adventure type shit," he concludes.
In September, Max was new to New York. He had been there 10 days and living on the streets when we met. He turned 18 at the end of August. His dad has been a data analyst at the Pentagon for the past 10 years. His mother is a primary school teacher. He took modeling classes at John Casablancas and worked regionally in Virginia and Chicago before moving to New York.
I met him one night on the eve of September Fashion Week at Coffee Shop in Union Square, a diner known for being a hotspot for young models. Layered inside the restaurants recesses is an exclusive parlor called "Model Lounge" only accessible by main board, runway and editorial models—fit and parts models are not allowed.
This space acts as a sort of honey pot for the club promoters who run it. Max made this café his home base. He told me a sad but common story.
"Yesterday I met a big booker from Ford on the corner over there. He took interest in representing me and we went to several parties last night. We went to Brooklyn. We did some drugs. He said he wanted to marry me. I haven't slept in over 36 hours," he shared with me over a plate of calamari. 
When I asked him when his follow-up meeting was that the booker had promised him—a formal introduction to the rest of the booking staff—Max replied, "Oh, we didn't share phone numbers," the realization dawning on him. But he remained optimistic. Sadly, I have no idea where he is now, but he hasn't made the billboards yet.
While choosing to make your career as a fashion model may be one of privilege, it does not negate the fact that the fashion industry continues to be rife with income inequality, as well as sexual and labor violations. A young person that chooses to work in any industry should not have to give up or compromise their physical or moral integrity in order to have gainful employment. This chronic worker exploitation has resulted in the top-heavy economic structure akin to what we find on Wall Street. 
Only in fashion, the wolves wear Prada. 
* Not their real names