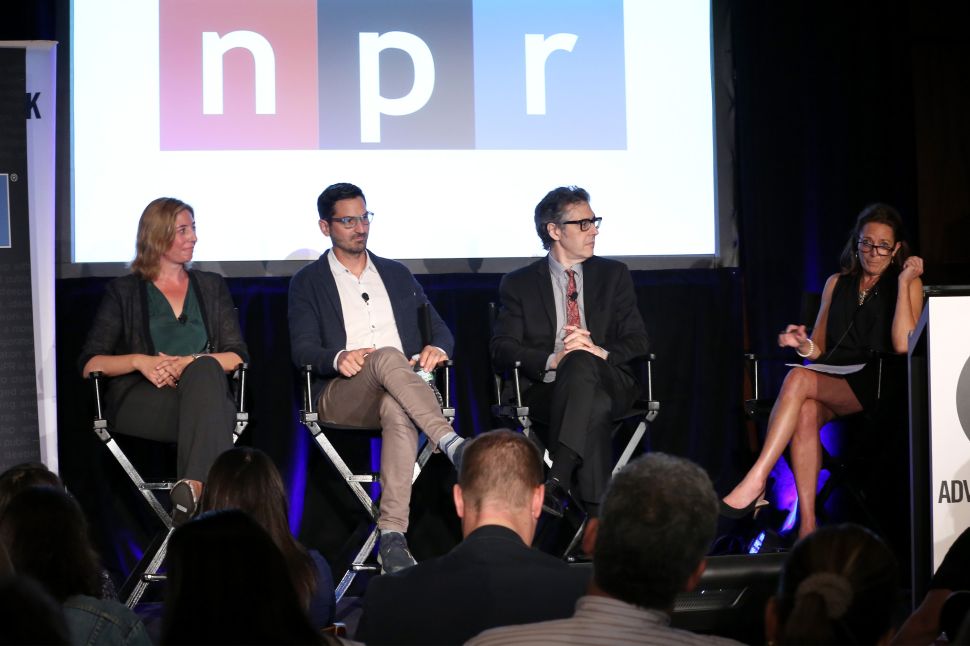 Public radio came out with a new "podcast audience metrics" standard last night. The plural there may slightly oversell it: the big guns of public media have come to an agreement on what a "download" is. Another way to say that might be: how do you count one listener?  Advertisers want a reliable count of how many people will hear a show when they make an ad buy, but technology has made it complicated to get a reliable figure.
In short, the new standard attempts to address all the ways in which technology can make the number of downloads appear artificially high for shows, factors include known bots, sampling, podcasting apps and streaming.
This conversation about how to accurately define a download is one that's been underway in the podcasting community for a long time. According to Erik Diehn, a vice president at Midroll (and former WNYC staff member), the top advertising network for podcasters, perhaps the technological factor that most complicates that count is what's called "progressive downloads," as he explained in a phone call with the Observer. When people listen while downloading a show, a device might make multiple calls for the file, but it's still just one download.
"If everybody adopted these standards today, some shows might come down a little bit in size and some might come down pretty dramatically," he said. The shows with the most misleading numbers would be the ones either self-hosting or using a host that hasn't specifically engineered its servers for podcasts. The first thing Midroll asks a new potential client is how their show is hosted, because that tells them how trustworthy its download numbers are.
Midroll also owns Earwolf, a network of prominent podcasts, such as Comedy Bang Bang and Sklarbro Country.
'I think the way [NPR] went about this was heavy handed and arrogant at best'
Public radio's new standard means that when sponsors look at potential buys across public radio podcasts, they can look at each podcast's numbers and know they all mean the same thing. It is detailed in a new report based on a collaboration that started last spring between National Public Radio, Public Radio International, the Canadian Broadcasting Corporation and eight other stations and networks, which opens by saying:
Measurement of podcast usage is, at best, the Wild West. There has been no standard or even informal consensus around how to count downloads, listeners, or time spent listening. Given the attention to and growth of podcasts and on-demand audio in general, inconsistent approaches to podcast measurement have hampered the ability of this medium to reach its full competitive potential as an alternative to broadcast and other sponsorship media with well-defined and widely adopted audience measurement and performance standards.
"I'm excited about it because it started way back last spring," Sarah van Mosel, currently an executive at podcast delivery startup Acast, but formerly  vice president of sponsorships at WNYC, told the Observer in a phone call. "To at least take this one major step and draw a line in the sand allows the advertising community to know what they are getting." In her former role, she explained, she helped to kick off the conversation among public radio stations, while also fostering it as a member of the Interactive Advertising Bureau (IAB), a member-based body made up of 650 organizations in digital marketing.
Acast, she said, already shares numbers about shows it hosts in basically the way public radio has described with this report. "We just want to be on the right side of the standards, and I believe this is the right side of the standards," she said.
Mr. Diehn said he believed public radio's position should help nudge the conversation inside the IAB along. "As with any professional body, there's always a great deal of inertia," he said. 
If he were to quibble with any part of public radio's position here, he said he might ratchet down the time window used in these guidelines. If two requests come from what looks like it could be one device within a day, these standards call that one download. It might be reasonable to shrink the number of hours, he argues, since multiple people on, for example, one shared private network might download the same show in a day's time. Still, "All in all, it's a common sense set of measurements," Mr. Diehn said.
Looking toward that ongoing IAB conversation, Mr. Diehn said, "It's really the hosting platforms and infrastructure providers that have to get on board with this."
One of those hosts, Rob Walch, a vice president at Libsyn, sees the public radio guidelines differently. "I think the way they went about this was heavy handed and arrogant at best," Mr. Walch said in a phone call with the Observer. He objected especially to the document opening with the "wild west" language, when, he argues, companies in the podcasting industry, such as his, Blubrry and Podtrac, have been discussing this question for some time. "The reality is that podcasting has been around for 11 years, and there are companies that understand podcasting methods better than NPR," he added.
A now defunct organization, the Association of Downloadable Media, in which Libsyn took part, articulated shared guidelines around reporting to advertisers in 2008, which is still viewable on the Internet Archive.
Ms. van Mosel is optimistic that as standards get articulated, podcasters can press delivery mechanisms such as iTunes to create ways to send data about listens back to podcasters. All podcasters really know now is that shows get downloaded, but not if anyone hears them. Mr. Walch, however, does not foresee Apple ever returning that kind of information. He added that iTunes is hands down the largest delivery vehicle for podcasts, especially the ones that command the most advertising revenue. Apple did not reply to a request for comment.
That said, it's worth noting that John Lee Dumas, of Entrepreneur on Fire, recently told the Observer that he sees iTunes share of the market shrinking, year over year, at least among his listeners.
Each of the companies the Observer spoke to agreed that the key next step is for the IAB's technical working group to articulate a consensus among members. "Ultimately I think it's the IAB that needs to set the guidelines," Mr. Walch said. 
NPR was not immediately available for comment.