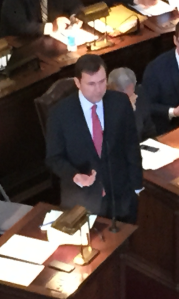 TRENTON — Improvements to state and local elections were the common thread running through the bills passed during Thursday's Senate session, with bills aimed at local government ethics standards, overseas voting, and improving NJ's voting systems seeing their third and final passage.
Senate Minority Leader Tom Kean Jr. (R-21) was primary sponsor of a bill to entrust enforcement of ethics standards at the local level to the State Ethics Board, rather than to local agencies themselves. That bill would target corruption in local elections, a problem that co-sponsor Sam Thompson (R-12) called endemic when the bill went to committee. Jim Whelan (D-2) was also a co-sponsor of that bill, which passed 29-0.
Whelan also saw support for his bill to allow New Jersey residents living abroad to vote in state and local elections via an absentee ballot, in the same way they can currently vote in federal elections through similar ballots issued by the state. That measure passed 35-0.
Kean stood to voice his hesitation in supporting Whelan's last bill to see a vote this afternoon, which also passed unanimously. That measure would create a bipartisan commission to research possible improvements to the New Jersey's voting systems at the local, county and state levels.
Though the bill would require an even partisan split among committee members, with the Senate and Assembly equally represented, Kean expressed concern that he and fellow minority leader Jon Bramnick (R-21) in the Assembly did not have an explicit place in the nominating process.
"The appointment authority in both the Assembly and the Senate lacks input from the minority leaders," Kean said on the floor, after stating that he would be supporting the bill. It passed 26-0.