Milan is one of most stylish cities in the world. It's where iconic fashion houses from Gucci, Prada, Dolce & Gabbana, to Missoni are headquartered. And beginning February 24, Milan Fashion Week takes place. If you're wondering where the jet-setting fashion crowd will be before-and-after the shows, here are five places that are sure to be among their stops.
Bar Luce at the Fondazione Prada
Join the artsy-crowd for an espresso and a perfectly sliced piece of cake at this Wes Anderson-designed café. The colorful space is a nod to 1950s and '60s Milanese eateries. It is replete with veneered wood wall panels, mint colored furniture, pinball machines, and a jukebox. The director drew inspiration from his earlier short film Castello Cavalcanti. "While I do think it would make a pretty good movie set, I think it would be an even better place to write a movie," said Mr. Anderson.
Largo Isarco, 2, 20139 Milano.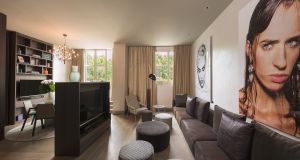 This less-than-a-year-old Melia property is centrally located in the fashion and design district. The ultra-chic hotel has already garnered an A-list following with frequenters including Adam Levine, Ricky Martin, and Paris Hilton. On any given day there is a photo shoot happening on the property including a Vanity Fair spread inside one of the hotel's suites. Lighting and textured walls play an integral role in design, as do the blow-ups by famed Madrid-based fashion photographer, Alberto Van Stokkum. Even the room amenities for purchase are sexy including a hangover kit, a sex kit, and Agent Provocateur designed panties. In the lobby, find a library with books on fashion, design, and the history of Milan. The hotel's Radio Rooftop Bar is also what makes this a go-to destination. Guests enjoy aperitivos (pre-dinner nibbles and drinks) at the only rooftop bar, lounge and terrace in the Piazza della Repubblica area.
Piazza della Republica, 13, 20124 Milano.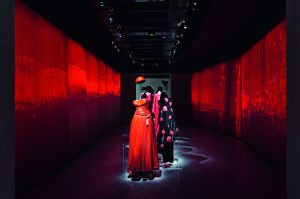 Armani/Silos
In this draw-dropping minimalistic space, fashion icon Giorgio Armani celebrates 40 years of his career. The impressive cement structure was built in 1950, and housed cereals. As of May 2015, the four-floor museum space smells of incense, and boasts a permanent collection comprised of 600 garments and 200 accessories. The exhibit is organized by four main themes that have inspired, and continue to inspire the designer (Daywear, Exoticism, Color Schemes, and Light), rather than chronological order. The first outfit dates back to 1980, though Mr. Armani has been designing since 1975, but he did not have an archive at that time. Mr. Armani decided to use Silos in the title, because the building was used to store grains, and like sustenance he explained clothes are an essential part of life.
Via Bergognone, 40, 20144 Milano.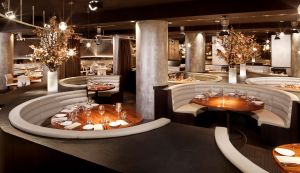 STK Milan
STK Milan restaurant is the first in Italy for the ONE Group. It is located inside the ME Milan Il Duca hotel, where the steakhouse draws in locals and guests. On weekends, expect to see perfectly tailored three-piece-suits, and bow ties over breakfast. For dinner, the style trendsetters arrive around 9:30 p.m. and stay for the DJ that transforms the space starting at 10 p.m. The restaurant is often reserved for private parties as well, including fashion show after-parties during Milan Fashion Week.
Piazza della Republica, 13, 20124 Milano.
This multi-purpose place, including shop, café and garden, celebrated its 25-anniversary last year. Gallerist Carla Sozzani, who is also the sister of Vogue Italia editor-in-chief Franca Sozzani, founded it. The high-end fashion retailer houses brands that push the envelope to the likes of Azzedine Alaïa, Maison Martin Margiela, Roberta Di Camerino, and Melissa + Gareth Pugh. The buy is comparable to Dover Street Market. In addition to haute couture there are also great gift options including books, candles, and fragrances. You can also enjoy an espresso or glass of wine at the courtyard restaurant of this traditional Milanese palazzo.
Corso Como 10, 20154 Milano.