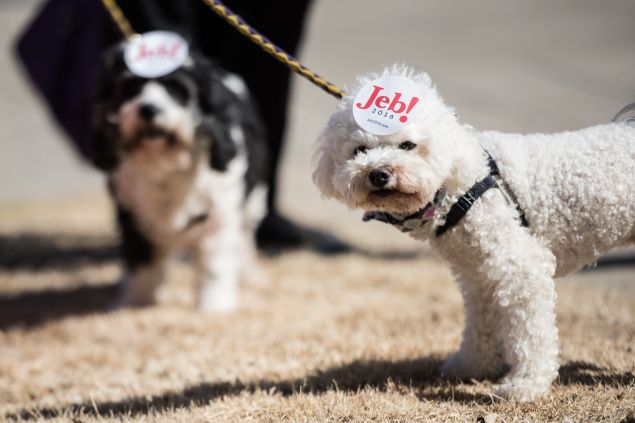 Conventional wisdom suggested Jeb Bush's supporters would gravitate toward Florida Sen. Marco Rubio or Ohio Gov. John Kasich after the former Florida governor announced he was suspending his campaign.
But the results in Nevada suggest businessman Donald Trump may have been the recipient of many of Mr. Bush's former supporters. Granted, Nevada is just one state, and it has its own demographics that may be totally independent of Mr. Bush's supporters, but it is also the first state primary after South Carolina, which is when the former governor dropped out.
Prior to Nevada, further conventional wisdom suggested Mr. Trump had a ceiling of support hovering in the low 30s. In Iowa, he underperformed polls with 24.3 percent of the vote for a second-place finish. In New Hampshire, he over-performed polls with 35 percent of the vote. In South Carolina, he slightly over-performed polls with 32.5 percent of the vote.
Polls in Nevada conducted prior to Tuesday's caucus showed Mr. Trump with a sizeable lead over his rivals Mr. Rubio and Texas Sen. Ted Cruz. Those polls, however, were taken months apart and the two conducted in the weeks before the primary showed Mr. Trump polling higher than he has been in the previous primary states. One poll, conducted by CNN between February 10 and 15, showed Mr. Trump with 45 percent of the vote, which is what he ended up with on Tuesday.
Mr. Bush did the right thing by dropping out.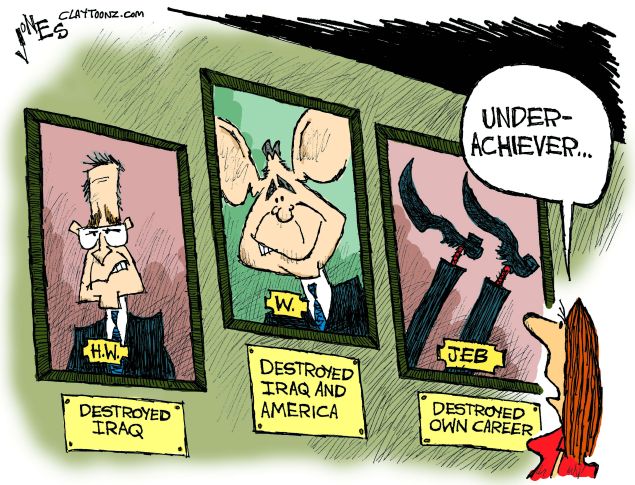 That poll was conducted before Mr. Bush dropped out, and seemed unusually high. Perhaps that poll was dead on, as it also showed Mr. Bush with just one percent of the vote. The other poll conducted around the middle of February showed Mr. Trump with a lower percentage of the vote (39 percent) and Mr. Bush with a higher percentage (five percent).
The poll showing Mr. Trump with 39 percent of the vote also showed Mr. Cruz with 23 percent of the vote, which is close to what he ended up getting (21 percent). It also put Mr. Rubio in third place with 19 percent of the vote (he ended up with 23 percent).
Two polls can't really be definitive, but if we look at both of them and how the candidates actually performed, it looks like Mr. Trump ended up with many Bush supporters, even though the two candidates butted heads numerous times. Mr. Rubio's increase could also be due to receiving former supporters of Mr. Bush as well as a good share of previously undecided voters.
It should also be noted that Mr. Kasich and former neurosurgeon Ben Carson each performed worse in the caucus than they did in the polls, so voters who previously listed them as their choices may have also defected to Mr. Trump or Mr. Rubio. The momentum of Mr. Trump, Mr. Cruz and Mr. Rubio could also be bringing more voters to their side, as voters begin to see them as the possible winning candidates and not Mr. Carson or Mr. Kasich.
Now, we must also address the latest conspiracy theory to explain how Mr. Trump may have won so much of the vote (even though one poll showed him with such high support). Conservatives haven't even figured out the "mystery" of former Supreme Court Justice Antonin Scalia's death, and yet here they are, sleuthing away at a new conspiracy.
There were reports from many precinct goers of ballot shortages, people potentially double-voting and vote collectors wearing Mr. Trump's campaign gear, and many saw the high percentage of votes going to the New York businessman as evidence of a scam. The Nevada GOP said no official reports had been received, and a strategist for Mr. Rubio who initially had doubts about the caucus' integrity changed his tune, believing fraud was not occurring.
The bottom line is that Mr. Trump likely would not have performed as well had Mr. Bush still been in the race (the same could probably be said of Mr. Rubio). Mr. Trump still would have received his highest share of the votes yet, to be sure, but he probably wouldn't have beaten Mr. Rubio and Mr. Cruz by nearly 20 points.
Mr. Bush did the right thing by dropping out and allowing his supporters to pick a new candidate (still surprised they may have chosen the anti-establishment Trump, though). Now it's time for Mr. Carson and Mr. Kasich to do the same.
Disclosure: Donald Trump is the father-in-law of Jared Kushner, the publisher of Observer Media.