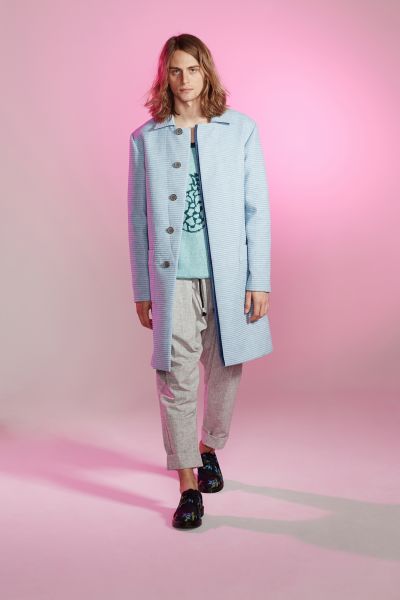 There's no use skirting the fact. Most luxury surf-inspired clothing brands have barely any ties to the actual surf industry. Their creative directors may have hit the waves twice in Tulum, but the sport itself isn't what captures their intrigue. Instead, the blue sky ambience of the surfing lifestyle is imbuing designers with fresh ideas. 
"For us it's not always about the act of surfing, but the mood you get from this culture," said John Targon, one half of Baja East. The brand, which was co-founded by Scott Studenberg, was based on the concept of loose luxury, but the term "beach meets street" also describes their loose cashmere sweaters and wrap skirts.

Baja East embraces the notion of a carefree spirit. Its loose-fitting garments are designed for a life that goes with the flow, unencumbered by trends. With years of experience at top fashion houses such as Céline and Lanvin, the design duo thought something was amiss in a world where four-figure handbags are carried for four months and promptly cast aside.
"If you're spending all this money, it should be on an item you can wear all the time," Mr. Targon earnestly explained. "We match our color palettes from season to season so you're building a wardrobe. Our cashmeres are expensive, but they're made from the best yarns and our pieces won't be obsolete in a few months."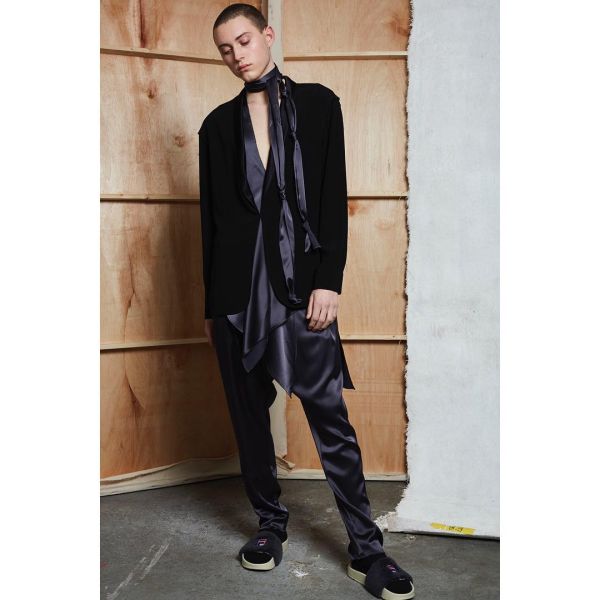 Another cornerstone of Baja East is garments that flow fluidly between genders. Yes, the silk dresses with twisted sleeves are feminine, but so are the ribbed knit skirts worn by guys. To further this point, Baja East aims to cast androgynous models for their runway shows.
"When we first talked about this concept, we were told we couldn't do it, because no one would be into it," Mr. Targon admitted. The doubters were wrong; now the same Baja East pieces are carried on both women's and men's racks at Maxfield in Los Angeles.
Even big names like Gucci are now offering gender-fluid ranges, to much critical acclaim. It's clear that young, international designers have a particular penchant for this concept.
Palmiers du Mal, a line built for world travelers with a focus on resort destinations such as Rio and Marrakech, is one of those brands. Technically speaking, designers Shane Fonner and Brandon Capps cut their garments for men, but women love their sumptuous cashmere joggers and cushy cardigans. Palmiers du Mal has embraced that androgynous approach, even casting singer Heather Golden from the band Beau in the resort 2016 lookbook alongside artist Luca Vigorelli.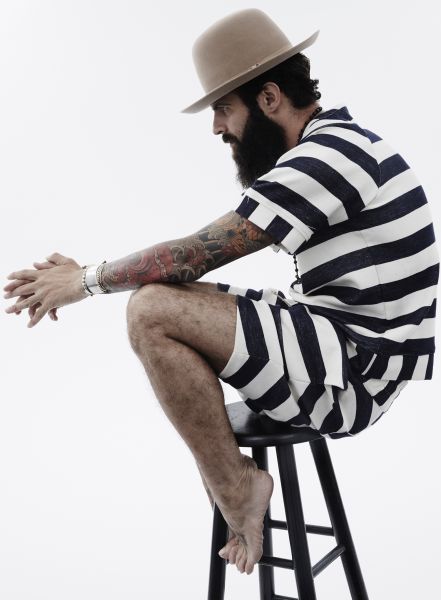 "We use feminine touches on masculine pieces. I see women digging a lot of this collection, so I wouldn't be very surprised if you see us in women's stores," Mr. Fonner explained.
Thaddeus O'Neil debuted his eponymous collection in 2013 to be unisex, but has since introduced women-only offerings, too. "I don't really classify bikinis and dresses as unisex, as some may," he clarified. A lifelong surfer who has been riding waves on the shores of Long Island since he was 9 years old, Mr. O'Neil looks the part of a surf bum, with sun-bleached hair and sinewy muscles that can only be the result of waterlogged activities.
It comes as a surprise to thumb through his spring 2016 collection, which is devoid of overt allusions to surf gear. Instead, the handmade range, titled Children of the Night, includes hoodies cut from jacquard and tailored tweed shorts with fringe details.
Paddling the Atlantic Ocean during his childhood wasn't the only experience that propelled Mr. O'Neil toward a career in surf-inspired fashion. A carpenter gig in his youth taught him the importance of goods made by hand, although modeling for a top photographer helped, too. "The most formulating experience was working with Bruce Weber, because I really got to see a true artist at work. [He] showed me the disciplines that come with that." The Americana photographer doesn't work with Mr. O'Neil formally, but is always a phone call away, should he need some sound advice.
But still, the laissez-faire vibe seems to be a package deal when it comes to Mr. O'Neil's range. He may have made it through the rigorous CFDA/Vogue Fashion Fund, where Anna Wintour and Steven Kolb have been known to pick apart brands for lacking operational skills, but this designer didn't start with a business plan. He still doesn't have one and he has no intentions to introduce one anytime soon. Once a surfer, always a surfer.