The British band Coldplay recently released a video inexplicably set in India for its song, "Hymn for the Weekend," and within days it incited a backlash. Many critics deemed the video as cultural appropriation.
Intended to be a late-night club anthem, the song's chorus celebrates "feeling drunk and high"—a sentiment that has precious little to do with practicing Hinduism. But here is the crucial point: The video is not so much about India as it is about Hinduism. It's this overt Hinduism and not merely the exoticization of India that is troubling and truly insidious about this cringeworthy video. Within the first 30 seconds alone we're treated to the following series of images: a preening white peacock in a ruined temple, not one but two separate sets of saffron-clad holy men (one of whom is "levitating"), a child street performer dressed as Shiva, and a closeup of fingers chiming jalra (the famous finger cymbals used in prayer). To watch this video, we might be forgiven for believing that India is exclusively a Hindu country, a land where intoxicating ritual Hindu fervor explodes daily on Mumbai's streets.
To those of us familiar with Mumbai's—and India's—history with Hindu nationalist violence, this imagery carries darker meanings. While both Hindus and Muslims were brutally murdered during a series of terrifying incidents in Mumbai between December 1992 and January 1993, the so-called riots were primarily unleashed in response to the Hindu nationalist demolition of a historic mosque believed to be built upon an ancient Hindu holy site. When Hindu civilians were murdered in protests that had turned violent, a group called the Shiv Sena ("Shiva's Army") reportedly organized reprisal squads to conduct what some have described as an all-out pogrom of Muslims. People were attacked with sabers and burned in the streets.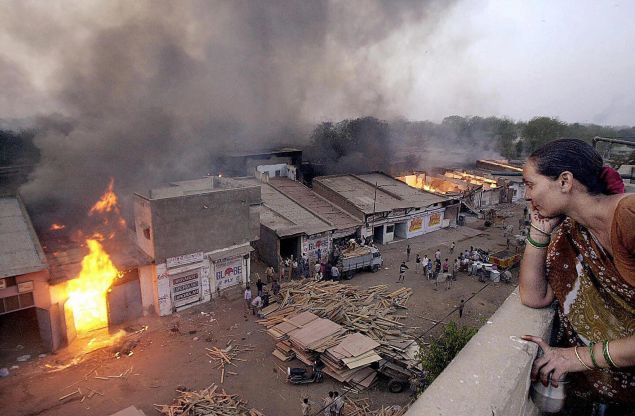 The violence didn't begin or end in Mumbai but continues today. India's Prime Minister Narendra Modi served chief minister of Gujarat during a series of violent riots and pogroms in 2002 that left an estimated 1,000 people—mostly Muslim—dead. Just last year, a Hindu priest incited Hindus to lynch a Muslim man for supposedly slaughtering a cow to eat. While Modi himself was not found to have been directly involved in inciting or enabling the Gujarat riots, his administration has regularly been accused of looking the other way when Muslims have been attacked or when lower-level functionaries in the state-level units of his political party have discriminated against or incited violence against Muslims.
India's intolerance problem is by no means confined to violence between Hindu nationalists and Muslims. India has an ongoing history of caste violence—news reports over the last year alone tell of a Dalit family burned alive, a boy lynched, of high-caste people leading violent riots against police across the country in backlash against Dalits asserting their rights. It seems that long-standing faith- and caste-based discrimination may be translating to race violence—just this week, a young Tanzanian woman was assaulted by an angry crowd in the supposedly liberal, high-minded tech city Bangalore. A saffron-washed depiction of India is not only misrepresentative of India's true diversity, it promotes the ongoing erasure of India's minorities and oppressed people.
It is possible that Coldplay is not familiar with the deepening and widening fissures in contemporary Indian society, fissures that regularly open to swallow India's rightful citizens in brutality and violence at the hands of high-caste Hindus. They should be advised that scenes of young men dancing in the streets in wild abandon also conjure images of bloodthirsty mobs, their faces streaked with vermilion, going after their neighbors.
It's understandable that the true diversity of India cannot be captured in a four minute pop music video. But it's also a country straining at the seams to hold itself together and to keep divisive violence in check.
But they certainly must be aware of India's current crisis in responding to violence against women. As has come to light since the brutal gang rape and murder of a young woman in Delhi in 2012 and subsequent high-profile rape cases, sexual violence and rape is not only widespread but excused by politicians who shift blame to women seeking to study, work and move freely in their own country. And yet, the video features a sequence in which a film projector operator peeps through a window at an image of Beyonce gyrating on a screen. This segment tacitly excuses the rape culture that defines and confines much of female life in India today.
I don't mean to callously dismiss anxieties about Orientalism and cultural appropriation. Indian feminists primarily in diasporic communities have pointed out that white women can adorn themselves with bindis and mehndi, and wear elaborate Indian jewelry and saris without any professional or social repercussions, while South Asian women, particularly new immigrants or working-class women, cannot. Many will rightly flinch at a British band Orientalizing its awesome party weekend in India, given Britain's devastatingly long and violent colonization of the South Asian subcontinent. But there are deeper and broader issues at play.
India is a large and complex nation—its people are phenomenally rich and profoundly poor, highly educated and widely illiterate, deeply religious and vociferously atheist, intransigently conservative and radically progressive. It's understandable that the true diversity of the country cannot be captured in a four-minute pop music video. But it's also a country straining at the seams to hold itself together and to keep divisive violence in check. At this juncture, India needs representation to and allies from other countries who can support tolerance, and who understand that India is more than just a saffron-hued Hindu phantasmagoria, but a country of many faiths and communities who are trying to see themselves—and be seen—as one.