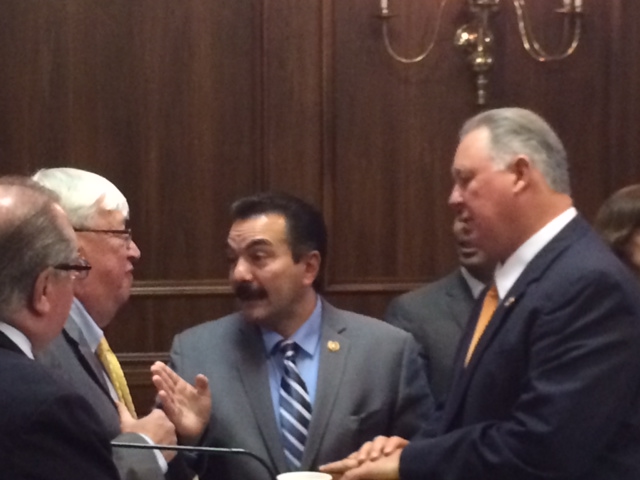 "One of the largest population of Cubans outside of Cuba lives right here in New Jersey. There are issues important to New Jersey that the Cuban government must address."
 — Assemblywoman Holly Schepisi (R-Bergen.)
(Cherry Hill, NJ) — Much ink was spilled over a recent trip to Cuba by 10 New Jersey state legislators. That's not surprising since few geo-political issues are as fraught as US-Cuba relations. In short, we've an island neighbor just off Key West with whom we've buried our heads these past 5 decades in the name of Cold War politics. Whether you think the US-led embargo of Cuba is a good idea or not, here we are, 50+ years later, still clinging to it. Some of us still cling to it anyway.
When Barack Obama first ran for president he wasn't shy about a possible rapprochement with Cuba. The logic: our embargo is a sad, obsolete vestige of a rivalry with a nation which no longer exists (the Soviet Union.) So why on earth do we keep doing that same thing that never worked to begin with? Many Americans, indeed many Cuban Americans voted for Obama because of his expressed desire to stop ignoring nations and heads of state with which we have profound differences. Cuba is a perfect example. Yes we can, Obama told us. Hope and change. Remember?
But Cuba proves change ain't easy, especially for the pro-embargo hard-liners whose families were truly harmed by an undeniably repressive Cuban government.  So when a bipartisan group of NJ legislators set off to Cuba late last month there was bound to be strong reaction, especially from the old guard (which includes New Jersey's senior senator Bob Menendez and our assembly speaker Vinnie Prieto both Cuban-Americans with compelling backstories and unique [albeit dated] perspectives.)
Senator
Menendez
: "Of all the places in the world to try and create good relations and business opportunities, Cuba is just not one at this time because you have a regime that is unrepentant, unwilling to open up, unwilling to permit basic human rights and democracy, and one that if you want to do business with, you're going to do business with an oppressive regime."
But that's precisely the point, according to Assemblyman Reed Gusciora (D-Mercer) who  made the trip and later told PolitickerNJ, "Fifty years of isolating them has done nothing! Bob Menendez should go do there and face off with those communist party officials eyeball-to-eyeball!" Instead of, one presumes, pushing that tired old embargo frame.
Despite Menendez' protestations, business ties between Cuba and America are already taking root. For example, IDT is a Newark-based telecom company whose chief legal council emigrated from Cuba to NJ and didn't see his family for decades. Now IDT is perfectly positioned to help America re-establish phone ties with our island neighbor. These changes will happen. Shouldn't New Jersey, home to many in the Cuban diaspora, lead the way? Those were the kinds of questions assembly our assembly members asked down there. I know this. They told me so.
"Cuba is a very passionate issue for most Cuban-Americans, many of whom fled Cuba with the shirts on their backs never to return," Assemblywoman Schepisi told PolitickerNJ. "But like it our not, we're at a juncture of history where President Obama managed to soften the (decades long) embargo."
Schepisi pointed out that global support for ending the ban is nearly universal. It is, she said, "an effort supported by 188 of 192 members of the United Nations."
Reaction from Menendez' fellow hardliners came swiftly:
"I don't think they know enough about what's going on in Cuba,"
said Albio Sires
, Cuban-born member of Congress whose Hudson County district  is enriched with a large Cuban-American community. "The thing is they legitimize the government and, quite frankly, the economy, 85 percent of the economy is run by the military in Cuba."
"The whole trip was a very unfortunate thing," West New York mayor Felix Roque told NJ101.5. "They're like Boy Scouts going in and fighting in a battlefield. They didn't know what they were going into. And the Castro regime has a very good propaganda machine. And they were misquoted. I feel bad for them. The whole trip was unfortunate."
First of all, notice both Sires and Roque make a point to highlight that the rest of us are just a bunch of rubes. Secondly, why do hard-liners seems to believe that only Cuban exiles are permitted to have strong opinions about this? Maybe that's not the way it really is, but when you listen to Menendez and his ilk, it sure seems it.
Speaker Prieto, himself a Cuban exile, was more circumspect about the whole affair: "I would not authorize them going as an [official] delegation but I cannot say anything about them going as U.S. citizens. That is one of the freedoms we have here that is not available to the Cubans in Cuba."
As for the thorny issue of convicted cop-killer Joanne Chesimard's extradition back to NJ to face justice? "It was raised constantly," Schepisi told PolitickerNJ.
"Constantly. At every meeting we had," added Gusciora, including a sit down with Josefina Vidal, Cuba's deputy Foreign Minister
"The wants of the Cuban government were passionately articulated by the Cuban government — ending the embargo, closing Guantanamo," said Schepisi. "But I didn't hear much, and I needed to hear, about what does the US get in return. Specifically, how does the Cuban government plan to restore relations with Cuban Americans?"
Healing the wounds between our nations won't be quick or easy. There remain righteous bitter grievances on both sides. So whatever steps taken by our assembly members on this trip will, in retrospect, mark the first tentative baby steps on a long path towards anything like a normal relationship with Cuba. But at least one New Jersey legislator's optimistic.
"You know what will change Cuba for the better?" asked Assemblyman Gusciora somewhat jocularly, before answering his own question. "Gays! They have money and they love to travel! That sort of human-to-human contact, it warms the heart to make these connections!"
"But first Cuba has to improve treatment of its own LGBT community."
Jay Lassiter started covering New Jersey politics in 2005 as a blogger for BlueJersey.com. After a stint as America's first State House blogger, Jay did communication for Congressman Rob Andrews and Congressman John Adler. Jay's best known for his work legalizing medical marijuana and gay marriage and for working to end N.J.'s death penalty. He's on Twitter @Jay_Lass.