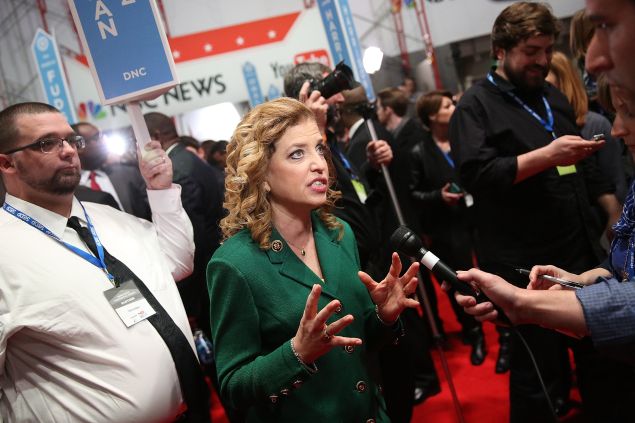 Debbie Wasserman Schultz was already unpopular going into the Democratic Presidential Primaries, as her poor leadership of the Democratic National Committee contributed to 2014 midterm election losses, giving Republicans the majority in the Senate and the largest majority in the House since World War II. Pressure for her resignation as DNC Chair has not only mounted—thanks to her limited debate schedule, conflict with the Bernie Sanders campaign over voter databases and a series of gaffes in the media—but seems imminent if Hillary Clinton doesn't win the Democratic presidential nomination. Ms. Wasserman Schultz's position in Congress is also now under threat with the announcement of Tim Canova, an attorney and Professor of Law and Public Finance at Nova Southeastern University Shepard Broad College of Law, challenging her in the Democratic primaries.
"I've been working with a bunch of committee groups here in Florida's 23rd congressional district and the more we paid attention to the incumbent's voting record, her positions, and her fundraising practices, the more alarmed we were. So in short answer, her representation or failure of her representation of our district boded me to run," said Mr. Canova in a phone interview with the Observer. Ms. Wasserman Schultz's shady campaign finance practices inspired Mr. Canova to run without any donations from super PACs or corporations, instead depending on small, individual contributions similar to those given to the Sanders campaign.
"We've received over 5,700 individual contributions in just five weeks," he said. "That means, when I'm elected, I will not owe anything to any of these special interests and corporations and I can focus on representing the people of the district." Mr. Canova cited instances where Ms. Wasserman Schultz's donations from Goldman Sachs and other big-moneyed interests have influenced her to vote towards deregulation of the financial industry.
"She voted to prevent the consumer protection bureau from regulating payday loans and racial discrimination in car loans. She voted to allow big banks use customer deposits for derivative investments that's a roll bank from the Dodd-Frank Act. She takes money from private prisons, the alcohol industry, pharmaceutical companies. She opposed medical marijuana when it was on the ballot here two years ago. She continues to support mass incarceration of non-violent drug offenders, and that is out of step with her constituents—and 58 percent of Florida voted for medical marijuana. In Miami-Dade and Broward counties, marijuana possession for personal use has effectively been decriminalized."
'Ms. Wasserman Schultz can talk like an environmentalist, but when you support a trade regime it essentially shifts the cost of complying with environmental regulations to the taxpayer, and creates a disincentive to adopt regulations.'
Mr. Canova is an active Wall Street reformer who worked with Mr. Sanders' office on the Dodd-Frank Act. Due to the bipartisan efforts of Mr. Sanders and former Republican Congressman Ron Paul, Dodd-Frank included provisions for the Government Accountability Office (GAO) to conduct two major audits of the Federal Reserve.
"That was historic—that had never been done before," Mr. Canova added. "One was an audit of the Fed's governance, which revealed massive conflicts of interest between Wall Street and the Fed, and the other was an audit of the federal reserve's monetary policies, its lending programs, which revealed a lot of favoritism for those same Wall Street interests that dominated its governance."
A year later, Mr. Sanders asked Mr. Canova to serve on a committee for Federal Reserve reform with other leading economists such as former Secretary of Labor Robert Reich and Nobel Laureate Joseph Stiglitz. The committee spoke with Ben Bernanke, Chairman of the Federal Reserve at the time. Mr. Canova criticized Mr. Bernanke for his views on the Federal Reserve's authority to help Wall Street through purchasing trillions of dollars of bonds from Wall Street banks and lending at near zero interest, yet not provide similar assistance to Main Street. In January 2016, Senator Rand Paul introduced a bill to audit the Federal Reserve annually, which failed to pass with only two Democrats supporting it: Mr. Sanders and Senator Tammy Baldwin.
"I was very disappointed so many Democrats ran away from it," said Mr. Canova. "Again, I think it comes down to the fundraising question. I think there was intensive lobbying from wall street banks over the bill. Senator Charles Schumer, who is really the senator that helps collect money from Wall Street banks for Democrats, lobbied hard against this, so it was extremely disappointing."
Although financial reform remains one of the most significant issues in the wake of the 2008 economic recession, Ms. Wasserman Schultz's congressional district has also experienced another kind of damage: climate change is rising sea levels in Florida, and the region's most important ecosystem, the Everglades, is facing pervasive threats from corporate interests pushing environmental deregulation in order to develop the area's resources. Unlike Ms. Wasserman Schultz, Mr. Canova issued a statement against fracking in the Everglades and against the efforts in the Florida State Legislature to redact local resolutions and regulations of fracking in the Everglades. Mr. Canova explained Ms. Wasserman Schultz's decision to vote for fast tracking the Trans Pacific Partnership (TPP) agreement is hypocritical to her claims that she is an environmentalist.
"The TPP has an investor stakes dispute mechanism which allows the largest corporations to challenge environmental regulations, and to challenge health & safety regulations." Mr. Canova noted TransCanada, a large Canadian energy company, is seeking $15 billion in compensation from the United States government for not moving forward with Keystone XL due to investor rights provisions under NAFTA. "That's exactly what the TPP would open up for a lot more corporations and foreign investors in a dozen countries. Ms. Wasserman Schultz can talk like she is an environmentalist, but when you support a trade regime it essentially shifts the cost of complying with environmental regulations from big industry to the taxpayer and it creates a disincentive to adopt strong environmental regulations. Even when you do adopt them, if the taxpayer winds up having to pay out for it, that means less money available for a lot of other necessary services, including enforcement of environmental laws or infrastructure investment to deal with the effects of climate change and rising sea levels. She doesn't have a plan for any of that."