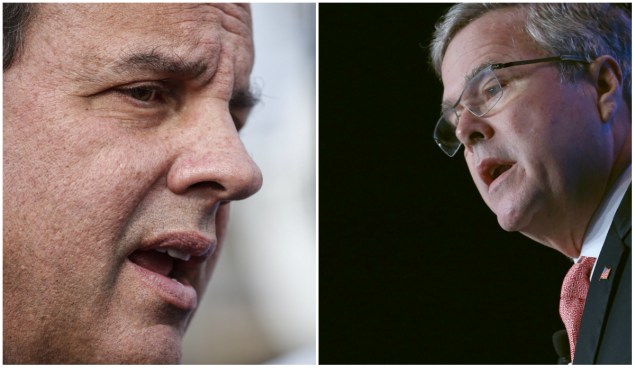 As the deadline approaches for Governor Chris Christie to pull off a strong showing in the New Hampshire primary, the odds are as long as ever that Christie will be able to parlay a third or fourth-place slot into successful last-minute pushes in Nevada and South Carolina. As Christie struggles and lashes out at new establishment favorite Senator Marco Rubio (R-FL), he may have an ally in fellow straggler Jeb Bush. With Bush positioned to use his campaign's deep pockets to hang on past meager returns on Tuesday, Christie's endorsement could swim against the tide of Rubio's success.
When the axe finally falls, will the governor fall in line and endorse Rubio despite questioning his ability to do the job, or endorse Bush?
With the bad blood between Bush and 'the boy in the bubble' over the junior senator's decision to run in the first place, Christie could have more to gain if he keeps his own feud with Rubio alive and moves to support Bush as the establishment alternative to frontrunners Donald Trump and Senator Ted Cruz (R-TX).
Bush has been supportive of Christie in the press in the last days of the run-up to New Hampshire, with the New York Times pointing to the possibility of a behind-the-scenes alliance between the two.
"I love Chris Christie," said Bush in a CNN interview this week. "He is a — he's a great campaigner, he's a good friend and he's been an effective governor."
Bush's troubled but well-heeled campaign will move into the later primaries with strong fundraising totals and a wealth of super PAC funding from the conservative independent group Right to Rise. Christie, for his part, denied that there was any coordination between the campaigns, despite their mutual interest in taking down Rubio.
"The fact is that we are both out there working hard trying to bring our message to folks and we're competing for votes. That is what we're doing and anything that I have to say in this campaign is in my voice and not anybody else's," Christie said in a Fox News interview.
One insider with the New Jersey GOP is joining the chorus of predictions that Christie will sink in New Hampshire. The operative, who did not wish to be identified, said that an endorsement for Bush would be more politically expedient than a reversal on Rubio. 
"Rubio is our strongest candidate," the source said of the senator's surprise third-place showing in Iowa this week. "Bush can financially survive a loss in New Hampshire and I believe there is personal animosity between the master and the apprentice between Bush and Rubio."
If Christie drops out after a weak display in the Granite State, that would present Christie with a chance to maintain a presence in national coverage as the feud between the two drags out.
Rider University Political Scientist Ben Dworkin said that he would hesitate to call Christie's exit from the race so soon. If there is a mutually beneficial relationship to be found in a Christie endorsement for Bush, Dworkin said that opportunity will arrive if and when the Christie campaign runs out of money and Bush completely reverses his slide in the polls — not after the returns come in on Tuesday.
"I don't think he'll endorse anybody when he drops out, unless it is clear who is going to win the nomination," said Dworkin. "I don't think he's going to drop out any time soon. If he's got the money to make payroll, why shouldn't he continue to go out there and offer his thoughts, be involved in the debate, shape the discussion?
"There are any number of shifting alliances in a multi-candidate campaign," he continued. "The only reason to endorse is if you get something. Or you're afraid of losing something. So I doubt that Christie will endorse and turn over his list, and contacts, and begin raising money for any other candidate until he knows what he might get in exchange."