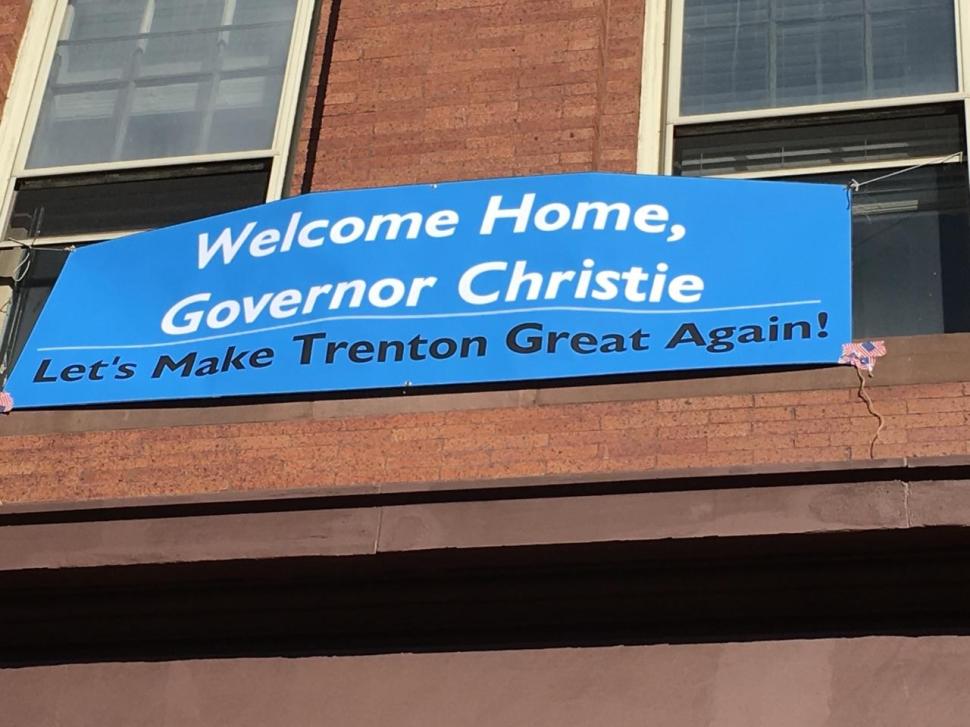 WINNERS
Mike Doherty
After a second place finish in Iowa last week, Donald Trump's big, concussive win in New Hampshire repositioned the real estate tycoon as the boss of the Republican presidential primary field. That's a good sign for Doherty, the western New Jersey mountain man senator who is the lone elected official in Trenton to publicly back Trump for prez in the face of a very resistant New Jersey Republican establishment.
Joe Kyrillos
Okay, so Jeb! is not exactly looking like the Republican nominee right now. But he's still alive in the presidential contest, and that's more than can be said about Chris Christie. People last year told Kyrillos he was crazy to get behind the prez candidacy of yet another drab country clubber, but the 13th District state Senator made his choice and stuck by it and is on to the next round.
Steve Lonegan
Ted Cruz sneaked in under the radar Tuesday night with a third place finish in New Hampshire. That's not a bad campaign outcome for Cruz, a Texas evangelical who's now demonstrated strength in two separate and different theaters of war: Iowa and NH.
John Wisniewski
It's not as though the assemblyman from Sayreville put that 22-point margin of victory by Bernie Sanders over Hillary Clinton on his own back. But Wiz was up there in New Hampshire in long coat and scarf slogging around in the snow and fighting for his candidate, who now has undeniable traction going forward.
Analilia Mejia
The executive director of Working Families played on the Sanders team, so notched a win on the prez contest front. She also has the senate president and assembly speaker stumbling over themselves trying to muster support for Mejia's key issue: a $15 minimum wage hike ballot question. Senate President Steve Sweeney (D-3) wants to ask voters to raise the state's minimum wage to $15 per hour by 2024. Speaker Vincent Prieto (D-32) has a bill that would immediately raise the minimum wage to $15.
Alyana Alfaro
The scrappy PolitickerNJ reporter landed in New Hampshire on Saturday and worked in the snow through Election Day digging out invaluable New Jersey-New Hampshire ingrained nuggets like this, and this, and this.
UNDETERMINED
Leonard Lance
Faced with a revved up Tea Party, Ted Cruz-backing challenger, the congressman from the 7th district must now, with Chris Christie out of the race, be looking very hard at the prospect of endorsing Donald Trump for president to avoid having to defend his association with an establishment type at the top of his reelection ticket on June 7th. Lance occupies a conservative and notoriously anti-establishment district. Granted, there's still time and maybe congressman waits until after Super Tuesday to get a better lay of the land, but the state of flux with the party nationally must be causing him fits.
LOSERS
Chris Christie
After setting up a run for the presidency going back to when he gave his first address to a joint session of the legislature in 2010, and subsequently gearing much of his policy (on guns, labor unions, social issues and even pig crates) to a national Republican audience, the New Jersey governor fizzled in New Hampshire on Tuesday night. After practically taking up residency in New Hampshire for months, Christie placed a dismal sixth place. Convinced that he was mortally wounded from the outset, the governor's rivals never took Christie's late bounce in the polls too seriously. Aware of those inescapable negatives revealed early in the prez contest, the campaign of Marco Rubio in particular dredged up a nightmarish Christie story line in the closing days, including a reminder to voters that New Jersey experienced nine credit downgrades during Christie's tenure. The ads knocked down whatever Christie built late with newspaper and other endorsements. Limping into a miserable finish in Iowa somewhere in the vicinity of Mike Huckabee and Rick Santorum didn't help give him the money infusion he would have needed in the closing days to effectively fight back. He used the final stage to do that, but by then the act felt more like desperation when measured along with his shriveling and underfunded campaign apparatus. Yes, Christie abandoned the state and put his own ambition and ego above the seemingly intractable problems of New Jersey. But his final debate performance, as had his other performances prior to it, showed what a well prepared and strong competitor he is, up until the bitter end.
Mike DuHaime
You can argue the Christie for Prez strategist didn't have much to work with, given the damage Christie inflicted on himself prior to getting into the presidential contest. We buy that argument. Given his history, Christie was a tough sell going back to the beginning, and his campaign, including the much celebrated Matt Mowers, Christie's point man in New Hampshire, probably did the most with what they had. In retrospect, one of DuHaime's other famous prez charges, Rudy Giuliani, likewise seemed a difficult brand to transfer to other more conservative parts of the country. We're not sure how a different strategy, like having Christie spend more time in Iowa, might have helped his cause. Remember, some scattered primary victories notwithstanding, no Republican candidate from the Northeast has won the presidency in 100 years. Still, DuHaime was the man with his hands on the controls and Christie could not get out of New Hampshire.
The Democratic State Committee
They fought hard for Hillary Clinton in New Hampshire. There were times when it felt like the New Jersey establishment was fighting harder than anyone else, and that really shouldn't come as a surprise. New Jersey and the Clintons have long had a close relationship, epitomized in 2012 when Bill Clinton inserted himself into a Democratic Primary to back the ultimately successful reelection of U.S. Rep. Bill Pascrell (D-9). But a 22-point loss is a 22-point loss, and the party establishment must feel the ache of the Clinton Campaign's deficiencies with a particular vehemence as their candidate regoups for the next showdown with Bernie Sanders.
Fernando Alonso
No, Marco Rubio's presidential dream is not dead yet, but the flogging he sustained in the aftermath of his Saturday debate performance put Rubio's campaign in serious jeopardy. As Rubio's New Jersey point man, Alonso, the likeable Bergen attorney who twice ran for seats in the 38th legislative district, sustains his first loss of the season.
The New Jersey Republican Establishment
Ohio Governor John Kasich's second place finish was book-ended by Trump's convincing win, and a strong third place showing by Cruz. That's not good news for the establishment, who now minus Christie must try to figure out whom to back in a very muddled field. Kasich? Kasich is at two percent in South Carolina and by his own admission does not appear to have sufficient resources to project strongly into the next round. Jeb Bush and Rubio may be mortally wounded. In any event, Trump and Cruz appear to be in a strong position now heading toward South Carolina and that puts on shakier ground than usual the fortunes of the NJGOP.