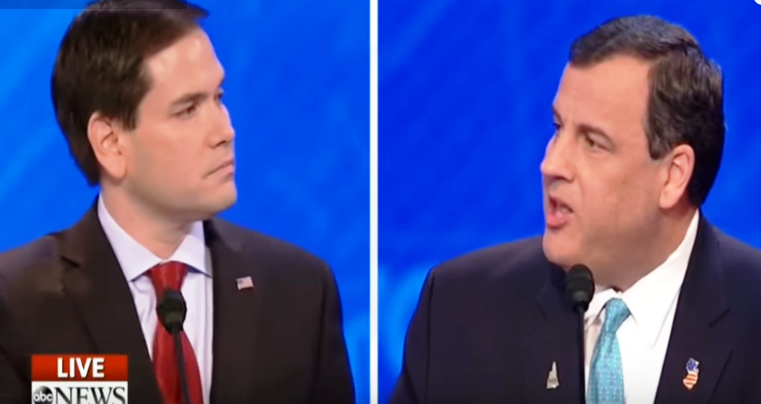 A backroom telephone war in the New Jersey Republican Party right now features a majority of chairmen, or at least some key party chairmen and/or their allies, committed to the argument that Florida Senator Marco Rubio gives their party the best chance to win, up against a wall of Governor Chris Christie's very public resistance to Rubio, and a counterargument that Donald Trump gives Christie the best chance to stand up early with what any gambling man would have to call a good bet to be winner.
Jeb Bush's collapse accelerated the conversation.
Those New Jersey establishment party players might have seen it coming, but when if finally happened on Saturday, Bush went down like the Edmund Fitzgerald: entombed instantly and utterly without a trace left of him in a contest now consumed by the fast creeping inevitability of billionaire real estate tycoon Trump.
Shocking?
Bush was supposed to be that establishment safety net for New Jersey Republicans after Christie plunged from his trapeze in New Hampshire. Few ever gave the combative Jersey governor a chance, but they dared not try to stop him. Publicly deferential, they privately saw his willful ascent to the presidency as the natural outgrowth of an ego that would only finally submit to physics.
No sweat. Let Chris be Chris. And even Chris knew the score. In July, the governor confessed to New Jersey Republican confidants that Trump was in his lane, and making it difficult for him to deliver with any bite his "telling it like it is" message.
The establishment didn't fret.
Bush would make things right in the end.
Wouldn't he?
Well, no, he wouldn't actually, as that establishment fundament, so reliable all these years going back to when Governor Tom Kean stood at George Herbert Walker Bush's side in Madison, and before, came apart like a smashed vase in the political person-hood of Jeb, whose only consolation prize at the end of it appeared a new-found reluctance among sympathetic members of the press corps to persist in accompanying his name with that infernal exclamation point.
Vaporized.
Now what?
Entrenched members of the NJGOP worked the phones all weekend, trying to figure out what to do, jabbing at the party network to get some sense of their range, desperate to assert some modicum of power, trying to figure out how to be chairmen again in some cases after the long layoff enforced by Christie presidential ambitions, but up against that old blockade even now, amazingly, after Christie's derailment.
It happened last Friday morning.
The governor wanted the chairs to hold off on issuing endorsements. To his credit, a GOP source told PolitickerNJ, he didn't order anyone or try to push people around on that conference call. In a most mild mannered way he asked chairs to please hold off, and that tone pacified several of them, who felt they needed to hear him ask not tell in order to honor his will at this point and keep their own wills submerged in bubble wrap.
But their ongoing silence didn't alter the developing dichotomy, which boiled down simply amounts to Trump versus Florida Senator Marco Rubio.
Several chairs and VIPs in the party most definitely want to throw their support to Rubio. Indeed, they see Rubio as the party's last best hope to dump Trump and create a more conventional atmosphere around their party in time for the general election. The NJGOP has long been characterized by moderation and personal decorum as a display of conservatism, and to the vast majority of these types Trump is a menace.
"He scares me," a party player confessed to PolitickerNJ. "There's no filter."
There's down ballot chatter now in the GOP, and a worry among several party chairs about the real estate mogul's impact on what will be carefully constructed countywide tickets in certain areas in the state. His volatility knows no bounds, Republican establishment sources said, while several chairs and their allies are convinced Rubio is the Republican Party's best general election candidate in November, and that those considerable financial resources in the state should go to him now as the Florida senator prepares to take one last Super Tuesday run at the stampeding Trump.
But Christie blew up Rubio. That's irony and the problem.
The one place where the chairs want to go is the place they can't go, or that Christie can't go. To the extent that Christie maintains power over them and wants to exercise that power to amplify a presidential endorsement, they must go where he goes or risk his well-documented wrath.
The argument against Rubio is that Trump is now all but inevitable. No Republican presidential candidate who won both New Hampshire and South Carolina ever lost the nomination, and Trump just fulfilled that two-pronged task on Saturday night.
Christie, a GOP source told PolitickerNJ, should endorse Trump now – as soon as this week – in order to make himself that first key establishment player to legitimize the tycoon and set himself up as a forward-thinking ally in the Trump camp. 2012 presidential nominee Mitt Romney will evidently back Rubio this week and assert himself as a relevant ally (pre-Nevada) on the Florida senator's priority list. Christie gets nothing by following on the heels of Romney, and anyway he annihilated Rubio on that pre-New Hampshire debate stage, how can he now back Florida's junior senator without contradicting himself, the source argued. Christie has to go Trump and in order to make the endorsement stick, in order to get out front and be relevant, he has to do it this week, the source insisted.
But the chairs – or at least those operatives who hover around key county chairmen and advise them and attempt to protect their power – don't want Trump.
Again, they have carefully constructed power structures, and Trump comes at the party unpredictably and with the potential to dredge up all the worst associative middle American associations of anger and nativism detestable to the most cautious and conservative members of the New Jersey Republican establishment.
One GOP source, however, argued that Trump has time to fashion himself into a general election commodity, and that if Christie indeed is looking for the next landing pad in his political career, he needs to jump aboard sooner rather than later.
"AG," the source said, when asked what Christie could expect to get in return from Trump if the tycoon won the White House. "He could get attorney general with Trump."
The source made the case for style and tone and argued that not impassable distance lies between the political universes of Trump and Christie.
"Chris has to do this," the source insisted.
Has to do this?
If one accepted the fatal signals flickering in the candidacy of Ohio Governor John Kasich, and the impossibility of Christie doubling back to reassemble the Rubio he personally demolished, perhaps the case made some sense; perhaps, but not to those county to county establishment forces long muzzled in Christie-world, to whom Trump still presents a manifestly irresponsible and foreign born candidacy to their world of caution, moderation and self-controlled, but in this case even throttled – egos.
For their part, out of the conversation of Republican politics, Democrats fumed when asked about what they think Christie should do.
"Who cares what he does?" one Dem fulminated to PolitickerNJ, quick to refer to the governor's tanked poll numbers through the long, cold months of his pointless trudge through New Hampshire, resulting last week in a Rutgers assessment last week that recorded Christie at 29%, the lowest favorability ebb of his gubernatorial career.