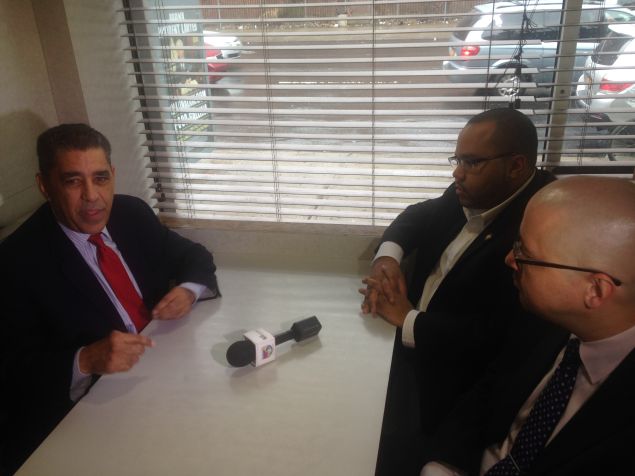 State Senator Adriano Espaillat, one of several aspiring successors to retiring Congressman Charles Rangel, ripped the 85-year-old lawmaker today for having "lied to" the small Bronx portion of his upper Manhattan-based district.
Speaking to the press at the New Capital Restaurant in the Bronx, Mr. Espaillat—who unsuccessfully challenged Mr. Rangel in the Democratic primary in 2012 and 2014—claimed the veteran congressman had been dishonest in past promises to open a district office to offer services in the borough. Redistricting after the 2010 census placed a portion of the Bronx in Mr. Rangel's Harlem-based seat, which he has represented since 1971.
"Let me say something to you: I think the people of the Bronx have been lied to. Because, since 2012, you know, we have been waiting here in the Bronx for a congressional office to open up, a district office," said Mr. Espaillat, who represents the neighborhoods of Washington Heights and Inwood in Manhattan.  "And they have not been served well, because there has not been a presence here in the neighborhood."
The state legislator pledged that, if elected to Congress, he would open a district office on Kingsbridge Road near the restaurant "on day one."
"People from the Bronx will not have to trek all the way downtown to get their services. They will have something right here, right now," he vowed. "It baffles me to think that has not occurred. To some degree, that shows the level of commitment that has been placed on the part of the 13th District in this borough."
A Rangel spokesperson said the congressman has held multiple constituent events and town halls in the Bronx.
Mr. Espaillat was in the borough to pick up the endorsements of Bronx State Senator Gustavo Rivera and Bronx Assemblyman Victor Pichardo.
But most Bronx electeds will likely back one of Mr. Espaillat's rivals, Assemblyman Keith Wright, a longtime Rangel ally. In the scramble last year to replace resigning Assembly Speaker Sheldon Silver, Mr. Wright abandoned his own bid to lead the body and backed Assemblyman Carl Heastie, then-chairman of the Bronx Democratic Party.
Mr. Heastie eventually became speaker, and many suspect he will use his tremendous influence in the Bronx to promote Mr. Wright's candidacy for Congress. Most insiders anticipate Mr. Rangel will also eventually endorse and campaign for Mr. Wright.
When Mr. Espaillat unsuccessfully ran against Mr. Rangel in 2014, the Bronx Democratic Party endorsed him.
Besides Mr. Wright and Mr. Espaillat, Harlem State Senator Bill Perkins, former East Harlem Assemblyman Adam Clayton Powell IV, former Ambassador Suzan Johson Cook, former Obama and Clinton administration official Clyde Williams and stay-at-home dad Mike Gallagher are all seeking the seat.
The Democratic primary will be held in June.