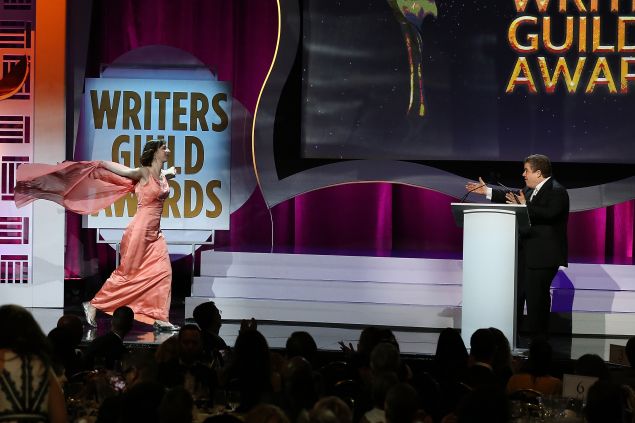 On Saturday night The Writers Guild of America held simultaneous award ceremonies on the East and West Coast, giving out over 25 awards in various categories.
The ceremonies are much less glamorous than the Globes, the Oscars, and even the Screen Actors Guild, but the presentation of these awards do annually provide some inspiring words, pearls of wisdom and moving moments that would otherwise not be captured and shared.
And the truth is, if you want great speeches have writers write them.
For the uninitiated, this is a unique awards show in that it's not simulcast, its two very different ceremonies, but the same awards are given out at each ceremony.
Confused? You're not alone. Why the two events aren't beamed to each other with all of the amazing technology available today is quite a mystery.
The separate ceremonies cause some suspense problems every year as well, and this year was no different.
The East Coast announced Spotlight as the winner of Original Screenplay before the West Coast ceremony had even gotten underway. (For the record, the West Coast always seems to be behind the East Coast even though both ceremonies are supposed to start at the same time – 8pm et/5pm pt.)
With the advent of Twitter and other social media, many on the West Coast knew the results of most of categories long before they were announced from the stage. In fact, many of the big media outlets – Variety and The Hollywood Reporter included – were live tweeting thus spoiling things for those in Los Angeles.
One of the reasons some of the feature writing awards were handed out at the beginning of the event was so that the winners could hop on a plane to get to the BAFTA ceremony being held the next day in London. (The BAFTAs are the British equivalent of the Oscars.)
On the East Coast Michael Ian Black hosted the live festivities while Patton Oswalt played the same role on the West Coast.
Oswald had some great moments, including one where he coaxed awards announcer Josh Robert Thompson, who was working in his dead-on Morgan Freeman voice to do a little piece from Shawkshank — "Andy Dufresne crawled the length of two football fields through the kind of filth I don't even want to think about."
There were many other highlights from the evening including writer Peter Gould accepting a statue for Episodic Drama for Better Call Saul saying that he learned in the writers room that "Team work makes the dream work" and that no writer should ever forget that.  
Friends fans were treated to a mini-reunion as Courteney Cox and Matt LeBlanc presented an award in Television Writing Achievement to the co-creators of the series, Marta Kauffman and David Crane.
Crane, in his acceptance speech revealed, "It took me years to admit to myself that I was a writer. I love it, it's the best job. The only thing is, why doesn't it get any easier?"
Kauffman gave a shout out to a former instructor, but it wasn't one of praise exactly. "I had an AP teacher who told me that I was the least perceptive person she'd ever met and that I would never be a writer. To that I say, 'Fuck you Mrs. McMillan!'"
Using her time in the spotlight wisely, Kauffman also appealed to the guild members to really think about defining the titles of "Executive Producer" and "Showrunner," saying that in television the two are not interchangeable terms.
John McNamara, who was given an award for Trumbo, told the crowd, "I was told that if I cried on stage Aaron Sorkin would take me in the kitchen and beat the shit out of me. And I know he can do it."
Accepting the guild's civic service award, John August (Big Fish, Charlie and the Chocolate Factory) very succinctly said, "Writers by nature are curious and empathic. We look at problems and how to fix them. What all writers need to do is to cast yourself as the protagonist in your own life story."
When Inside Amy Schumer won for Comedy/Variety Sketch Series, one of the writers told the audience. "Amy made the word 'pussy' ok for cable, so you're welcome for that."
As they do for the Screen Actors Guild Awards, select writers in the crowd told funny stories about their experiences as scribes. Carol Leifer (Seinfeld, Devious Maids) recalled how at her first meeting with the legendary Aaron Spelling she thought everything went great and on the way out of the office she grabbed a Diet Coke from a fridge. Her agent called later and chastised her as it turned out that was Spelling's private refrigerator. She did not get the job as a writer on Falcon Crest.
Mad Men creator Matt Weiner recalled that he once ate a dozen donuts in 20 minutes to prove to an executive that a character on his show could do it.
There were a few comedy bits interspersed within the event as well. One that was not only funny but extremely timely was the introduction of a montage dedicated to African-American WGA winners. The lights dimmed and in a quick blink, a picture of Richard Pryor flashed on an overhead screen and then the montage was complete, to which, Keegan-Michael Key, in a very authoritative voice said, "That's right. He's the only one."
There was laughter and bit of a sense of shame twinged with a lot of head-nodding at the bit, which basically said, "Yeah, we have to do better than that."
Then Robert Towne strolled onto the stage. Towne, the revered writer of Chinatown and Shampoo, was presenting an award to legendary comedic actress and writer Elaine May. About her he said, "Mike Nichols [Director and May collaborator] told me, 'My first impression of Elaine was that she was a dangerous and beautiful girl. She kept me interested.' Since Elaine [came along], comedy has never been the same. The whole world of contemporary comedy owes a debt to her."  
When May accepted her award, she was greeted with a prolonged standing ovation, and then didn't disappoint with her speech. "When they told me I was getting this award, I thought it would be at a dark restaurant and everyone would be dressed in brown and complaining, because that's what writers do. Then I found it's a real awards show and that there's a red carpet for writers. I thought, 'no designer is going to give a writer clothes.' Writers are different from other guilds because no one's heard of us. You know they show commercials on TV for movies and they mention the plot, the director and the stars. They never mention the writer. Writers work alone, they don't have a crew they're just on their own."
May went on to tell an antidote that seems to accurately sum up the role of the writer, saying, "In his time, Frank Capra was touted as THE director in Hollywood. Everyone talked about 'The Capra Touch.' He had a writer that he always worked with and one time that writer sent him 120 blank pages and said, 'Here, put The Capra Touch on this! For that writer and all writers, thank you for this award."
When the Mad Men writing team won the award for drama series, Matt Weiner remarked, "I hate to disagree with the amazing Elaine May, but this isn't a lonely job. I got to work with these great people. Eight years ago when we started the show we had no idea that it would go for as long as it did. What a pleasure to have as a record of our lives during that time and I'm sad that this will be one of the last times that we're all together. For you to recognize us when TV is such a competitive place now is great."
A pattern emerged as the writers spoke; many reiterated that they'd toiled for years, that writing is hard no matter how long you do it and that writers are never given the recognition that they should be. Fortunately, this night reminded every one of those writers just why they do it and gave them some of the accolades that are so richly deserved.  
For a complete list of WGA award winners, please visit this site.