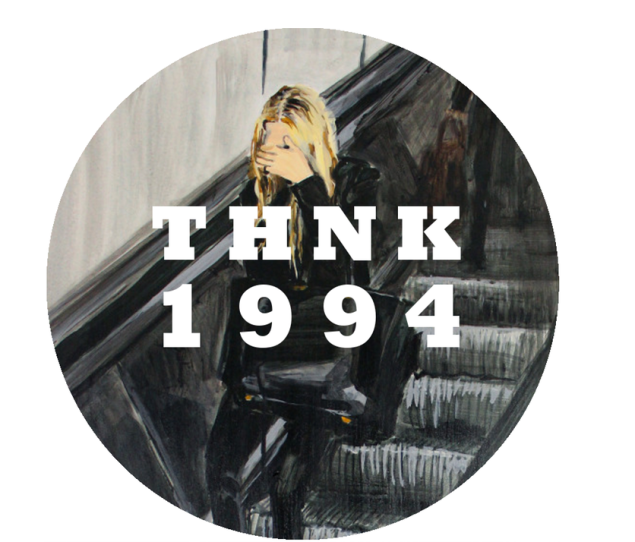 Last year, twenty-something comedians Matt Harkins and Viviana Olen turned the hallway in their Brooklyn apartment into a museum exhibit about Tonya Harding and Nancy Kerrigan. They landed a feature by Rolling Stone and have been running the museum ever since. Now, the duo says they're planning a new exhibit because "this is how Museums 'keep it fresh.'"
This planned exhibit will feature a series of paintings depicting Mary-Kate and Ashley Olsen attempting to shield themselves from the paparazzi using everything from their hands to Starbucks cups. This time around, the comedian curators are not sticking to their tiny apartment. Mr. Harkins and Ms. Olen are raising $9,500 on Kickstarter to bring the collection to a real store front.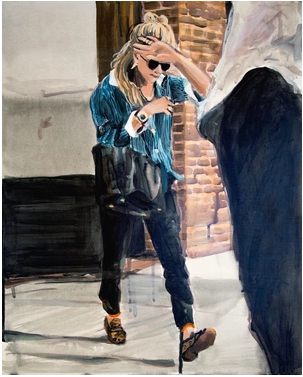 Really? A whole exhibit just for the Olsen twins? The founders of the THINK1994 Museum make the argument on the campaign page:
The Olsen Twins are True Celebrities. Highly unrelatable. They have bowls (and bowls) of cigarettes at their weddings. Very chic. They answered fans' calls for them to appear on Fuller House with a gently whispered "what is that?" On all red carpets, they dress so that, if they needed to, they could do the Iditarod Race right after. They own a fashion empire. This includes The Row. A lot of people joke about how expensive the clothes are but have you seen them? They are stunning. Take a look at the Ethel Long Tunic Sweater. It's a sweater that literally goes all the way to the floor. Every item in the collection tells a story. A story we could never afford, but one that is very fun to read about online.

Thrust in front of the camera before they could make a choice, the Olsen Twins have been a national brand since they were babies. We envied them, revered them, we gazed upon them. As adults they are now badass business women who facilitate their lives to be as inaccessible as possible. In a world of "I trip at the Oscars, I'm JUST like YOU.", they hide in towers we can only assume don't exist on any maps
The in-home museum has been a huge hit, but currently, Mr. Harkins and Ms. Olen can only do tours by appointment. They're raising funds to rent a vacant storefront for a two week pop up exhibit. So far, 38 backers have pledged more than $2,000 in the first few days.
In addition to Laura's collection of paintings, they are accepting submissions from other artists such as "sculptures of Venti Starbucks cups" and plan to hold events as well. Those planned so far include a "past life regression seminar," "Real Housewives symposium" and a "Sia cycle" class.
If you're not sure how this will turn out, don't worry—they've already built a diorama of the exhibit to make things clearer.
[protected-iframe id="f14aa97d2e3cc778afd8f466b2ed02fc-35584880-65782705″ info="https://www.kickstarter.com/projects/1682672553/bring-mk-ashley-olsen-exhibit-to-the-thnk1994-muse/widget/video.html" width="640″ height="480″ frameborder="0″ scrolling="no"]