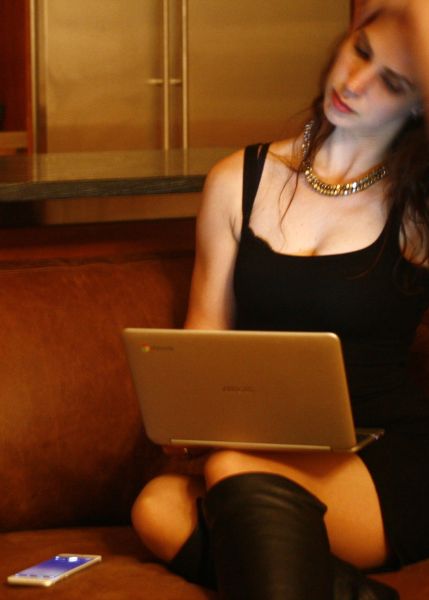 You've turned to YouTube with your questions about finding love, and that's not a good sign. While YouTube has been a godsend for homeowners who have never replaced the blade on a chainsaw, if you're on YouTube sorting out your love life it's likely because your friends are tired of hearing about it or you're embarrassed to admit some of the ill-advised lengths to which you've gone. On the bright side: you are not alone.
Many dating experts use YouTube to sell the lovelorn on their unique philosophies for curing what ails them. The Observer recently caught up with one of the industry's rising stars, London-based Hayley Quinn, and we met her at an inflection point where she has realized her industry is actually undermining people at their weakest.
"I'm really developing my whole business model to step outside of the usual dating and coaching business," she said in a borrowed luxury apartment on the Bowery, during her New York City stop on a nationwide press tour alongside Skirt Club, a company that organizes social events for bisexual and bi-curious women. "I think so much of it is bad and rubbish. It doesn't deliver anything helpful to anyone."
We can't argue: it's gotten out of hand out there. Apparently, Netflix is a signifier of commitment, people are matching based solely on faces and online daters are all dropping mad cash just to get rejected. It's no wonder people will pay guides through this mad world.
Ms. Quinn started as a coach for hire, working for larger dating companies, but she eventually "went rogue," hanging out her own shingle. Doing that, she got a sense for what kinds of questions people were asking, and it became easy to craft YouTube videos that people wanted to see, but that doesn't mean people's questions lead them in the right directions.
"It really actually upsets me when I see emails going around from bigger dating companies, with subjects like, 'These are the five text messages you need to send to win your ex back,'" she said, with increasing exasperation. "I'm like: that is so fucking unhealthy. If someone is obsessing over a relationship that's not worked for them, you shouldn't be selling them things based on their fear and unhappiness around that."
Ms. Quinn is ready to flip those scripts. "A lot of the videos that I'm going to be producing next on my YouTube channel, that you'll see coming out in a couple of weeks, I'm going to use the obvious titles, like 'How to get the guy back if he's broken up with you.' And 'The text message to send to win back your ex-boyfriend,'" she explained, "and then I'm going to completely undermine the whole thing in the hope that women, particularly women, will become more self-aware by watching it."
She went on, "For instance, here's a slogan: meet the guy, get the guy, keep the guy. So, immediately, this is female dating which is set up around the acquisition of a man. There's a subtext in that phrase that you have to procure a man and then you have to do things to keep him with you."
Ms. Quinn's curriculum helps her students get comfortable with courtship skills. For example, first, get comfortable showing confidence while introducing yourself to a woman in public. Then, perfect extending the conversation. Next, learn to ask for a phone number, and so on. She shows herself starting out with a tough case named "Martin" on a coaching run through a comic book convention.
She's managed to convert insights she's gleaned helping out fellows like him into content that yields recurring income. She broke her business down into four main revenue streams, in descending order of importance: digital products (such as videos or how-to guides), her subscription site, coaching and media fees and, lastly, ad revenue from YouTube.
"You get paid like nothing," she said. "You get like $1,000 per million hits. I don't even break even on my YouTube production costs."
SEE ALSO: a million-dollar podcast breaks down its business.
When she started making YouTube videos, it was to build her brand as a dating coach. "Coaching was the primary driver of my business, and I still really enjoy it, but because you are obviously selling the hours, your physical time, it gets really tiring," she said.
She makes videos more with an eye to her larger brand than to sales. "If you look at it, I produce very little content that effectively drives back to my website," Ms. Quinn said. She prefers to use it to take on hot topics (such as chemistry), how to's (such as getting ready for a date) or to try out her the various social experiments (such as choking a man out on the street).
All her other social media efforts are in the building phase now. "YouTube is actually the only thing," she said. "I'm gradually growing a following on other channels, but YouTube has been the one thing." Her biggest hit so far has been this social experiment where she wore a blonde wig to see if life really was better that way, rather than as a brunette (it has one very organic surprise):
Now that she's a YouTuber with a five figure following, she's started to explore taking that to the next level by collaborating with others. She said that she's beginning to believe what other people using the site have told her, that collaborations are the heart of YouTube.
That will be one of her new strategies for growth which may either be complemented or undermined by what she wants to grow. We'll all get to see this year.
"I'm really redesigning my whole content strategy in 2016," Ms. Quinn told us. Intentionally or not, she believes the industry is undermining humanity, even people who don't use dating coaches. "And I know this because I have been involved in the whole dating and pickup industry for a long time, so I can see from the inside how actually lots of things are not helpful," she said. "I think a lot of the time particularly with women, they do not benefit us at all."
'It's almost like the whole thing is wrong from the start'
"With this awareness, I've been changing the brand gradually, but it's going to go 100 percent in 2016," she said.  "And this isn't anti-men either. I think a lot of stuff men don't get a great ride with a lot of the information out there."
The 29 year-old wants to help women not only make the right moves, but for better reasons. For example, she says it's right that ladies shouldn't eagerly text a guy, but not because they don't want to seem desperate. They should go slow because they really have better things to do than pine after some dude they just met. "I think that because the lens that we're viewing the content through is so heavily focused in a paradigm that's actually patriarchal and disempowers women," she said, "it's almost like the whole thing is wrong from the start."
She knows she's been guilty of reinforcing some of those destructive frames, and she plans to take down anything she's put up that holds mankind back.
"It might fuck up and I might lose all my following," she said, "but I'm going to try to do something different."