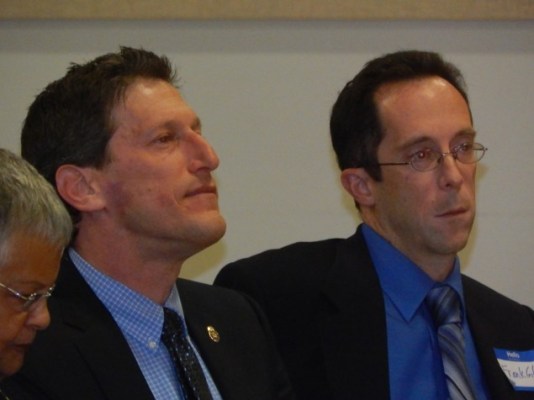 Assemblyman Andrew Zwicker (D-16), who was the notable exception in a race marked by heavy PAC spending on behalf of Democratic Assembly candidates, will now be working with controversial PAC coordinator Ray Ferraioli's firm H&P Consulting as he begins the long fundraising haul for 2017. An email invitation to a Zwicker fundraiser in Princeton with Assembly Speaker Vince Prieto (D-36) was sent directly from the group's email address.
Ferraioli and his Good Government & Leadership PAC face two ELEC complaints for failing to report contributions on time, and in some cases failing to report them at all. Reached for comment, a representative for the Zwicker campaign confirmed that H&P will be handling the Princeton event, but called the move part of a "testing phase." The campaign was aware of the complaints against Ferraioli when they hired the firm, the representative said.
Politico's Matt Friedman reported last October that Ferraioli allegedly failed to report or filed late for about $28,500 in donations to Good Government & Leadership and close to $23,000 in disbursements during 2013's local races. Ferraioli spearheads two additional PACs that were not named in that first ELEC complaint, or in the second, which was filed in January: the Good Government Committee and the HPC Statewide PAC, both of which also spent freely in 2013.
Though his 2015 campaign thrived on well-heeled individual contributions and a pro-campaign finance reform message, the campaign's turn to established and ethically hazy fundraising channels within six weeks of his swearing in could be a sign that such compromises are inevitable in New Jersey — and that Republican attacks will center once again on state Democrats' cash flow.
H&P already works with the Democratic State Committee and several county Democratic organizations.
Zwicker will face another tight race, with Republican incumbent Jack Ciattarelli (R-16) already coming out in front of high-profile issues like a proposed minimum wage increase by constitutional amendment from Senate President Steve Sweeney.
Zwicker and Ciattarelli sparred over campaign finance last time, with Ciattarelli pointing to the Democrats' $3 million in contributions from NJEA-funded General Majority PAC in the first, second and eleventh districts in an opinion piece for the Princeton Packet. Zwicker shot back, claiming that that Ciattarelli's public ELEC filings "had more than 70 percent of his contributions from special interests."
Zwicker joined state Senator Linda Greenstein (D-14), and Democratic U.S. Representative Bonnie Watson Coleman in pledging support for the American Anti-Corruption Act and co-sponsoring of the Government by the People Act in 2014.
State Senator Sam Thompson (R-12), who is drafting a bill to bar donors who violate state election laws, said that he decided to pursue the issue when he saw all three Ferraioli PACs give the maximum contribution of $7,200 to ward candidates in Monroe Township and Middlesex County a week before the 2013 election, without notifying the commission.
"He is a bad apple," Thompson said of Ferraioli. "His dirty money is being washed from sources that couldn't give directly there."
"If you deal with guys like him it reflects on you too," he added.