We know that tech powerhouses like Google, Samsung and Facebook have been pouring resources into virtual reality, but they're not the only ones interested in the up-and-coming technology.
As the public's interest in VR grows, companies that aren't inherently technical but are certainly powerhouses in their own sectors are looking to incorporate virtual reality into their products. While some have sought to make VR more available to the average person, many big brands have actually partnered with the above companies and others in the VR space to do new and interesting things with the technology. Here are 10 non-tech companies you'd be surprised to learn are dabbling in virtual reality:
1. Sports Illustrated: Swimsuit Edition
Readers who felt the 2016 Sports Illustrated swimsuit issue wasn't intimate enough in print had the option to get up close and personal. For the first time, the magazine released additional content in virtual reality through their app. The VR videos include two to three-minute clips of models Hannah Davis, Nina Agdal and Irina Shayk posing on the beaches of Dominican Republic, staring directly at the camera and engaging the viewer. Sports Illustrated has been releasing swimsuit videos for years, but never like this.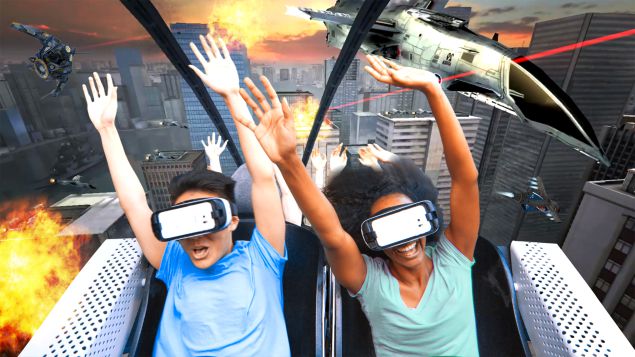 2. Six Flags
Last week, Six Flags announced it's partnering with Samsung to bring virtual reality to nine of their most popular coasters. This does not mean park visitors will be sitting in chairs wearing VR goggles that make them feel as if they're on a roller coaster. Rather, riders of the parks' already existent roller coasters will now have the option to wear Samsung's Oculus-powered Gear VR headset to transform their classic roller coaster experience into an incredibly realistic 360-degree virtual reality world.
On the new Superman Virtual Reality Coasters, riders will be fully immersed in the 360-degree comic book world of Metropolis. They'll encounter Lex Luther creating chaos with an anti-gravity gun and soar alongside Superman as he saves the day. The New Revolution Virtual Reality coaster will transport riders to a futuristic battle to save planet earth from an alien invasion in what's been called "the world's first-ever interactive gameplay technology on a roller coaster." Virtual reality comes to the first Six Flags coaster this month. Check out the full list of parks that will feature VR here.
3. McDonald's
The fast food chain has recently taken steps to make virtual reality more available to children. The classic Happy Meal box has been updated so it can be transformed into a VR viewer similar to that of Google Cardboard. Naturally, it's called Happy Goggles.
"We're trying to be a modern and progressive burger company. It's not a joke," Jeff Jackett, marketing director of McDonald's in Sweden, told The Wall Street Journal. Sadly, the Happy Goggles box is currently only available in Sweden, and McDonald's in the U.S. has no intentions of upgrading their box.
4. Dior
When Dior unveiled their 2016 Spring/Summer collect last year at Paris Fashion Week, they tapped into their innovative side on more than just the fashion front. The brand actually filmed a virtual reality video of the runway show, and with a viewer, it feels just like you're in the front row.
5. The New York Times
In November 2015, The New York Times officially entered the world of virtual reality in a big way. The media company launched NYT VR, a mobile app that lets users learn about news through immersive, 360 degree experiences. Using headphones and, optionally, a viewing device, the app gives readers an entirely new way to access stories. The media company even mailed Google Cardboard viewers to all domestic home delivery subscribers who receive their Sunday edition. Ever since, they've been producing amazing content for the app.
6. Marriott
The hotel chain has actually done a quite a bit with VR. Last year, Marriott tested "VRoom Service," which allows guests to order "inspiring virtual reality experiences to their rooms." The hospitality chain also introduced "VR Postcards" immersive travel stories, which follow real travelers on a journey to a unique destination. The year before, Marriott created virtual reality "Teleporter" booths that took you to different worldly destinations like a Hawaiian beach or top the top of a London skyscraper.
7. Volvo
Specialized augmented and virtual reality tools have helped car makers bring their vehicles to life for years. But just late last year, Microsoft teamed up with Volvo to create a virtual showroom and set the groundwork to introduce what they're calling "mixed reality" into the process of choosing a car. The realistic holographic cars—which customers can view with different rims and paint jobs by simply making an "air tap" gesture—are something straight out of a science fiction move.
8. Walgreens
The drugstore is a client of InContext Solutions, which uses cloud-based virtual reality simulations to help retail stores create, modify and evaluate in virtual reality so they can avoid potentially costly and time-consuming mistakes. For example, their product called ShopperMX lets retailers execute optimal store and aisle layouts faster and easier than ever before. Because of the confidentiality of the project, InContext Solutions couldn't go into detail about their collaboration, but we were able to get some general insight.
"I can tell you that they, like most of our clients, look to us to help streamline the go-to-market process by enabling them to innovate and collaborate faster and more efficiently" marketing director Patrick Niersbach told the Observer. "Given the competitive nature of retail and all of the pressures coming from e-commerce, being able to bring new winning concepts/ideas to market faster, or on the opposite side knowing which ideas not to bring to market, is a huge competitive advantage. And something our solutions enable them to do."
9. Kellogg's
Mr. Niersbach also said that Kellogg's is among the company's strongest relationships. On the InContext Solutions website, it says that, for the consumer package goods space, their VR technology helps "recreate your shopper experience…, so you can build and modify planograms and shelf layouts quickly and easily, without the need for time-consuming mock physical stores."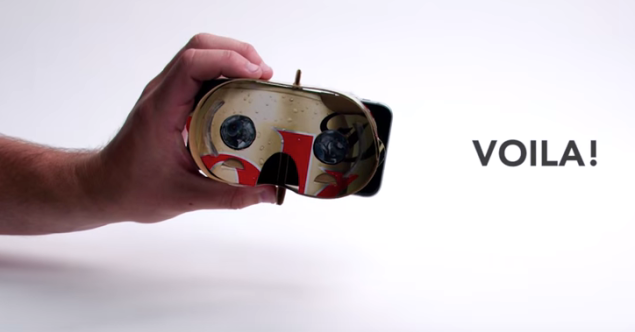 10. Coca-Cola
In February, Coca-Cola announced a packaging redesign that would transform into a cardboard VR viewer. Between the Happy Goggles, Coke boxes and cheap Google Cardboards, everyone has the means to try virtual reality.