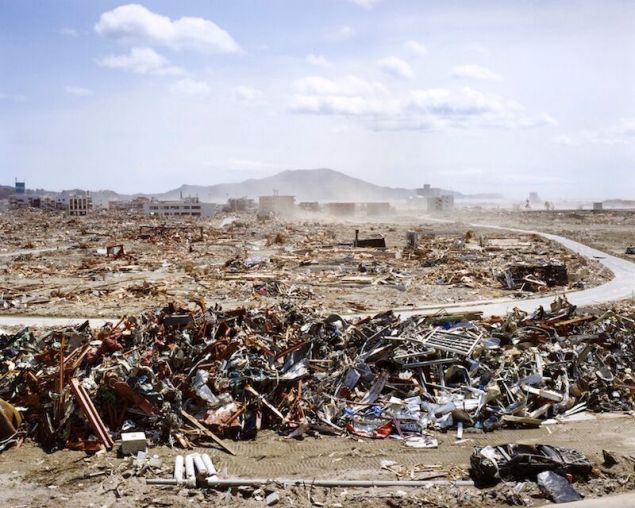 FRIDAY, MARCH 11
Opening: "In the Wake: Japanese Photographers Respond to 3/11" at Japan Society Gallery
Commemorating the fifth anniversary of the devastating earthquake and tsunami that caused a nuclear power plant failure in northeast Japan, "In the Wake" brings together the work of 17 Japanese photographers responding to the tragedy. 18,000 people were milled and another 400,000 displaced. Featuring some 90 photographs, videos and installations by such recognized artists as Nobuyoshi Araki, Naoya Hatakeyama and Rinko Kawauchi, this evocative show includes work that commemorates the tragic aftermath of this disaster. Yoko Ono's celebratory installation Wish Tree, which invites viewers to tie a written wish to the branch of an apple tree with the hope for a happier future, accompanies the poignant pictures on view.
Japan Society Gallery, 333 East 47 Street, New York, 11 a.m.-5 p.m., free with gallery admission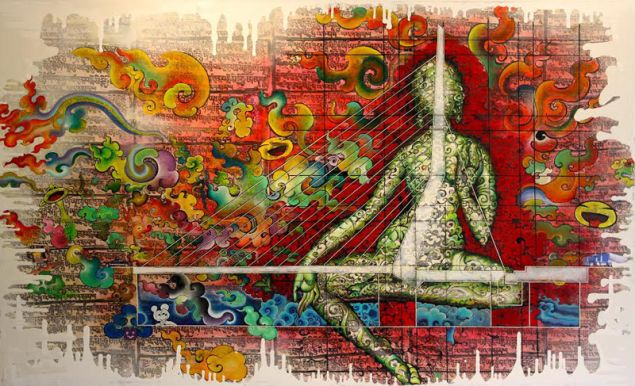 Opening: "Bridging Realms: Contemporary Tibetan Art" at Tibet House U.S.
Having been the subjects of groundbreaking shows at the Rubin Museum of Art in 2010 and the Queens Museum of Art in 2014, Tibetan contemporary artists are starting to have their artistic voices heard. These artists live in Tibet, neighboring India and Nepal and in the diaspora, including New York, but all come from a culture where art making is usually an anonymous pursuit. The focal point of the show is the work of Tashi Norbu, a Holland-based artist who was trained in both traditional Thangka painting and contemporary western art. The Buddhist-inspired, neo-Pop paintings of the artist are exhibited alongside a group of works by colleagues—both young and old—which he has selected.
Tibet House US, 22 West 15 Street, New York, 6-8 p.m.
Opening: "Genesis Breyer P-Orridge: Try to Altar Every Thing" at the Rubin Museum of Art
Identifying as a third gender, Genesis Breyer P-Orridge has gone through physical shape-shifting and sexual reincarnation to create a persona inspired by Hindu mythology and Nepalese culture. Born Neil Andrew Megson in Manchester, England in 1950, the artist, musician and poet was the lead singer of the pioneering industrial band Throbbing Gristle and founding member of the experimental video and music group Physic TV. After marrying Lady Jaye Breyer P-Orridge in 1993, the couple tried to unite as a pandrogyne, a single person, through the use of surgical body modification to physically look like one another, a process he continues to pursue even after her death. For this show, the artist mixes recent spiritual works s/he produced in Nepal with visitors' offerings, which s/he arranges and re-arranges throughout the run of the show.
Rubin Museum of Art, 150 West 17 Street, New York, 6-9 p.m.
SATURDAY, MARCH 12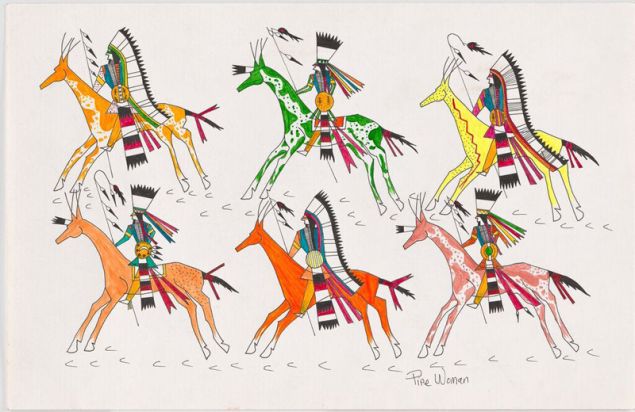 Opening: "Unbound: Narrative Art of the Plains" at the National Museum of the American Indian
Celebrating the storytelling tradition of the Native peoples of the Great Plains, this exhibition presents the work of 16 contemporary Native American artists representing a wide range of Great Plains cultures—including Blackfeet, Cheyenne, Lakota and Sioux. The 50 commissioned works on view in the show, curated by Emil Her Many Horses, explore themes of identity and contemporary Native life. The exhibition also features historic art by such renowned Plains artists as Bear's Heart, Zo-tom and Long Soldier.
National Museum of the American Indian, One Bowling Green, New York, 10 a.m.-5 p.m., free with museum admission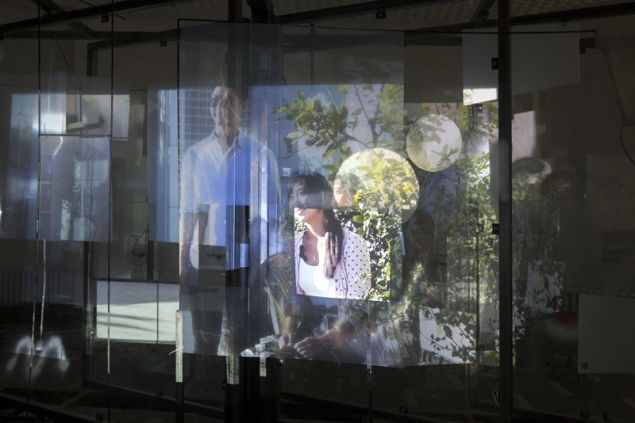 Opening: "Projects 102: Neïl Beloufa" at the Museum of Modern Art
A French-Algerian artist whose work has been exhibited in the 2013 Paris Triennial, the 2013 Venice Biennale and the 2014 Taipei Biennial, Neïl Beloufa makes immersive video installations that mix previously recorded video with live surveillance systems and scenes that reflect the local environment to enchanting ends. The focal point of his MoMA installation is his 2011 video People's passion, lifestyle, beautiful wine, gigantic glass towers, all surrounded by water, 2011, which features actors playing urban inhabitants discussing bourgeois culture in an anonymous city. The artist projects the video in a custom-built, architectural environment that's interspersed with closed-circuit televisions capturing viewers interacting with the dynamic work, which is installed in a space at the museum that has a view of the surrounding Midtown Manhattan skyline.
MoMA, 11 West 53 Street, New York, 10:30 a.m.- 5:30 p.m., free with museum admission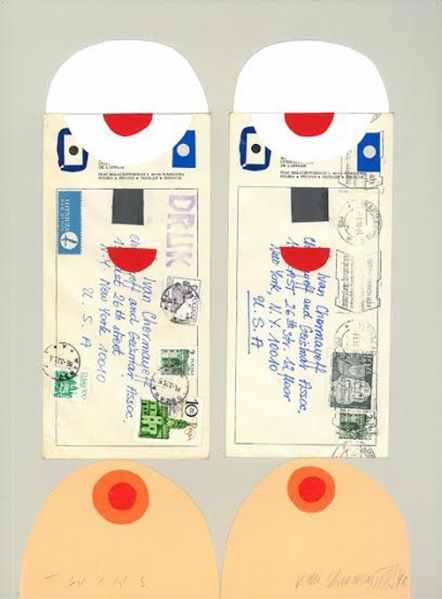 Talk: "Artist Lecture with Ivan Chermayeff" at Pavel Zoubok Gallery
A celebrated designer, illustrator and artist, Ivan Chermayeff has created brand identities for corporations along with designs for posters and publications since the mid-1950s. His current exhibition, "Collages & Sculptures," offers a selection of works made over the past decade. Incorporating found objects, including memos and mementos from the mailroom of his legendary design firm Chermayeff & Geismar & Haviv, the series has a modernist vibe that reflects the creative era to which Mr. Chermayeff had greatly contributed. Join the artist at the gallery for a talk about his history and how it has influenced the work on view.
Pavel Zoubok Gallery, 531 West 26 Street, New York, 2-3 p.m.
Opening: " Aspen Mays: Tengallon Sunflower" at Higher Pictures
Part of a new generation of experimental photographers that utilize the medium for aesthetic ends, Aspen Mays presents an investigation of personal objects for her fist solo show with the gallery. Using a pair of bandanas (one with a starburst pattern owned by her great grandmother and the other bearing white dots and dyed with indigo that was owned by the great American artist Georgia O'Keefe) as her point of departure, Ms. Mays applied pin pricks to the fabrics as a way to transfer their patterns to photo paper. She then used the paper negative to make a photogram (a photographic image made without a camera) and, in the case of several of the works on view, dyed the prints with indigo. The final result poetically references the two women, as well as the artist's starry night experience working with astrophysicists as a Fulbright Scholar in Chile.
Higher Pictures, 980 Madison Avenue, New York, 3-6 p.m.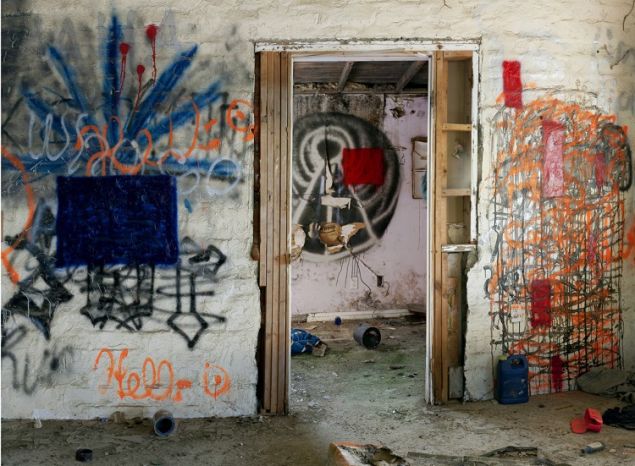 Opening: "John Divola: Theodore Street Project" at Maccarone
An active player in a California contemporary photography scene centered in Los Angeles, John Divola is best known for his use of uninhabited houses and their surrounding environments as makeshift studios, where he lets his mind and eye wander to capture a Helter Skelter realm of abandonment on film. For his first solo show with the gallery, the artist presents large-scale photographs shots at a derelict residence in Moreno Valley, Calif., between 2008 and 2013. Beginning the projects with a large-format analog camera, Mr. Divola later switched to a digital scanning device developed by NASA for the Mars Rover cameras in order to capture a high degree of detail in these haunting imagery.
Maccarone, 630 Greenwich Street, New York, 6-8 p.m.
SUNDAY, MARCH 13
Opening: "A Japanese Constellation: Toyo Ito, SANAA, and Beyond" at the Museum of Modern Art
Featuring recent projects by three generations of internationally acclaimed designers, this survey offers a window into the world of an intimate group of contemporary Japanese architects. Highlighting the work of Toyo Ito, SANAA (Kazuyo Sejima and Ryue Nishizawa) Sou Fujimoto, Akihisa Hirata and Junya Ishigami, the exhibition presents models, drawings and slideshows of 44 innovative projects, which range from domestic structures to museums. The design of this fascinating show follows Japanese material traditions by utilizing partitions of semi-translucent fabric, which become surfaces for multimedia projects while providing an immersive visual experience.
MoMA, 11 West 53 Street, New York, 10:30 a.m.-5:30 p.m., free with museum admission
Performance: "Quartet for the End of Time" at the Metropolitan Museum of Art
A rare opportunity to experience a concert in the Met's magnificent Temple of Dendur gallery, which holds an Egyptian temple from 15 B.C. that honored the goddess Isis, this event presents musicians of the New York Philharmonic performing Olivier Messiaen's Quartet for the End of Time. Written by the then-31-year-old French composer while he was interned in a German prisoner-of-war camp during World War II, the performance marks the 75th anniversary of this haunting creation. New York Philharmonic music director Alan Gilbert is the violinist alongside Carter Brey, principal cello, Anthony McGill, principal clarinet, and pianist Inon Barnatan, the Philharmonic's artist-in-association. Tickets to the event include Museum admission.
The Metropolitan Museum of Art, 1000 Fifth Avenue, New York, 2 p.m., $65