MONDAY, MARCH 14
Screening and Talk: "An Evening with Marta Popivoda" at the Museum of Modern Art
The event at MoMA is the U.S. premiere of Serbian artist, filmmaker and social activist Marta Popivoda's research-based documentary Yugoslavia, How Ideology Moved Our Collective Body, a 62-minute film about the history of Socialist Yugoslavia, its extraordinary end and its recent conversion into several smaller democratic republics. Using archive film and video footage of labor actions, state performances and demonstrations from the years 1945 to 2000, Ms. Popivoda analyzes how the communist ideology was slowly shattered through the changing relations between the people, beliefs and the government—a process that led to a great social transformation. Following the screening, Ana Janevski, an associate curator in MoMA's Department of Media and Performance Art, will join the artist in conversation about the award-winning film.
MoMA, 11 West 53 Street, New York, 7 p.m., $12
TUESDAY, MARCH 15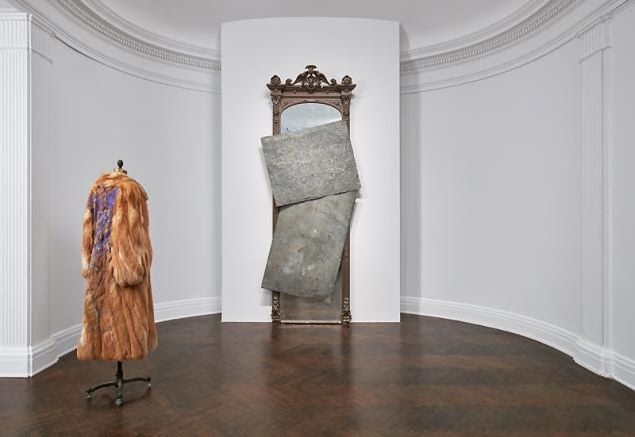 Opening: "David Hammons: Five Decades" at Mnuchin Gallery
Years in the making, this significant show brings together 50 years of work by the enigmatic David Hammons, one of the most influential yet under-recognized artists of his generation. Working directly with the reclusive artist, the gallery—which presented solo shows of Mr. Hammons' work in 2007 and 2011—is showing some of his most legendary works of art. The exhibition features body prints that he made with margarine and pigment, sculptural assemblages constructed from found objects, gestural abstractions painted with Kool-Aid and ornamental basketball hoops, as well as never-before-exhibited photographs (from the 72-year-old artist's personal collection) that document his dynamic career.
Mnuchin Gallery, 45 East 78 Street, New York, 5:30-7:30 p.m.
Opening: "Isaac Mizrahi: An Unruly History" at the Jewish Museum
"An Unruly History" is a survey of Isaac Mizrahi's enticing work in fashion, film, television and the performing arts, and features over 250 works (clothing and costumes designs, sketches, photographs, videos and ephemera) from the designer's three-decade career. Highlights include designs from the Isaac Mizrahi New York clothing label and his innovative line for Target; costumes for theater, opera and dance; hundreds of sketches, behind-the-scenes photographs and editorial and runway images; and an immersive video installation screening the documentary Unzipped.
Jewish Museum, 1109 Fifth Avenue, New York, 6-8 p.m., by invitation only, opens to the public March 18
WEDNESDAY, MARCH 16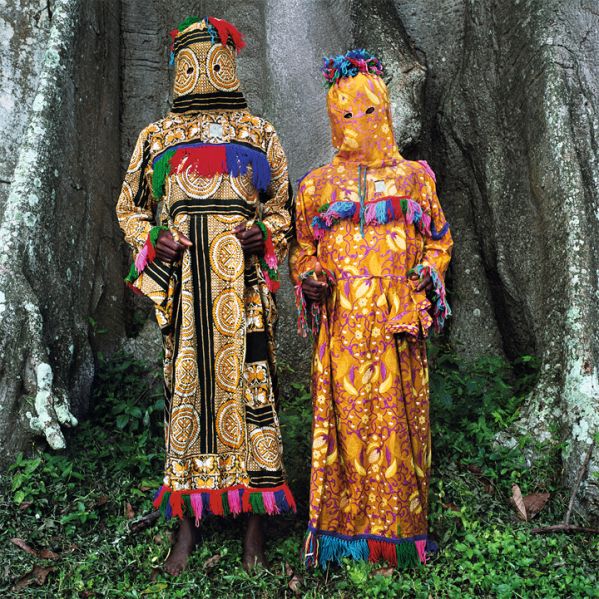 Talk and Book Signing: "Phyllis Galembo: Maske" at Aperture Gallery and Bookstore
Phyllis Galembo is a fine art portrait photographer and author of numerous books on Halloween, masquerade, ritual ceremony and fancy dress, for which she has traveled throughout western and central Africa and the Caribbean in search of subject matter. Her most recent book Maske, published by Aperture Foundation this month, features a selection of more than 100 of the award-winning photographer's masquerade images, organized by country. Join Ms. Galembo for a talk about her ethnological work, which was shot over a period of 20 years, and pick up a signed copy of her bewitching book.
Aperture Gallery and Bookstore, 547 West 27 Street, 4th Floor, New York, 6:30 p.m.
THURSDAY, MARCH 17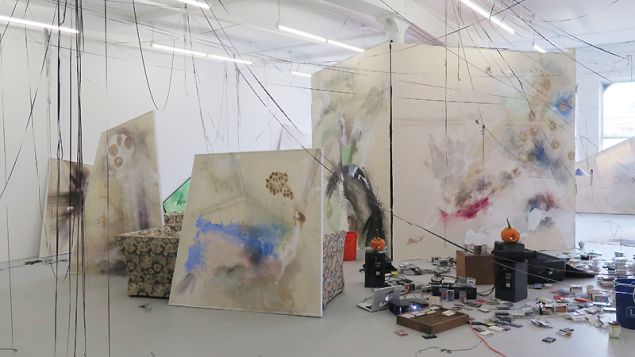 Opening: "Open Plan: Lucy Dodd" at the Whitney Museum of Art
For the second installment of the Whitney's "Open Plan" exhibition (a series of shows in the museum's spectacular fifth-floor space) artist Lucy Dodd transports her studio to the museum's gallery, where she will be inviting musician friends to perform. Ms. Dodd has made several shaped canvases for the exhibition that are meant to suggest sails or waves—a nod to the gallery's river views—and while working in situ the artist will use natural materials and pigments she has gathered in her travels to construct a new piece in the very heart of the sublime architectural space.
Whitney Museum of Art, 99 Gansevoort Street, New York, 10:30 a.m.–6 p.m., free with museum admission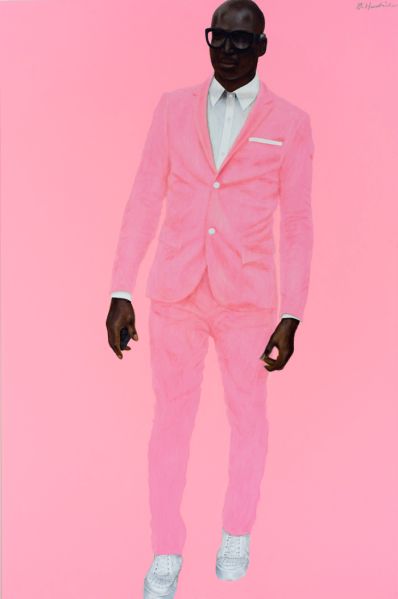 Opening: "Barkley L. Hendricks" at Jack Shainman Gallery
Barkley L. Hendricks is an amazing painter who managed to exist under the art world's radar until his 2008 exhibition "Birth of the Cool" at the Nasher Museum of Art at Duke University thrust his figurative work into the national spotlight. Mr. Hendricks realistically paints stylish African American men and women, plucked straight from urban streets. For his newest work, Mr. Hendricks integrates political themes with images of men wearing T-shirts with such provocative texts as "Fuck Fox News" and "Fuck You You Fuckin' Fuck."
Jack Shainman Gallery, 524 West 24 Street, New York, 6-8pm
Opening: "Keiichi Tanaami: Visible Darkness, Invisible Darkness" at Sikkema Jenkins & Co.
One of the leading Pop Art artists of post-war Japan, Keiichi Tanaami is known for his psychedelic paintings and sculptures that comment on contemporary culture. This lively exhibition depicts imagery inspired by the 80-year-old artist's dreams and memories—ranging from skulls and WWII bomber planes to cherry blossoms and Buddha figures.
Sikkema Jenkins & Co., 530 West 22 Street, New York, 6-8 p.m.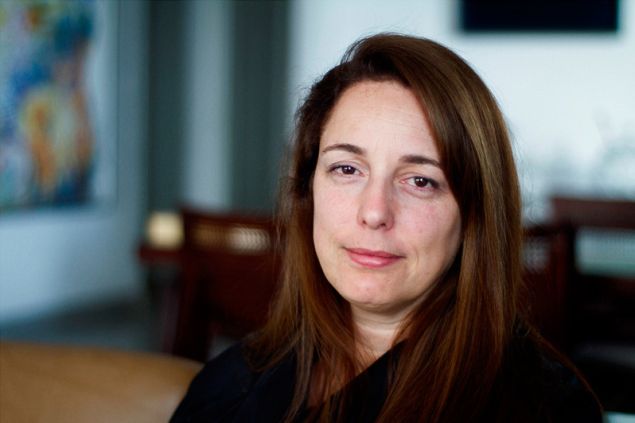 Talk: "Tania Bruguera: The Artist as Activist" at the James Gallery
In a talk between Tania Bruguera and CUNY Graduate Center professor of art history Claire Bishop, the two women will examine the role of activism in the controversial Cuban artist's work. Ms. Bruguera, who had her passport confiscated and was detained in Cuba for eight months after trying to stage a provocative performance about freedom of expression in Havana's Plaza de la Revolución in 2014, has exhibited her work in numerous international exhibitions and biennials.
The James Gallery at The Graduate Center, CUNY, 365 Fifth Avenue, New York, 6:30-8 p.m., reservations requested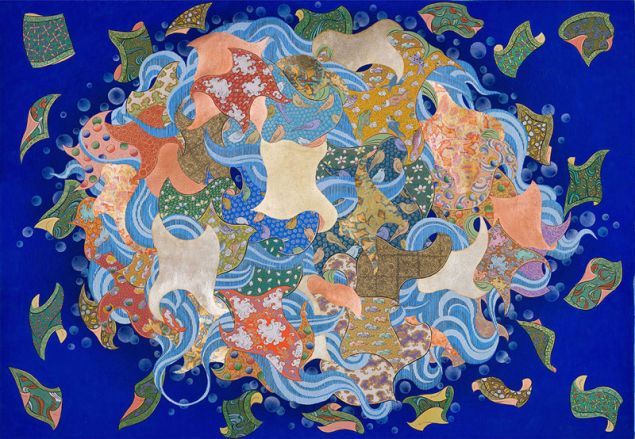 Opening: "Pema Rinzin: Wings of Joy" at Joshua Liner Gallery
Brooklyn-based Tibetan artist Pema Rinzin is known for working with traditional Thangka painting techniques, and will be exhibiting 12 new works rendered in ground mineral pigments, Sumi ink and gold. Using birds and circles as his primary motives, the artist creates blissful works that epitomize Tibetan identity and Buddhist philosophies of peace, joy and inspiration.
Joshua Liner Gallery, 540 West 28 Street, New York, 6-8 p.m.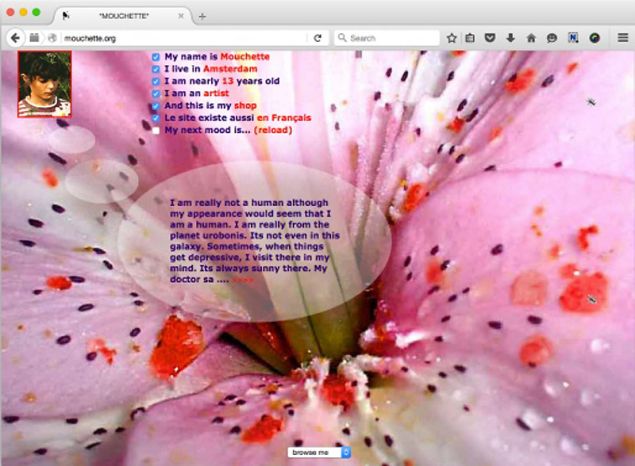 Screening and talk: "First Look: Hypertext Characters" at the New Museum
The screening will highlight three digital artworks that allow Internet users to interact and connect with on-screen characters: Mouchette.org (1996–ongoing) by Martine Neddam, The Pink of Stealth (2004) by Mendi and Keith Obadike and Psycho Nymph Exile (2016) by Porpentine Charity Heartscape, Neotenomie and Sloane. A panel discussion with the artists will follow the presentations.
New Museum, 235 Bowery, New York, 7 p.m., $15