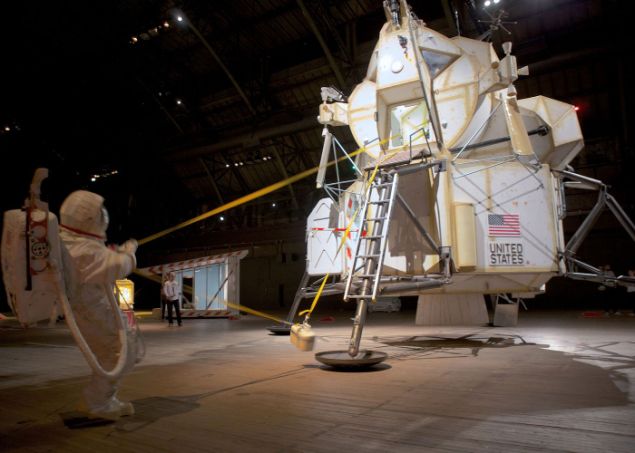 FRIDAY, MARCH 18
Screening and Talk: "Tom Sachs and Van Neistat: A Space Program" at Metrograph
Filmmaker Van Neistat brings artist Tom Sachs' critically acclaimed exhibition "Space Program: Mars" to life through film. Mr. Sachs' simulated mission to the red planet occupied the drill hall of the Park Avenue Armory for four weeks in 2012. The project utilized his signature form of bricolage as well as film and performance art. The artist and the director appear in person to discuss the mockumentary at the 7, 9 and 11 p.m. showings.
Metrograph, 7 Ludlow Street, New York, 7 p.m., $15
Event: "Opening Weekend" at the Met Breuer
The long-awaited opening of the Metropolitan Museum of Art's takeover of the Breuer Building—the former home of the Whitney Museum—kicks off with three days of shows and events. Exhibitions include "Unfinished," a group show with nearly 200 works ranging from old masters to contemporary that were intentionally or unintentionally left incomplete, and a survey of abstract paintings and drawings by the Indian modernist Nasreen Mohamedi. Meanwhile, the event line-up features the David Dorfman Dance troop and a series of talks with New York-based art experts on Friday and Saturday.
The Met Breuer, 945 Madison Avenue, New York, 10 a.m.-9 p.m., free with museum admission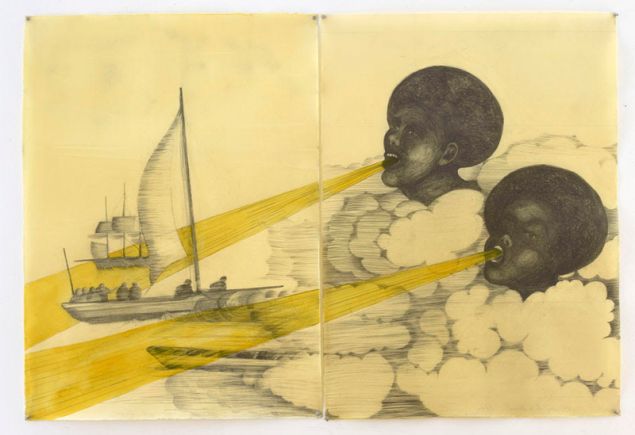 Opening: "Sandra Vásquez de la Horra: Crossroads" at David Nolan Gallery
A Chilean artist who grew up under the oppressive Pinochet regime, Sandra Vásquez de la Horra studied graphic design and typography in her homeland before moving to Germany in 1995. She arrived in Düsseldorf at age 28, where she studied at the prestigious Kunstakademie and developed a psychologically charged style of figurative drawing done on modestly sized pieces of paper dipped in beeswax and pinned to the wall in poetic, non-narrative arrangements. At David Nolan, the artist presents a group of her raw graphite works, which boldly examine sex, death, politics and religion, alongside new three dimensional paper pieces that are cleverly constructed to resemble simple houses.
David Nolan Gallery, 527 West 29 Street, New York, 6-8 p.m.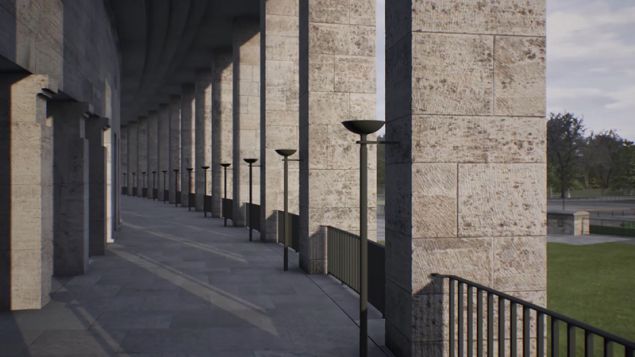 Opening: "David Claerbout: Light/Work" at Sean Kelly
David Claerbout is a multidisciplinary Belgian artist who is making his debut at Sean Kelly Gallery with a solo show of recent film works and rarely exhibited drawings. Highlights of the exhibition include Travel, which captures a slowed down journey into a forest, Oil Workers, a digitally manipulated photograph of Nigerian oil workers taking shelter from the rain under a bridge, and King, which takes a portrait of Elvis Presley as the point of departure for an animated film composed from hundreds of fragments from other photos of the rock star.
Sean Kelly, 475 Tenth Avenue, New York, 6-8 p.m.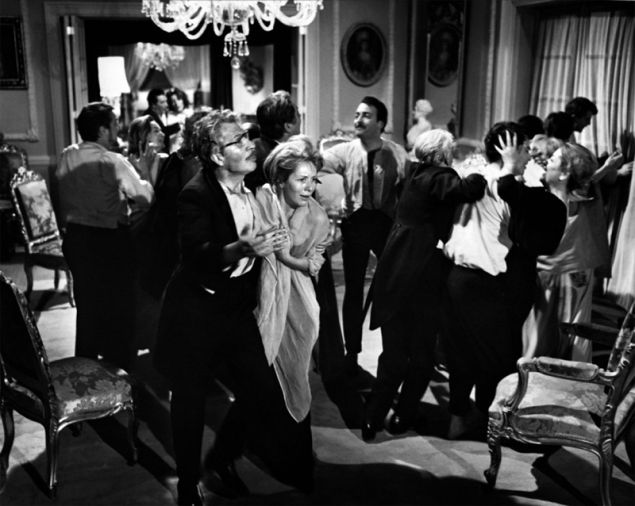 Screening and Performance: "Gary Lucas/Luis Buñuel: El Angel Exterminador" at Pioneer Works
Grammy nominated guitarist and composer Gary Lucas will recreate his performance from the 2011 Havana Film Festival, where he composed and performed an original score for Surrealist filmmaker Luis Buñuel's 1962 classic El Angel Exterminador (The Exterminating Angel). The macabre movie tells the story of a dinner party that becomes trapped in a room for days on end, with an elderly guest dying and a young couple, who are soon to be married, locking themselves in a cupboard and committing suicide.
Pioneer Works, 159 Pioneer Street, New York, 8 p.m., $20
SATURDAY, MARCH 19
Opening: "Rachel Harrison: Perth Amboy" at the Museum of Modern Art
Rachel Harrison's 2001 installation Perth Amboy takes a small town in New Jersey, where an apparition of the Virgin Mary is said to have appeared on a two-story house, as its enigmatic point of departure. The show is comprised of 21 photographs, several sculptural assemblages and a labyrinth constructed from cardboard.
MoMA, 11 West 53 Street, New York, 10:30 a.m.-5:30 p.m., free with museum admission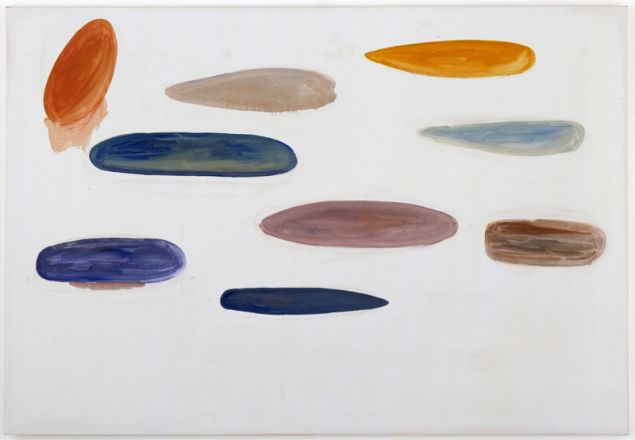 Talk: "Guided Tour of Raoul De Keyser: Drift" at David Zwirner
Belgian artist Raoul De Keyser, who died at age 82 in 2012, was known and respected for his poetic paintings and works on paper that delicately flirted with both abstraction and figuration. The gallery's current show features 22 works that were completed before the artist's death and a selection of earlier pieces that contextualize the later works. "Drift" curator and art historian Ulrich Loock and Flemish architect Paul Robbrecht, who has collaborated with artists Iza Genzken and Gerhard Richter, will also lead a guided tour of the newly opened exhibition.
David Zwirner, 537 West 20 Street, New York, 11 a.m.
Opening: "Lizzie Fitch/Ryan Trecartin" at Andrea Rosen Gallery
Ryan Trecartin, who has been a celebrated art star since he first burst on the scene with his raucous video A Family Finds Entertainment in the 2006 Whitney Biennial, teams up with longtime collaborator Lizzie Fitch once again. At Andrea Rosen Gallery, the Los Angeles-based duo presents an immersive installation of containers that they dub "sculptural theaters," in which new films about nature as a retreat will be screened.
Andrea Rosen Gallery, 525 West 24 Street, New York, 6-8 p.m.
SUNDAY, MARCH 20
Opening: "Jan Tichy: Long Lines" at Fridman Gallery
Jan Tichy makes photographs, videos and installations about light and movement, and his first solo show at Fridman Gallery will feature a site-specific light work that dynamically engages the gallery's architecture. The artist will project a video of a map of U.S. nuclear waste storage sites on porcelain objects and a white neon circular light in the gallery's window will capture the rhythm of the city by responding to police scanners nearby.
Fridman Gallery, 287 Spring Street, New York, 5-7 p.m.
Opening: "Judith Braun: Homeostasis" at McKenzie Fine Art
Judith Braun is best known for her large-scale wall drawings made with graphite and her fingers, called Fingerings. She'll be exhibiting several series of her abstract charcoal and graphite works on paper, along with a wall installation. The pieces, which date from 2004 to the present, are inspired by mathematics, physics, music and language, and the urban experience. Ms. Braun has a concurrent one-person exhibition, titled "Crazy Bitch," at Simuvac Projects in Greenpoint, Brooklyn.
McKenzie Fine Art, 55 Orchard Street, New York