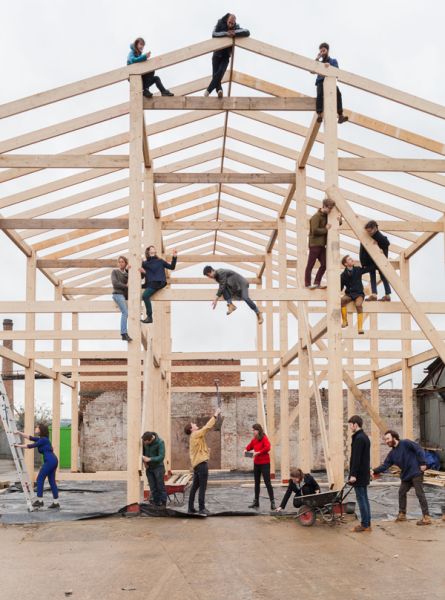 MONDAY, MARCH 28
Talk: "An Evening with Assemble" at the Museum of Modern Art
A London-based collective that works across the fields of art, architecture and design, Assemble creates projects together with the communities who use and inhabit them. Recipients of the prestigious Turner Prize in 2015, their DIY projects include Granby Four Streets, a real estate project in Liverpool, which involves collaboration with the residents of a neglected area of the city to clean up the neighborhood, refurbish empty houses and establish a local market. Two of the 18 members of the collective, Fran Edgerley and Paloma Strelitz, join a distinguished panel that includes The Architect's Newspaper editor-in-chief William Menking, MOS Architects' Michael Meredith, OCAD University professor Esther Choi and MoMA Architecture and Design curators Martino Stierli and Sean Anderson for a timely discussion about the group's innovative strategies, alternative approaches to building and new forms of social activism.
MoMA, The Lewis B. and Dorothy Cullman Education and Research Building, 4 West 54 Street, New York, 6:30-8 p.m., RSVP required
TUESDAY, MARCH 29
Opening: "Ernst Ludwig Kirchner: Watercolors and Drawings from the Robert Lehman Collection" at Galerie St. Etienne
Featuring 30 never-before-seen sketches by celebrated artist Ernst Ludwig Kirchner that were until recently on extended loan to the Metropolitan Museum of Art by the late collector Robert Lehman, this exhibition offers a rare opportunity to see a wide range of drawings, prints and watercolors from across the great German Expressionist's formidable career. A founding member of the Dresden-based art group Die Brücke (The Bridge), Mr. Kirchner was living in exile when he was declared a "degenerate artist" by the Nazis in 1937, which diminished his reputation in Germany and lead to his suicide at his Switzerland home the following year.
Galerie St. Etienne, 24 West 57 Street, New York, 11 a.m.-5 p.m.
Talk: "Morris Louis/Landon Metz" at Paul Kasmin Gallery
A meditation on two distant generations of abstraction, this pairing packs a powerful punch. It's a dynamic display that juxtaposes a singular painting by the modernist Color Field master Morris Louis with a succinct selection of stained canvases by the young process-oriented painter Landon Metz. For the evening's conversation, exhibition curator Alex Bacon chats with Mr. Metz and celebrated British critic, curator and scholar Sir Norman Rosenthal about the history of Color Field painting, curatorial projects that mix generations and the role of installation in the concept of a show.
Paul Kasmin Gallery, 297 Tenth Avenue, New York, 6:30-8 p.m.
Performance: "An Evening with Archie Shepp" at WhiteBox
Celebrating the closing of Belgian artist Jean Pierre Muller's exhibition and collaboration with jazz musician Archie Shepp, this performance features the artist, the musician and special guests. The two-part solo show, "ColorBox and A Red Show in A," is a continuation of Mr. Muller's 7×7 project, which is based on the artist's philosophical principle that the seven colors of the rainbow correspond to the seven notes of the scale, the seven days of the week and the seven chakras. The colorful show features original music by seven composers—Nile Rodgers, Robert Wyatt, Mulatu Astatke, Archie Shepp, Sean O'Hagan, Kassin and Terry Riley—so look for them to be amongst the night's guest performers.
WhiteBox, 329 Broome Street, New York, 10 p.m., $50 suggested admission
WEDNESDAY, MARCH 30
Screening: "I Don't Belong Anywhere: The Cinema Of Chantal Akerman" at Film Forum
A career-spanning documentary about experimental filmmaker Chantal Akerman, this 67-minute film, in its U.S. theatrical premiere, covers the nomadic artist's cinematic trajectory through an examination of the roots of her film language and her unique aesthetic. Directed by Marianne Lambert, who was the production manager for many of Ms. Akerman's movies, the motion picture features excerpts from many of the famous director's introspective films, including 1975's Jeanne Dielman, 23 Commerce Quay, 1080 Brussels (a cult classic) and 2015's No Home Movie (a film about her dying mother, which was the last movie she made before ending her life by her own hand last fall).
Film Forum, 209 West Houston Street, New York, various times, free tickets provided through the generous support of the Ostrovsky Family Fund
THURSDAY, MARCH 31
Opening: "Stan Douglas: The Secret Agent" at David Zwirner
For his thirteenth solo show at this gallery, Canadian artist Stan Douglas will show his most recent film installation, The Secret Agent, for the first time in the U.S. Adapted from Joseph Conrad's 1907 political novel of the same name, which is considered to be one of the first literary representations of modern-day terrorism, the six-channel video installation shifts the story from England in the 1880s to the US Embassy in Portugal in the 1970s, where an employee becomes involved in a plot to bomb a telecommunications site that connects the country to North America—the cutting of the link between the old and new worlds. As an added bonus, the gallery is presenting a concurrent survey of photographic works that span the 30-year career of the 2016 Hasselblad Foundation International Photography Award winner at its 537 West 20 Street location.
David Zwirner, 519 West 19 Street, New York, 6-8 p.m.
Opening: "Taca Sui: Steles – Huang Yi Project" at Chambers Fine Art
Chinese contemporary artist Taca Sui, who was inspired by the travel diaries of a Chinese imperial bureaucrat from the Qing dynasty (1644-1912) named Huang Yi, followed the diarist's path to show how the passage of 200 hundred years has impacted the relics and the realms he described. Via two separate trips, Mr. Yi documented stone steles (monumental slabs carved with funerary, commemorative and edifying text) in Northern China and in response, Mr. Sui has created graphic pictures that, by being printed on a special silver barium sulfide photographic paper, can only be seen when viewed from specific angles, offering a poetic allusion to the disappearing past.
Chambers Fine Art, 522 West 19 Street, New York, 6-8 p.m.
Opening: "Serge Poliakoff" at Cheim & Read
This survey of paintings by post-war European abstractionist Serge Poliakoff presents 21 paintings on paper and canvas made between the late-1930s and the late-'60s. The Russian-born Parisian artist, who passed away in 1969, was a member of the Nouvelle École de Paris (the second School of Paris, which also included Hans Hartung, Jean Fautrier and Nicolas de Stael.) Mr. Poliakoff made abstract paintings marked by their concentration of color, vibrant texture and clever arrangement of forms that balance each other in controlled, energetic tension. The subject of a 2104 retrospective at Musée d'Art Moderne de la Ville de Paris, this is the artist's first solo show in New York in 35 years.
Cheim & Read, 547 West 25 Street, New York, 6-8 p.m.
Talk and Book Signing: "The Isaac Mizrahi Pictures with Isaac Mizrahi and Nick Waplington" at Rizzoli Bookstore
With a survey show of his appealing work in fashion, film, television and the performing arts currently on view at the Jewish Museum (through August 7) and screenings of Unzipped (Douglas Keeve's documentary about the dynamic designer) taking place at Film Forum (the next one is April 10), Isaac Mizrahi appears to be having a wonderful New York moment. Adding fuel to the fire, Italian art book publisher Damiani is releasing a stylish monograph of behind-the-scene pictures of the designer's fashion shows between 1989 and 1993 by celebrated British photographer Nick Waplington. Mr. Waplington and Mr. Mizrahi sit down with Paper Magazine editorial director Mickey Boardman, a.k.a. "Mr. Mickey", for what should be an amusing conversation about the new book and the lively times the pictures capture. A book signing follows the talk.
Rizzoli Bookstore, 1133 Broadway, New York, 6-7:30 p.m.
Opening: "9 Sculptures" at BravinLee programs
Featuring nine intimately scaled sculptures by nine, New York-based contemporary artists, this survey takes a look at the work of a select group of sculptors that are employing fresh ideas and pioneering techniques in order to breath new life into the age-old medium. Michael Rees uses digital technology to fabricate figurative works that reference the body-mind-spirit dynamic; Joanne Greenbaum makes 3D versions of her spirited abstract paintings as ceramic sculptures and Emily Noelle Lambert constructs totemic sculptures from found bits of wood that she paints in vibrant colors. Works by Lisa Beck, Stacy Fisher, Ethan Greenbaum, Jesse Greenberg, David Shaw and Rachel Mica Weiss round out the diverse display.
BravinLee programs, 526 West 26 Street, New York, 6-8 p.m.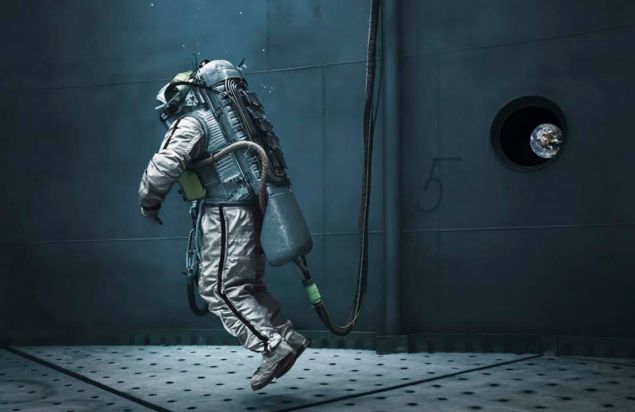 Opening: "Michael Najjar: Outer Space" at Benrubi Gallery
Trained to become the first civilian artist to fly in outer space, Michael Najjar makes large-scale photographs and videos that mix reality with simulation. One of the first astronauts in Richard Branson's Virgin Galactic space program, the German artist has been training in Russia's Star City since 2012 for a mission aboard SpaceShipTwo, Virgin Galactic's commercial spacecraft, in the near future. But for now, he's content with visualizing what space might look like, while revealing aspects of the systems that will get him there. For his first show with the gallery, Mr. Najjar presents pictures from his fantastic "Outer Space," series. He's been exploring space for the past five years, if only in his imagination.
Benrubi Gallery, 521 West 26 Street, New York, 6-8 p.m.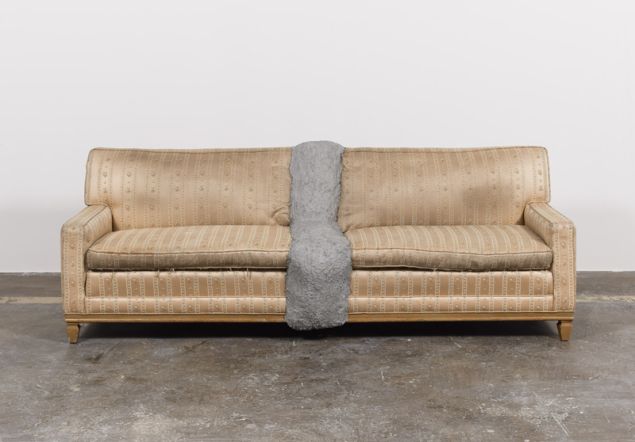 Talk: "The Artist's Voice: Rodney McMillian with Kira Lynn Harris and Naima J. Keith" at the Studio Museum in Harlem
Presented in conjunction with the recently opened exhibition "Rodney McMillian: Views of Main Street", which consists of a selection of Mr. McMillian's altered found objects that comment on the notion of the middle-class representing "Main Street," the Los Angeles-based artist joins the show's curator and deputy director of Exhibitions and Programs at the California African-American Museum, Naima J. Keith, and New York-based artist and artist-in-residence at the Studio Museum in Harlem, Kira Lynn Harris, to discuss the intersection of race, class, gender and economics in both Mr. McMillian's work and the larger context of contemporary art today. The program concludes with a Q&A segment followed by an artist-led walk-through of the exhibition.
The Studio Museum in Harlem, 144 West 125 Street, New York, 7-9 p.m.,$7, RSVP requested